Carbon Reaches Highest Levels in Human History
New data confirms that there is more carbon dioxide in the earth's atmosphere now than there has even been before in recorded history.
Despite the growing awareness of global warming, the resulting climate change and concerns about the future of our planet, data from the National Oceanic and Atmospheric Office (NOAA) shows that carbon dioxide levels have risen by 42% compared to levels in 1880. If we do not take action now, we may be nearing the point of no return.
For 40,000 years before the Industrial Revolution, levels of carbon dioxide in the planet's atmosphere were fairly stable at between 200 to 280 parts per million (ppm). Since 1880 humans have been consuming fossil fuels with no knowledge of or regard for the impact it was having on our planet. As a result, carbon levels have increased from around 291 ppm in 1880 to 412 ppm in 2019 and the global temperature has risen by 1°C.
This chart shows the increasing levels of carbon dioxide in our atmosphere (globally) since 1880 when industrialisation caused a rapid rise in our consumption of fossil fuels.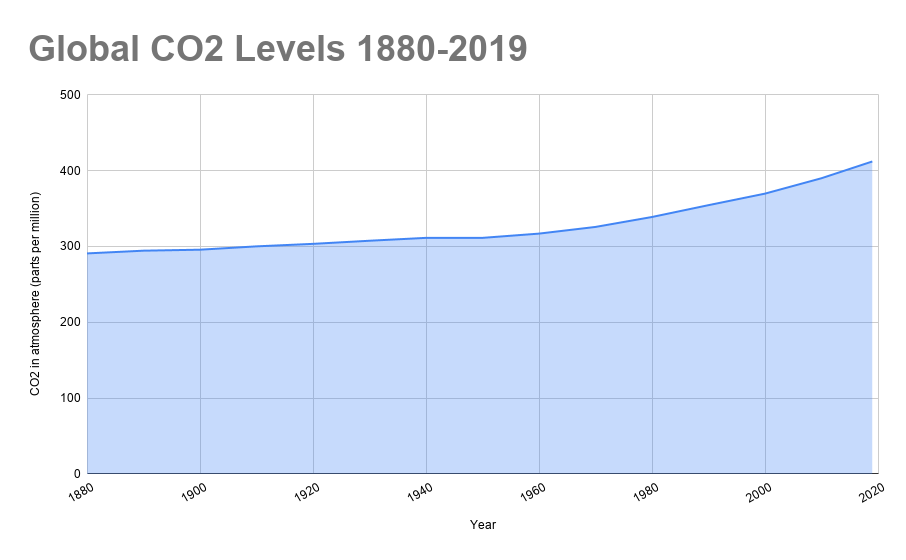 Time to take action
The level of carbon dioxide in the atmosphere is now "critical" according to Professor Hüseyin Toros from Istanbul Technical University's (?TÜ) Faculty of Aeronautics and Astronautics' Department of Meteorology Engineering. He says:
"Greenhouse gases in the atmosphere, especially carbon dioxide, are increasing every day. This, in turn, is amplifying the effects of climate change and worsening global warming […] The inefficient use of fossil fuels and their excessive consumption must be curbed. We must accelerate our transition to renewable energy."
Scientists and climate change experts predict that if we do not make significant changes to the way we live and how we power our industry, carbon dioxide levels could reach 450 ppm by 2040. The high level of carbon emissions has already led to global warming which in turn is causing increasingly extreme weather including floods, droughts, hurricanes, tornadoes and storms.
How can we reduce carbon emissions in the UK?
While globally CO2 emissions are on the rise (with China, the US and the collective countries of Europe being the biggest contributors), the UK's CO2 emissions are 38% lower than they were in 1990. A lot of this is due to the reduction in the use of coal which should continue as the UK is on track to phase out the use of coal completely by 2025.
However, significant changes are still needed if we are to meet our target of being net-zero by 2050. One of the most important issues is whether or not we can find effective and renewable alternatives for home heating and hot water production. Over 84% of UK homes currently rely on natural gas boilers with many off-grid properties using electricity which has been generated through burning coal or oil. In addition, many of the gas boilers are old and inefficient meaning a lot of the gas we burn is wasted.
Potential alternatives include heat pumps, solar thermal panels, biomass boilers and, if it is found to be a viable option in the government trials which are currently underway, switching the existing natural gas network to a hydrogen boiler network.
Reduce your carbon footprint
If you are concerned about the efficiency of your gas boiler and would like to get quotes for a replacement (or quotes for a renewable heating system such as a heat pump, biomass boiler or solar thermal panels), send us an enquiry today. We'll provide you with up to 3 free no-obligation quotes for either a more efficient gas boiler so you can get professional advice and prices from companies near you. Alternatively, if you are interested in a renewable heating system, you can request free no-obligation quotes for renewable heating, i.e. heat pumps and biomass boilers.