Top 5 Quietest Combi Boilers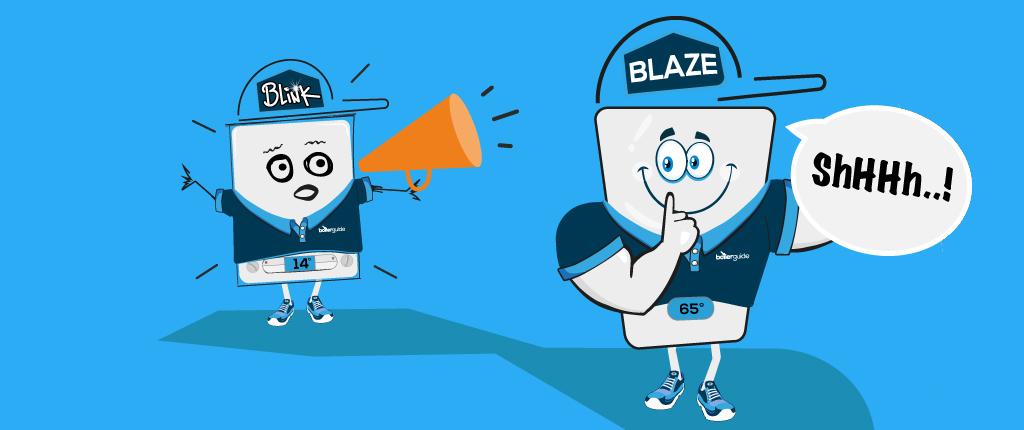 The quietest combi boilers are about as noisy as modest rainfall.
So if your current boiler is so loud you can hardly hear yourself think, it doesn't have to be that way. Replace it with a modern condensing boiler and you'll hardly hear a peep as it heats your home.
To help you in your search for a warm and peaceful life, we've ranked the quietest boilers on the market. We'll also reveal which are Quiet Mark approved.
If you're ready to start installing a quiet and highly efficient boiler in your home today, then the first step is to get and compare quotes. By comparing quotes you reduce the risk of overpaying and it helps you secure the best deal. With Boiler Guide's quote service, you can get up to 3 free quotes without any obligation.
Get your best deal
Quickly compare 3 FREE quotes
Quotes from locals engineers
Get quotes today, installed tomorrow
Finance options available
Save up to £500 on installation
0330 808 0405
1,8 million quotes provided in 10 years
How loud should a boiler be?
The sound from a boiler is measured using the decibel scale. Decibels (db) are a measurement of sound intensity starting from 0db. The louder the sound, the higher its decibel rating.
The lowest audible sound is silence – recorded as 0db. Any sound 10 times more intense than silence, like breathing, hits 10db on the scale. A sound 100 times louder than 0db, let's say whispering, will be recorded as 20db. And so on.
A modern condensing combi boiler has a sound level of somewhere between 40 and 60 decibels as it heats a home. Similar to moderate rainfall or the average library.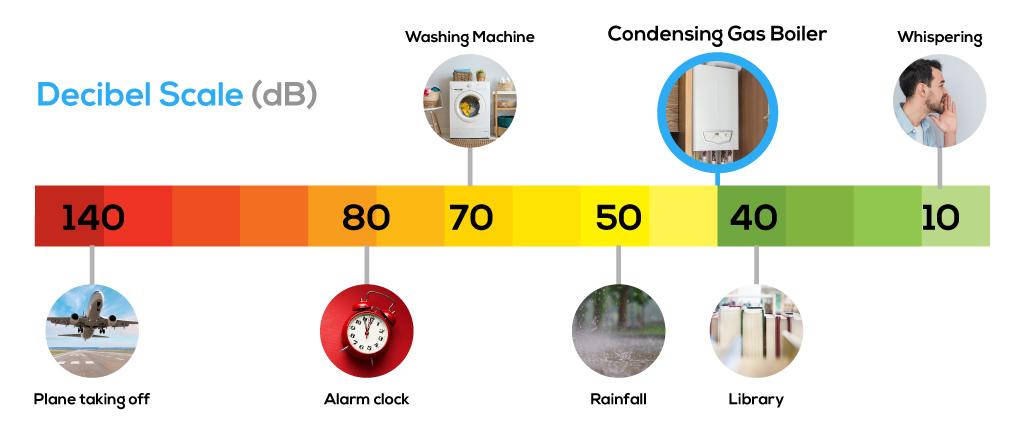 Quietest combi boilers ranked
The quietest combi boiler is the Worcester Bosch Greenstar 2000. Its decibel rating of 43 means that it wouldn't be out of place in a library.
We've ranked the quietest combi boilers by their decibel rating.
Worcester Bosch Greenstar 2000 (25 & 30)43
| Quietest Combi Boilers | ErP Decibel Rating (dB) |
| --- | --- |
| Ideal Logic Max C35 | 44 |
| Vaillant ecoTEC Plus 838 | 45 |
| Vaillant ecoTEC Plus 938 | 45 |
| Viesmmann Vitodens 200-W 30 | 46 |
| ATAG i24C | 46 |
| Ideal Logic Max C30 | 46 |
| Ideal Vogue Max 26 | 47 |
| Baxi 825 | 48 |
| Baxi 830 | 48 |
| Glow-worm Energy 25C | 49 |
| Ariston Alteas One Net 30 | 51 |
| Biasi Advance Plus 7 25 | 52 |
A quiet combi boiler is well suited to small-medium sized homes with 1-2 bathrooms. The best boiler for a large house with multiple bathrooms is generally a system or regular boiler.
Look out for Quiet Mark boilers
The Quiet Mark award helps you to find a boiler that won't disturb you. You'll notice this logo on other household appliances like fridges too.
Boiler ranges certified by Quiet Mark include:
Glow-worm Energy
Ideal Logic Max
Ideal Logic Plus
Vaillant ecoFIT Pure
Vaillant ecoFIT Sustain
Vaillant ecoTEC Exclusive Green iQ
Vaillant ecoTEC Plus
Vaillant ecoTEC Pro
Vaillant ecoTEC Sustain
It's important to extend your search for a quiet boiler beyond Quiet Mark as they're only given to boilers made by Glow-worm, Ideal and Vaillant.
When it comes to boiler searching, Quiet Mark isn't the only certification to look out for. You also need to ensure your boiler installer is Gas Safe Registered so that you know you're getting a high-quality and safe boiler installation.
All of the partner installers at Boiler Guide are Gas Safe Registered and have up to date training on the latest boiler technology. You can access up to 3 of the installers form this network for free to request quotes and advice simply by filling in a 1-minute form.
Get your best deal
Quickly compare 3 FREE quotes
Quotes from locals engineers
Get quotes today, installed tomorrow
Finance options available
Save up to £500 on installation
0330 808 0405
1,8 million quotes provided in 10 years
Top 5 quietest combi boilers
There you have it, the quietest combi boilers on the market ranked. Now let's take a look at the top 5 in more detail.
1. Worcester Bosch Greenstar 2000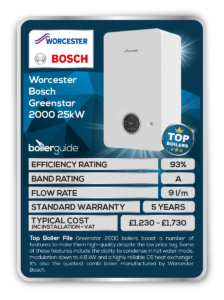 Worcester Bosch released the Greenstar 2000 range to make their premium heating systems available at a more affordable price. There are two Greenstar 2000 boilers and both have an ErP decibel rating of 43 making them the quietest on the market.
A Quick Tap feature reduces water waste
6 year guarantee when fitted with a Greenstar System Filter
The C6 heat exchanger is covered by a 10 year guarantee
Also available in LPG for off-grid properties
2. Ideal Logic Max C35
Ideal is a leading name in the UK heating industry. The Logic Max range of boilers are highly efficient and have been designed to fit seamlessly into your home.
The Logic Max C35 came very close to the top spot but just missed out. This model puts out a sound level of 44db while the C30 has a decibel rating of 46.
Designed for a compact installation within a cupboard
Includes frost protection to keep it running through the winter
A low lift weight can help to keep installation costs down
Lengthy 10 year warranty as standard
3. Vaillant ecoTec Plus 838 & 938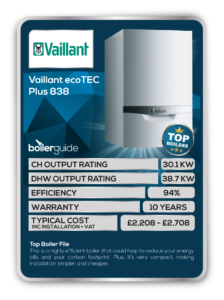 Vaillant boilers are well known for performing efficiently. This means they can help to lower your heating bills. The 838 and 938 are the most powerful boilers in the range and both have a noise level of 45db.
Can perform at 1:6 of its top power (known as modulation ratio) to lower energy consumption
Frost protection for reliable heating year-round
Standard warranty of 5 years
Option to extend the warranty to up to 10 years
LPG model available
4. Viessmann Vitodens 200-W 30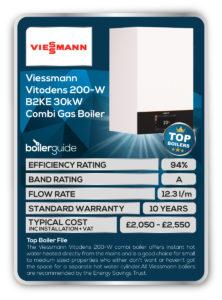 Viessmann boilers are recognised for their efficiency. This particular range is able to perform at 98% efficiency at times – which is very high. Add that to its low noise levels and you have a combi boiler well worth considering.
Can perform to efficiency levels of up to 98%
Incredibly wide modulation ratio of 1:17 meaning that it can lower its output rating to reduce the energy it uses
Compact design
Option to extend the warranty from 5 to 10 years
5. Atag i24C
ATAG boilers are widely recognised as being reliable and highly efficient. This is backed up by their extensive warranties of 10-14 years.
Only 275mm deep which allows for installation in a cupboard
Built-in frost protection
User-friendly controls
A 10 year warranty as standard
Warranty can be extended to a very lengthy 14 years
Lifetime replacement guarantee on the stainless steel heat exchanger
Quietest system and regular boilers
System and regular boilers run at similar noise levels to combi boilers. However, the quietest system and regular boilers have a lower decibel rating than the quietest combi boiler.
Quietest system boilers
Quietest regular boilers
Why is my boiler making noises?
An unhealthy boiler will make all sorts of noises. From banging and clunking to gurgling and whistling.
If your boiler has started to make a concerning noise then you'll need to find the cause of the problem. The best way to do this is by hiring a Gas Safe registered engineer. They'll then be able to fix the problem too.
Having said that, based on the noise you're hearing we can potentially find the cause.
| Boiler Noise | Possible Reason |
| --- | --- |
| Banging | A build-up of debris |
| Dripping | A leak |
| Gurgling | Air trapped in the system |
| Humming | High pressure |
| Tapping | A part has come loose |
| Whistling | Build-up of sludge and limescale |
Noticed one of these boiler noises? Then find the cause and how to fix it in our guide to noisy boilers.
How to reduce noise from your boiler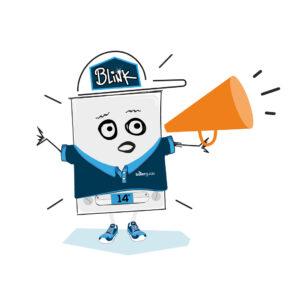 As a boiler ages it's likely to get noisier. To keep it running as quietly, reliably and efficiently for as long as possible, we highly recommend having it serviced annually.
However, there will come a time when you need to find a new boiler. You should start thinking about a new boiler after around 8 years. If your boiler is 15 years or older then getting a new boiler should be at the top of your to-do list. You can get free quotes for a new boiler here on Boiler Guide.
If your boiler is fitted in a room where you spend a lot of time, like a bedroom, then it's worth soundproofing the cupboard (if it's in one).
How to soundproof a boiler cupboard
If your boiler is fitted in a cupboard then there are a few things you can do to keep the sound down. Your options for soundproofing a cupboard include acoustic panels or carpet tiles. Both of these line the inside of the cupboards – effectively acting as a form of insulation.
An alternative idea is to hang thick curtains around the cupboard. This is unlikely to be practical in many homes but is worth considering.
Get quotes for a quiet boiler
If you have an old noisy boiler then it could be time to consider a replacement. Not only are modern boilers quiet, they're also safer, more reliable and able to reach higher efficiency levels.
Finding a heating engineer to install a new boiler used to be a challenge but we've made it easier than ever. Simply complete our online form by clicking the button below and up to 3 local installers will be in touch as quickly as possible. Each will give a quote for the installation of a new boiler for you to then compare. You're free to turn down any of the quotes you receive.
Get your best deal
Quickly compare 3 FREE quotes
Quotes from locals engineers
Get quotes today, installed tomorrow
Finance options available
Save up to £500 on installation
0330 808 0405
1,8 million quotes provided in 10 years