Are Heat Wayv 'Microwave' Boilers the Future of Home Heating?
A UK energy technology company has developed the world's first microwave-powered boiler. Could the invention become a viable zero-emissions alternative to fossil fuel boilers in a low-carbon future? We've taken a look at what we know so far.
Heat Wayv has designed the Heat Wayv boiler which uses microwaves to produce heat rather than burning gas or oil like traditional boilers. This boiler is powered by electricity and uses the same technology as a microwave oven to heat water. The hot water can then be used in radiators or to supply taps and showers.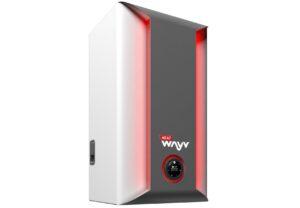 Replacing gas boilers
The UK has a target of reaching net-zero emissions by 2050. The UK will be at net-zero when the amount of greenhouse gas emissions produced is equal to the amount that we remove from the atmosphere. To make this possible, we need to:
Reduce the level of greenhouse gas emissions
Plant more trees which will absorb carbon dioxide
Install carbon capture technology to prevent carbon from entering the atmosphere.
As a significant portion of the country's carbon emissions come from the fossil fueled boilers in our homes, big changes are needed to give us a chance of reaching that target.
The government has already announced that gas or oil boilers will not be installed in new build homes from 2025, and there are also theoretical plans to phase out the installation of new fossil fuel boilers in general from the mid-2030s. This means that people moving into new builds from 2025 will have to embrace a low-carbon heating system, and from the mid-2030s, when a gas or oil boiler breaks down it will need to be replaced by a low-carbon alternative.
What will we be using to heat our homes in the future? So far, the main contenders have been heat pumps, biomass boilers, solar thermal panels, and, if/when hydrogen production reaches a high enough level, hydrogen-fueled boilers.
However, the Heat Wayv boiler could be another viable alternative for the government to consider.
What are the low-carbon heating options?
Despite their reduced emissions, all low-carbon heating systems that we are being encouraged to embrace have pros and cons to consider.
Heat pumps
Heat pumps (air source or ground source) extract latent heat from the air or ground outside the property and compress it until it is hot enough to produce hot water for heating and hot water.
Pro? Heat pumps run on a small amount of electricity but do not produce carbon emissions when operating.
Con? Heat pumps require outside space as well space for a hot water cylinder inside the home which many properties cannot accommodate. The water they produce is not as hot as a boiler would produce, so homeowners need to improve insulation and install larger radiators or underfloor heating.
Biomass boilers
Biomass boilers burn wood pellets, chips, or logs to produce hot water for heating and domestic use.
Pro? They are regarded as carbon neutral as they only produce as much carbon as the tree absorbed while growing, and they can be cheap to run if you have access to a supply of natural wood.
Con? Biomass boilers are significantly bigger than traditional boilers due to the size of the fuel and the fuel itself needs to be stored on the property, replenished regularly, and manually fed into the boiler. Biomass boilers also require a hot water cylinder and need to be cleaned out regularly.
Solar thermal panels
Solar thermal panels are fitted onto the roof of the property where they can absorb energy from the sun and use it to heat water for a hot water cylinder.
Pro? Solar thermal panels are low maintenance and do not produce any emissions.
Con? Solar thermal panels typically cannot produce enough hot water for a home all year round so need to be installed alongside another heating system.
What is a Heat Wayv boiler?
Speaking to H&V News, the co-founder of Heat Wayv, Phil Stevens, said: "The end of the gas boiler is inevitable and scheduled. But the proposed replacement technologies do not work for consumers as they are either too expensive to install or too expensive to run. We looked for a clean technology where the boiler would cost the consumer the same to buy, same to install and same to run as a gas boiler."
Heat Wayv claims that their microwave boiler could offer a better gas boiler alternative than other low-carbon heating systems, but currently they have only developed a prototype.
The Heat Wayv would include electronic components that rely on the controlled flow of electric charges and a magnetron that emits microwaves, transferring energy to individual water molecules to heat up water.
In theory, the Heat Wayv boiler would be installed in the same location as existing boilers and would be able to work with existing pipework and radiators, minimising expense and disruption to the homeowner. The Heat Wayv would produce zero emissions and would be connected to the internet so homeowners could manage their heating via an app. The company also claims that the boiler would be almost silent when running and 'virtually maintenance free'.
There would be two types of Heat Wayv boiler:
Heat Wayv One would replace a standard combi-boiler in size and would produce hot water for domestic use and central heating on demand.
Heat Wayv Max would be larger as it would contain a 280 litre internal hot water tank to supply larger homes with sufficient hot water.
Potential problems with the Heat Wayv boiler
The Heat Wayv boiler certainly has the potential to form part of the UK's low-carbon heating strategy, but that does not mean by any stretch that it is a perfect solution.
Heat Wayv boilers, like the microwaves so many of us already own, would run on electricity which is currently around 4-5 times more expensive than natural gas, so running a Heat Wayv boiler is likely to be costly. In addition many homes would need to upgrade their electricity wiring as the boiler would require a lot of power.
It is also important to consider that an electric heating system cannot be truly low-carbon unless it is powered by green electricity, i.e., electricity that has been generated through renewable sources like wind and solar (rather than gas and coal). The UK is steadily increasing its use of renewable technology to generate electricity.
There is also not much information available about how much the Heat Wayv might cost homeowners to install.
In any event, homeowners and housing developers will have to wait to find out if the Heat Wayv could be a viable heating system, as the company is still working on its prototypes. The brand has plans to trial the boilers in real homes by the end of 2022. If those trials are successful, the Heat Wayv could be on sale in 2024.
What about hydrogen boilers?
Hydrogen boilers that are supplied with a gradually increasing amount of hydrogen via the existing gas network could prevent the need for millions of existing boilers to be removed. If the government invests in hydrogen, which it looks likely that it will, hydrogen-ready boilers would be gradually installed ready for when the grid switches. Over time, phasing hydrogen into the natural gas supply will reduce the UK's carbon emissions with no impact on homeowners.
If/when a 100% hydrogen grid becomes a reality at a later date, a hydrogen boiler would be installed when a gas or oil boiler breaks down, and/or existing boilers would be adapted to work with hydrogen. The boiler would then operate in the same way as a traditional boiler but would not produce any emissions.