How to Insulate Your Hot Water Tank and Pipes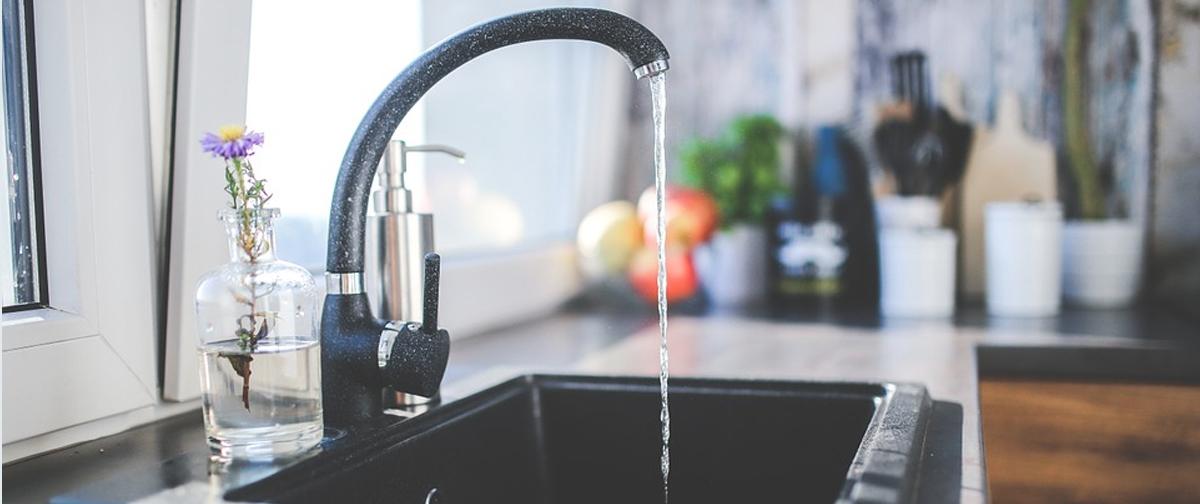 Insulating hot water tanks and pipes will reduce the amount of heat they lose, making them more efficient and cheaper to use. Insulating with cylinder jackets and foam tubing is usually a straightforward DIY job and tends to pay for itself very quickly.
Our handy guide looks at how much you could save with these energy saving quick wins and how to go about installing them.
---
Need a local heating engineer?
---
Why insulate the hot water tank and pipes?
An uninsulated hot water tank will lose heat much quicker than an insulated tank. Simply insulating the hot water tank and pipes of your central heating system has the potential to:
Reduce your energy bills
Cut the carbon footprint of your home
How much does insulation cost?
Hot water tank insulation jackets cost as little as £15 and could start paying for itself within a matter of months. When it comes to pipe lagging, the cost is estimated at £5-£7 per metre, with prices varying depending on the size of the piping and how much you need for your central heating system.
These minor investments are very much worthwhile when you consider how much they could help you save on your energy bills.
How much you could save with insulation
By insulating an uninsulated hot water tank with 80mm of insulation, the Energy Saving Trust estimates that you could save between £75 and £85 each year on your energy bills depending on your house type. Adding foam tubing around your pipes can take a little longer to pay for itself but is certainly still cheap, easy and effective.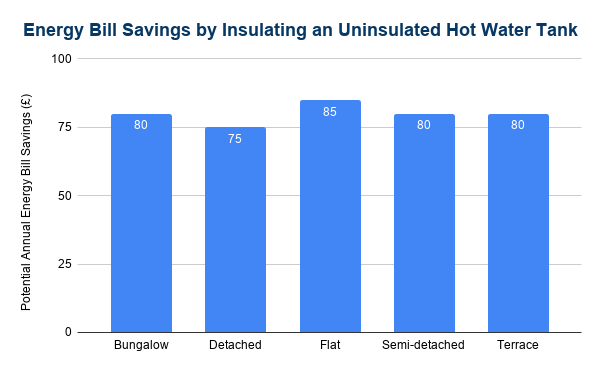 Source: The Energy Saving Trust
As well as the financial savings that can be made, you'll also be reducing your carbon footprint.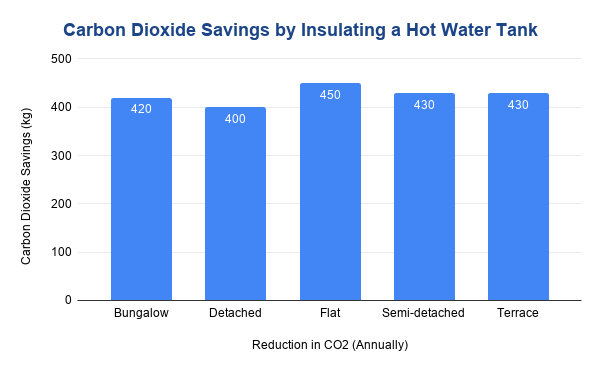 Source: The Energy Saving Trust
What is material is used for insulation?
Modern hot water cylinders are fitted with hardened foam which often means that they're already sufficiently insulated. Older cylinders, on the other hand, could do with insulation to prevent heat loss – normally around 80mm. This insulation comes in the form of a hot water cylinder jack, often made up of recylcled fiberglass within a PVC cover.
When it comes to electric water heaters, polythene or neoprene foam are the most suitable materials for insulation of the piping.
How to insulate your hot water tank
A hot water jacket is the simplest way to insulate a hot water tankThe jacket you buy should come with specific manufacturer's instructions but there are a few general points to follow:
Make sure to purchase a British Standard tank jacket that is at least 75mm thick. It's also advisable to measure your hot water cylinder before buying to ensure you get the right size.
If your tank already has insulation but is less than 75mm thick you could either add another jacket on top or replace it completely.
Should you feel even slightly unsure, don't hesitate to contact a professional heating engineer to carry out the insulation.
Turn the hot water cylinder off and wait for it to cool down
Clear the space around the cylinder so that you have plenty of room
Wipe the cylinder clean
Make a note of any important information labelled on the cylinder to write on the jacket at the end
Measure the cylinder with a tape measuer and cut the right amount of insulation
Wrap the jacket around the cylinder and tape it together, leaving a gap for any controls
Adding foam tubing to pipes
Once the hot water cylinder is sufficiently insulated, lagging the hot water pipes too will reduce heat loss even further.
Lagging your hot water pipes with foam insulation is usually a DIY job, but if they are very hard to access you might need help from a professional. You can insulate your pipes in a few easy steps:
Turn the central heating off and wait for the pipes to cool down
Measure the length and diameter of the central heating pipes so you know how much insulation you'll need – the first 3 feet of piping out of the cylinder are the most important.
Cut up the insulation so that it's the right size
Once you have the correct size of tubing simply fit it around the pipes - most tubing will even come with a slit down the side so it is easy to implement.
You can also secure the tubing with something like cable ties or aluminium foil tape if you think this is necessary.
More ways to save energy
Energy saving measures like insulation are a great way to reduce heat loss and cut household bills, here are a few more ideas to help you keep your energy bills down.
Insulate your home
Reducing heat loss from the heating system is a great start but will only go so far if your home isn't sufficiently insulated. Cavity wall insulation, loft insulation and double glazing will all help to prevent heat from escaping.
Hot water cylinder service
Noticed problems with your hot water cylinder? Insulation will only be able to help if the cylinder is working, an annual service by a heating engineer will ensure the safe and efficient running of the hot water cylinder.
Bleed the radiators
If one or more of the radiators around your home are only warming up at the bottom, then they might need bleeding. Bleeding a radiator is a fairly simple process that you can do yourself without the need for a heating enginer – should you feel the slightest bit unsure though, don't hesitate to contact one.
Arrange a home energy audit
A home energy audit involves finding areas of a property that could be made more efficient and coming up with solutions. These can either be carried out by a professional or using a DIY kit.
New boiler
If you have an inefficient boiler you could actually be losing a lot of heat as it is produced. A new efficient condensing boiler can reduce wastage by recycling the heat that would have been lost otherwise, saving you up to £365* a year. You can get free quotes from Gas Safe registered installers using our simple online form.
---
Need a local heating engineer?
---
References
Energy Saving Trust, Heating Your Home: Boilers (2022) *Based on replacing an old gas boiler with a condensing A-rated boiler with thermostatic radiator valves, programmer and room thermostat in a detached home. Figures are based on fuel prices as of November 2021.
Energy Saving Trust, Reducing Home Heat Loss: Insulating tanks, pipes and radiators (2021)