Daikin Boiler Warranty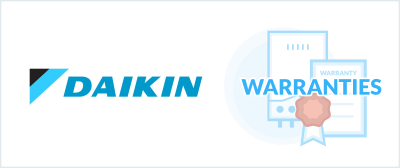 What is a Boiler Warranty?
Buying a new boiler is an important investment for your home. When deciding which boiler brand to go for one of the most important considerations should always be the warranty you'll receive. The warranty means that if something goes wrong the manufacturer will cover the cost of replacing the part and sometimes even cover the labour costs, so you're not hit with unexpected bills.
The length of the warranty is a good indication of the quality of the boiler's design. Warranties usually fall between 1-10 years in length but some will specify that certain parts or labour costs aren't covered for the entire period, so always check the smallprint.
Who are Daikin?
Daikin began in Japan and has been designing and manufacturing high quality air conditioning and refrigeration products for over 90 years. The company has recently developed their first inhouse manufactured gas condensing boiler which they claim is the 'world's smallest boiler' at just 27kg.
Standard Daikin Warranty
Daikin include a 2 year warranty as standard but it is possible to extend this up to 3, 5 or 7 years if it is installed by an engineer who is a member of Daikin's partner programme.
What's Covered by the Warranty?
Daikin's 2 year standard warranty covers all parts and labour which means that any and all technical issues with the boiler will be repaired free of charge.
If you want to get in touch with Daikin about an issue you the Daikin Heating Contact Centre is open 8am – 7pm Monday to Friday and 9am – 3pm on Saturdays.
Terms and Conditions
It's always important to check the small print of your warranty when dealing with any manufacturer because it may not cover as much as you might first think. While Daikin's warranty covers parts and labour, some may only cover parts which will mean you'll need to pay an engineer's labour costs.
You'll need to have your Daikin boiler serviced annually by a Gas Safe Registered engineer to keep the warranty valid valid. If you don't you may end up having to pay out for call-out charges and repair costs which can be costly.
You will usually need to prove that your boiler has been serviced annually so make sure to get hold of a proof of service.
How to Register Your Warranty
Your Daikin boiler needs to be registered with the manufacturer within 30 days to activate the warranty. In most cases your installer should register your warranty with Daikin after they have completed the installation.
However, it's always worth checking this has been done. You can also take care of it yourself on their website via an online registration form or by sending the form to them email or post.
---
---
Warranties for each Daikin Boiler
Boiler Model
Standard Warranty
Combi Boilers
Daikin D2CND 24kW Combi Gas Boiler
2 years
Daikin D2CND 28kW Combi Gas Boiler
2 years
Daikin D2CND 35kW Combi Gas Boiler
2 years
If you think a Daikin boiler could be the right choice for your home, send us an enquiry today and get free quotes for installation from trusted engineers near you.