Glow-worm Boiler Service & Maintenance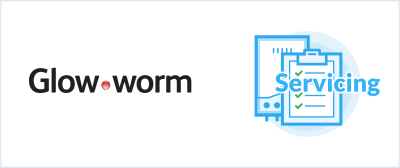 With the right maintenance a Glow-worm boiler could heat your home for 10-15 years after installation, but a vital part of this maintenance is the annual service.
During a professional boiler service, the safety and efficiency of the boiler will be checked and tested; helping to protect your home and keep your heating bills as low as possible.
---
---
What is a boiler service?
Heating engineers carry out boiler services to check and test the unit in terms of safety, efficiency and performance. To get the most out of your boiler, a boiler service should be arranged annually and carried out by a Gas Safe engineer on gas boilers or an OFTEC registered engineer for boilers that run on oil.
All Glow-worm boilers run on gas, which means that you'll need to find a Gas Safe engineers for each service during the boiler's lifetime. Gas Safe engineers are the only people legally allowed to work on gas appliances. It's very important to ask the engineer for their Gas Safe ID card as soon as they arrive at your property.
A boiler service will last at least 30 minutes but this will depend on the type of boiler and whether or not the come across any faults during the inspection.
Boiler service checklist
When you're happy that the engineer is qualified to work on your boiler, they'll run through a series of standard checks including, but not limited to, the following:
A visual inspection of the boiler will identify signs of corrosion or leaking. The engineer will also make sure that the flame is burning a strong blue colour as a yellow or orange flame could mean the boiler isn't burning fuel completely which is a safety risk.
The engineer will then inspect and clean the internal parts such as the heat exchanger, burner, main injector, safety devices and spark probe.
The flue terminals will be checked to make sure they are free from obstruction as well as being safely fitted and sealed. They'll also ensure that water and gas pipeworks are all in good condition.
The gas pressure and flow settings will both be checked to ensure that they're at the right levels.
The boiler will then be switched on to make sure it's operating correctly operation and the temperature controls are effective.
When the boiler service is complete, your engineer will provide a boiler service report giving details of everything that they've done. If there's anything in the report you don't understand be sure to ask them to explain.
---
---
Why a boiler service is important
Safety
If the boiler isn't burning fuel completely it can cause a carbon monoxide leak. This is a potentially lethal gas which, as it's colourless and odourless, is hard to detect. During a boiler service, the engineer will be able to spot a leak, or the potential for a leak, and get it resolved.
If you suspect carbon monoxide is leaking from your boiler then you shouldn't hesitate to get in touch with a Gas Safe engineer or the Gas Emergency line on 0800 111 999 – don't wait for a service.
Keep heating bills down
A boiler's efficiency drops with age, which is bad news for your heating bills. Thanks to a boiler service, the engineer will ensure the efficient running of the system to help keep bills to a minimum.
Prevent breakdowns
Even the smallest of boiler problem can cause damage or breakdowns if left to develop into something much worse. Arranging a boiler service helps to detect the early signs of a fault saving you from having to deal with a large repair bill in the future.
Warranty
Glow-worm boilers come with 2 – 7 years of warranty as standard but some models are eligible for up to 15 years of warranty if fitted with Glow-worm's Club Energy installers. However, this warranty becomes meaningless if the boiler isn't serviced by a Gas Safe engineer every year.
Glow-worm boiler service costs
A Glow-worm boiler service will usually cost between £60 – £120 but there are several factors that will influence the final price:
Your location (the south tends to be more expensive than the north)
Type of boiler being serviced
Age of the boiler
The rates charged by the engineer.
Should the engineer find an issue with your Glow-worm boiler then you'll be charged for the repair on top of the service.
You could save money by arranging a boiler service during the summer as heating engineers don't tend to have as much work on at that time of year. You'll also benefit from the peace of mind that your boiler is ready for the winter when you'll need it most.
NEVER try to carry out a boiler service yourself. ALWAYS find a Gas Safe registered boiler engineer.
---
---
Boiler service plans
You can take out a boiler service plan, or boiler cover, which include a service. These plans mean that you make monthly payments to cover the cost of a service and any repairs, rather than making the one-off payment.
With a boiler cover plan you also have the additional peace of mind that you're covered should the boiler stop working. If your Glow-worm boiler is over 8 years of age and no longer covered by a warranty, then you might want to consider a boiler service plan.
However, the monthly payments will often add up to more than the one-off price of a service, so if you can afford to pay for it upfront it makes more financial sense in the long term.
Boiler maintenance
While an annual boiler service is essential, there are several checks that you can carry out yourself to keep your Glow-worm boiler running safely, effectively and efficiently.
Insulate the pipes
Should the external pipes connected to your boiler freeze in winter it can lead to increased increased pressure, leaks or even complete breakdown. This makes insulating your pipes with lagging (mineral or glass wool, polyethylene or foam) a simple but effective way to keep your boiler healthy.
Keep an eye on the pressure
Pressure is needed for the boiler to operate as it should, so keeping an eye on the pressure gauge is very important. Whether you find that the pressure is too high or too low (it should be between 1 and 2), you can repressurise the system yourself following the instructions provided by the manufacturer.
Insulate!
A poorly insulated home will be letting the heat generated by your boiler escape, meaning that the boiler has to work even harder to keep your home at the desired temperature – contributing to higher heating bills.
Annual service
However often you carry out DIY checks, they're no replacement for an annual boiler service by a Gas Safe registered engineer.
You can get a free quote for your next Glow-worm boiler service from a local Gas Safe registered engineer here at Boiler Guide. Let us know that you're looking for an engineer and we'll take care of the rest. It couldn't be simpler.