How Much Does a New Bathroom Cost?
Most new bathrooms cost around £4,500.
But there's no simple answer to how much a new bathroom costs. There are simply so many variables – from the price of the appliances to the rates charged by the installer.
So your new bathroom could cost around the average of £4,500, be a little lower at £2,000 or stretch out as far as £15,000.
For a better idea of how much your new bathroom will cost, we need to break down all of the costs involved.
New bathroom costs
The total cost of your new bathroom will depend on the size of the room and the fixtures being fitted.
The average price of a new bathroom is around the £4,500 mark but smaller bathrooms can be fitted for between £1,000 and £3,000. The larger bathrooms could be looking at a total cost of £6,000 to £10,000.
Planning something more luxurious? Then your total costs for a new bathroom could stretch out to £15,000 and beyond.
How much do appliances for a new bathroom cost?
The first things that come to mind when fitting a new bathroom are the toilet, basin, bath and shower.
All together, these have an average cost of around £2,000, without installation costs. And as with anything, you can get high-end or more affordable options.
| New Bathroom Part | Low-end Cost | Average Cost | High-end Cost |
| --- | --- | --- | --- |
| Toilet | £50 – £100 | £150 – £250 | £500 – £1,750+ |
| Bath | £100 – £150 | £300 – £700 | £2,000+ |
| Walk-in Shower | £100 – £200 | £200 – £2,000 | £2,000+ |
| Basin | £30 – £80 | £90 – £175 | £250+ |
New toilet styles and costs

New toilets come in many different styles and some of the most popular are back-to-wall, rimless and wall-hung.
Close-coupled
The most common toilet in UK homes and chances are that you have one in yours. The toilet backs onto a wall and the cistern sits abAll pipework is hidden within the toilet casing.
If you're looking for a quick and affordable installation then this is the toilet you want.
Back-to-wall
If you're looking for a toilet that could save you space then a back-to-wall model could be perfect. As the name suggests, they back onto the wall which hides the plumbing and cistern. So the bowl of the toilet is the only part that you'll be able to see.
Wall-hung
A close relative of the back-to-wall toilet, wall-hung toilets are fitted to the wall (which hides the plumbing and cistern) but don't touch the floor. They're a very modern option.
Rimless
As the name suggests, a rimless toilet has no rim. This makes them more hygienic and easier to clean as bacteria can't build-up under the rim.
When you flush a rimless toilet, water shoots down from the back of the bowl at an angle that covers all sides of the basin.
Saniflo
A Saniflo (macerator toilet) is very different from the toilets we're familiar with. This is mainly because they feature a blade which breaks down the waste.
When you flush a Saniflo, the waste is mixed with flush water and gets macerated down into a liquid. Breaking down the waste in this way makes it easier to get through the narrow pipework. Then it's gone.
They can also dispose of other bathroom waste from baths, showers and taps too. In this case, the water builds up in a tank until it reaches a certain level. At this point, it's pumped away under pressure.
They're quick to install, can be moved at a later date and are suitable for installation almost anywhere around the home.
| Popular toilets | Average cost |
| --- | --- |
| Close-coupled | £50 – £325 |
| Back-to-wall | £90 – £225 |
| Rimless | £125 – £400 |
| Wall-hung | £150 – £500 |
| Saniflo | £300 – £500 |
New bath styles and costs

For the family bathroom, a shower bath is almost a must. And most homes will have one. However, there are some other options that could make better use of the space or simply make bath time more enjoyable.
Shower bath
Rather than having to decide between a bath and a shower, shower baths give you the best of both worlds. The side of the bath runs along a wall as will the end of the bath with the taps and shower head. Half of the bath will also have a shower screen.
Free-standing bath
Free-standing baths are fitted away from the walls and are often pretty deep. They can be large so are only really an option for big bathrooms.
Corner bath
Corner baths are great space-savers that are fitted into the corner of a bathroom. They can give a sense of luxury but prices can be very reasonable.
| Popular baths | Average cost |
| --- | --- |
| Shower bath | £200 – £425 |
| Free-standing bath | £300 – £750 |
| Corner bath | £200 – £650 |
New shower types and costs

Most homes have a mixer shower but other options include electric and power.
Mixer shower
A mixer shower is connected to hot and cold water supplies which it mixes together to meet your desired temperature.
Electric shower
While other showers get hot water from your heating system (most likely a boiler), an electric shower heats cold water from the mains itself. Great for smaller homes where the boiler might struggle to meet demand for hot water.
Power shower
A power shower mixer hot and cold water, just like a mixer shower. The key difference is that power showers have a pump which increases the pressure.
| Popular showers | Average cost |
| --- | --- |
| Mixer shower | £80 – £450 |
| Electric shower | £50 – £330 |
| Power shower | £150 – £600 |
New basin types and costs

A full pedestal basin is the most common basin found in the bathrooms of UK homes but you have so many more options that could free up some space.
Full pedestal
This is a basin supported by a pedestal that connects with the floor. Rather than supporting the weight of the basin, the job of the pedestal is more to hide all of the pipework. They're connected to the floor and wall which both offer support.
Semi-pedestal basin
A semi-pedestal doesn't reach all the way down to the floor – like a full-pedestal. So all of the pipework is hidden but you'll also have increased floor space.
Wall-hung basin
A wall-hung basin has no pedestal whatsoever. This does leave pipework exposed but frees up floor space. You could even attach a towel rail beneath the basin.
Corner basin
A corner basin fits in the corner of the bathroom at a 90 degree angle. They're a great option for smaller bathrooms that are tight on space.
Countertop basin
Countertop basins are fitted onto a bathroom worktop or vanity unit. They're very modern and rather than the tap being fitted to the basin you could choose for it to come out of the wall or out of the worktop.
| Popular basins | Average cost |
| --- | --- |
| Corner | £40 – £110 |
| Full pedestal | £65 – £350 |
| Semi pedestal | £60 – £175 |
| Wall-hung | £80 – £180 |
| Countertop | £50 – £200 |
How much does installation of a new bathroom cost?
Most bathroom installers have a day rate between £130 and £250. If more than one person is fitting the bathroom then you'll be paying a higher rate each day. But on the plus side, your new bathroom will be finished sooner.
As the day rates can vary, we highly recommend comparing quotes. That way, you'll know that you're getting a fair and competitive price for the work.
What are the additional costs of a new bathroom?
As well as the costs of those appliances, you'll need to think about removing the old bathroom, whether plumbing will need replacing, initial design costs, heating, wall covering, lighting, flooring, waste and the rates charged by the installer.
Removing the old bathroom
Before your new bathroom can be fitted, your current one needs to be taken out.
You could be looking at costs of up to £1,000 for your old bathroom to be removed. But this will vary depending on the size of the bathroom. You could also save a bit of money on the removal if any current fixtures will make up part of your new bathroom.
Bathroom design costs
Before work on your new bathroom can begin, you need a plan.
Most people will buy a new bathroom as a package that includes a bath, shower, toilet and sink. Going down this route may mean that designs are included. Alternatively, if you want a unique concept then you can hire an independent bathroom designer.
The most basic consultations can be free in some cases but you're most likely looking at costs of £100 to £200 per hour.
For a full set of bathroom design plans that an installer can use, costs will head over the £1,000 mark.
New plumbing
A new bathroom can either mean new pipes or a complete reroute of the existing pipework. If you're planning to move a bath, sink or toilet to a new location this will add to the costs. In the most complex installations, bathroom plumbing costs can reach £1,000.
Bathroom heating costs
Fitting a new bathroom is a good chance to think about the heating.
You can't go wrong with a towel radiator but if you want to add a bit of luxury to your bathroom then it's worth thinking about underfloor heating.
Underfloor heating systems can be wet or dry (electric). Electric underfloor heating is quicker to install and doesn't need to be connected to your home heating system. However, they're more expensive to run as electricity prices are higher than gas (the most common fuel for boilers).
| Bathroom Heating | Average Costs |
| --- | --- |
| Towel Radiator | £50 – £200 |
| Underfloor Heating | £800 – £1,000 |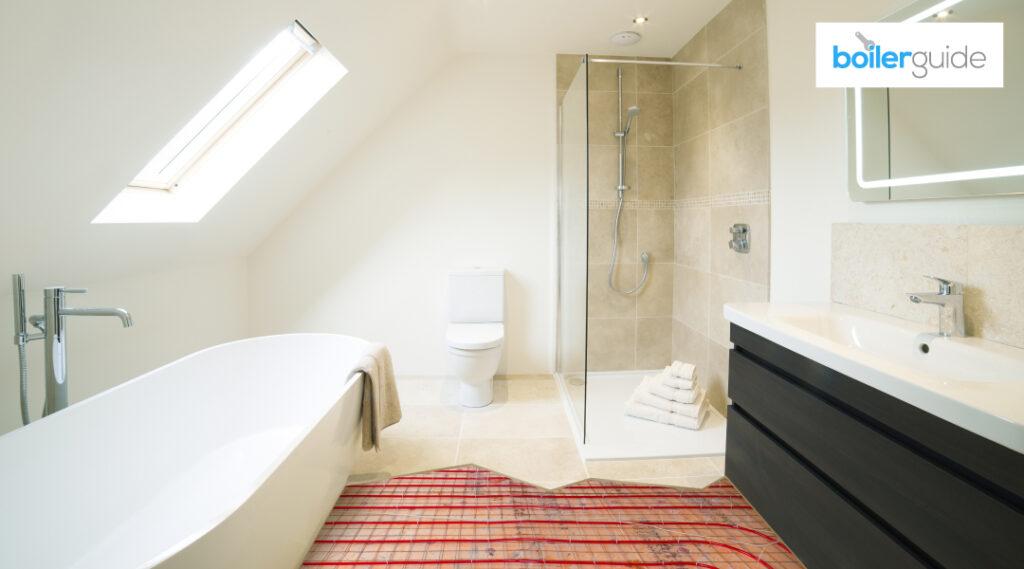 Bathroom wall costs
Tiles have always been a popular choice for bathrooms but they're now getting tough competition from wall panels (also known as cladding).
Wall panels are made from uPVC. And, most importantly, are 100% waterproof. They come in a range of designs and styles and are cheaper than tiles.
As you can see from the table below, the price of 1m² worth of bathroom tiles and 2.6m² of panels are very similar.
| Bathroom wall covering | Size | Average Cost |
| --- | --- | --- |
| Tiles | 1m² | £35 |
| Panels | 2.6m² | £40 |
If you're not sure which to go for, you can get bathroom panels that look like tiles.
Tip: Avoid wall panels that contain MDF as it can absorb water. Not what you want in a bathroom.
Bathroom lighting
There are a few places you might want lights in your bathroom. There's the ceiling, on walls, above a mirror and in the shower. Good lighting is an affordable way to make a new bathroom feel more modern and luxurious.
| Bathroom lights | Potential Cost |
| --- | --- |
| Ceiling | £20 – £85 |
| Mirror | £50 – £200 |
| Wall | £50 – £100 |
| Shower | £10 – £100 |
Bathroom flooring
When it comes to choosing a material for your bathroom floor, you need one that's resistant to water and slippling.
This makes ceramic and porcelain tiles a great option for your new bathroom. And it's why they've proven to be the most popular amongst homeowners.
There's also laminate and vinyl flooring which are chosen by homeowners who are fitting the floor themselves as they're simpler to lay down.
| Type of bathroom flooring | Potential cost per m2 |
| --- | --- |
| Ceramic | £10 – £30 |
| Laminate | £20 – £30 |
| Porcelain | £20 – £30 |
| Vinyl | £15 – £32 |
Bathroom waste
Replacing your bathroom will leave you with a lot of waste. And you'll need to find a way of disposing of it safely and responsibly.
Your installer can take care of it but the rates can be high. So if there isn't going to be much waste then it can be cheaper to remove it yourself.
The best thing you can do is to take some time to find out the costs of dealing with waste before your new bathroom is fitted. Could you save money by getting a skip?
How long does fitting a bathroom take?
Most full bathroom installations take between 7 and 10 days. But the bigger the bathroom, the longer it will take and you could be looking at up to 3 weeks.
Essentially, it all comes down to the size of the job. And how many people are working on it.
Have a chat with your installer about time frames before they get started.
Can I install a bathroom myself?
Installing a new bathroom is a massive job and is best left to a professional.
To fit a bathroom, you need a lot of expertise. Plumbing and electrics for starters. Then you'll need to take care of decorating too.
You'll get quote for all the work before work begins
There's less chance of something going wrong (and if it does there will be a professional on hand to fix it)
You won't have to lift a finger
Talk to bathroom installers near you
We've made it easier to find the best local bathroom installers near you.
Simply head to our directory of bathroom installers and find where you live. You'll then see all of the companies that fit bathrooms in your area. Pick a company and tap the phone number to give them a call. They'll be happy to arrange a quote.
As a new bathroom is a big investment, we recommend comparing at least 3 quotes. That way, you'll know that you're getting a competitive price from the best person for the job.