Introducing the Big Benefits of Big Wipes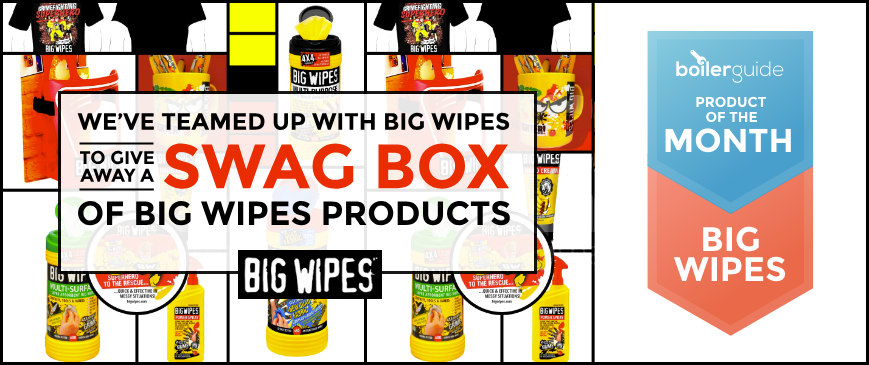 PLEASE NOTE: This competition is now closed. Date 12/07/18.
Big Wipes are the easiest, quickest, safest and most effective way to clean spillages, dirt and stains from both work surfaces and skin. Reusable, environmentally sound and are go-to wipes when you need grime busting power on the go.
That's why we've selected Big Wipes as our Product of the Month. Plus, we've teamed up to give you the chance to WIN a Big Wipes Swag Box! Find out more and enter at the bottom of the page.
Wipes get a bad press and rightly so; we throw out millions of wipes each year and many contain environmentally damaging materials such as plastic. Big Wipes offer Multi-Surface wipes, the material they use for these wipes is 100% natural and biodegradable. The cleaning ingredients are water based and contain 4 great skin conditioners: Aloe Vera, Lanolin, Vitamin E and Glycerine. That means you get the job done and have soft hands at the end of the day. You can also use them multiple times, producing less waste. Seeing is believing so check out this great demo and you'll see why Big Wipes are the only wipes you need.
The unique formula of 4 powerful cleansers will remove paint, adhesives, oil, sealants, silicones, PU foam and general grime.
Big Wipes are ideal for wiping down your tools, hard work surfaces and even your skin. While they deliver exceptional cleaning results they are also kind to skin including a range of skin conditioners and have been designed to meet tough EU Regulation 1223/2009 for Cosmetic Products.
Why Use Big Wipes?
Remove the toughest ingrained dirt, grime and stubborn stains with 4 powerful cleaning agents
Save time (and therefore money) cleaning up during / after a job
Wipe away 99% of bacteria with the antibacterial and antifungal formula
Soothe, nourish and protect dry and cracked skin
Deliver exceptional cleaning results to leave every job looking clean and professional.
There are 3 types of Big Wipes:
Multi-Surface Super Absorbent Bio Wipes
These wipes are not only super absorbent and tough on a range of substances but also kind to the environment. The wipe is made of plant-based viscose and the 4×4 formula is biodegradable so as long as you're removing a non-hazardous substance you can throw the wipe straight on the compost heap.
Multi-Purpose Super Tough Absorbent Wipes
The Multi-purpose wipes are three layered, non-woven and quilted to take on even the toughest industrial cleaning jobs. Big Wipes call this their Power Fabric Technology as it is tear resistant and leaves no lint behind. They include the same powerful 4×4 cleaning formula and skin conditioners to deliver exceptional results every time.
Heavy-Duty Quad Fabric Textured Scrub & Clean Wipes
Ideal for hand cleaning these wipes include high adhesion web technology which Big Wipes call their Quad Fabric. One side is abrasive to remove the most stubborn dirt and the other side is smooth to soak up the rest. The wipes are made of tear resistant, firm grip fabric to make cleaning easier and quicker than ever.
More From the Big Wipes Range:
Big Wipes Power Spray
The Power Spray from Big Wipes is suitable for all tools, hard surfaces and even your skin using the same unique 4×4 cleaning and skin conditioning formula. The spray can be used to clean larger surfaces, pre-treat stubborn stains on walls, floors or window frames before wiping clean. You can also use the spray to 're-charge' wipes.
Big Wipes Hand-cream
This cream is designed to soothe dry, cracked and rough skin and, with its antifungal and antimicrobial properties, can even speed up the healing process.
Cage Van & Wall Bracket
This convenient mountable bracket will keep your Big Wipes tub secure in your van, workshop or garage for easy use and one handed dispensing when you need it.
Big Wipes Swag Box Giveaway- Get All of These Great Products!
If you're a big fan of Big Wipes then get your clean on and enter our free giveaway. One lucky reader will be chosen at random to receive a Swag Box containing all these great Big Wipes products:
1 x BIG WIPES HEAVY-DUTY 80s TUB OF QUAD FABRIC TEXTURED SCRUB & CLEAN WIPES
1 x BIG WIPES MULTI-SURFACE 80s TUB OF SUPER ABSORBENT BIO WIPES
1 x BIG WIPES MULTI-PURPOSE 80s TUB OF SUPER TOUGH ABSORBENT WIPES
1 x BIG WIPES 1 LITRE POWER SPRAY
1 x THE CAGE WALL & VAN BRACKET
1 x BIG WIPES HANDCREAM
1 x BIG WIPES T-SHIRT
1 x BIG WIPES MUG
1 x BIG WIPES STICKER
5 x BIG WIPES PENS
Enter your details below and we'll announce the winner on the 12th of July 2018.
Enter here for a chance to win!
Find Big Wipes Online
 
Terms and Conditions
The Promoter is BoilerGuide.co.uk
The prize is supplied by Big Wipes, Sycamore UK Ltd, The Cleaning Centre, Bath Road, Littlewick Green, MAIDENHEAD, SL6 3QR, United Kingdom
The title of the promotion is Big Wipes - (the "Promotion")
The promotion will run from 9am BST on 27th June 2018 (the "Opening Date") to 23:59 BST on 11th July 2018 (the "Closing Date") inclusive (the "Promotional Period").
The promotion lasts until 23:59 BST on the Closing Date. Any entries received after the Closing Date will be automatically disqualified from the promotion.
Details of the promotion are as below:

A winner will be chosen at random from all installers who have enquired about the product on BoilerGuide.co.uk between 9am BST on 27th June 2018 and 23:59 BST on 11th July 2018 to qualify

The prize is one Big Wipes Swag Box containing:
1 x BIG WIPES HEAVY-DUTY 80s TUB OF QUAD FABRIC TEXTURED SCRUB & CLEAN WIPES
1 x BIG WIPES MULTI-SURFACE 80s TUB OF SUPER ABSORBENT BIO WIPES
1 x BIG WIPES MULTI-PURPOSE 80s TUB OF SUPER TOUGH ABSORBENT WIPES
1 x BIG WIPES 1 LITRE POWER SPRAY
1 x THE CAGE WALL & VAN BRACKET
1 x BIG WIPES HANDCREAM
1 x BIG WIPES T-SHIRT
1 x BIG WIPES MUG
1 x BIG WIPES STICKER
5 x BIG WIPES PENS

The prize will be shipped within 2 weeks of the winner being notified and supplying details to Big Wipes.

The Promoter reserves all rights to disqualify you if your conduct is contrary to the spirit or intention of the promotion.
There is no cash alternative. Big Wipes reserves the right to substitute the Prize with a Prize of equal or greater value. The Prize is not negotiable or transferable.
Insofar as is permitted by law, the Promoter, its agents or distributors will not in any circumstances be responsible or liable to compensate the Winner or accept any liability for any loss, damage, personal injury or death occurring as a result of taking up the Prize except where it is caused by the negligence of the Promoter, its agents or distributors or that of their employees. Your statutory rights are not affected.
If there is any reason to believe that there has been a breach of these terms and conditions, the Promoter may, at its sole discretion, reserve the right to exclude its Entrant from participating in the Prize Draw.
The Promoter reserves the right to hold void, suspend, cancel, or amend the Promotion where it becomes necessary to do so.
Details submitted by entrants will only be used for the purpose of this promotion. The details of the winner will be sent to Big Wipes to arrange delivery of the product. Details will not be kept or used for marketing purposes. By entering, the winner agrees to be mentioned in the Boiler Guide newsletter and Twitter account.
These terms and conditions shall be governed by English law, and the parties submit to the non-exclusive jurisdiction of the courts of England and Wales.
---
Are you a Gas Safe Installer?
---