Fabdec Unvented Cylinder with 3S Technology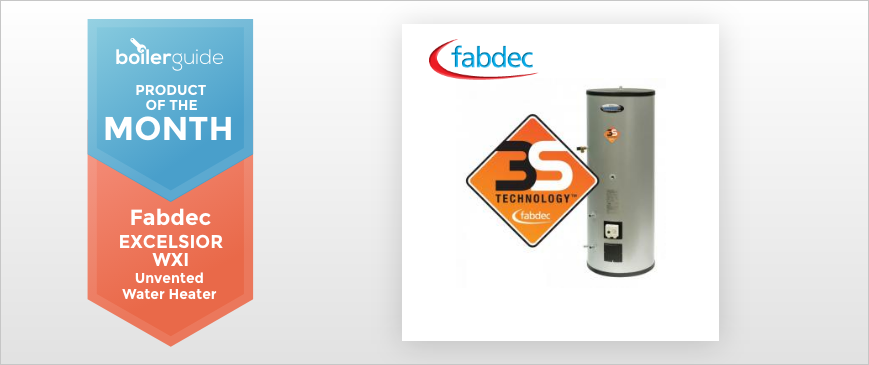 Fabdec has produced the world's first 'self-sustaining' unvented cylinder, featuring their patented 3S Technology.
We've chosen Fabdec's latest unvented cylinder as our Product of the Month because of the big benefits it offers to both homeowners and installers.
What is Fabdec's 3S Technology & Why is it Important?
Water expands as it is heated and, when this happens in a pressurised container such as an unvented cylinder, this poses a problem. For many years the problem has been solved by attaching an external expansion vessel to the cylinder. However, this not only means more space is needed for the installation but also that there is another component to install, maintain and potentially replace down the line.
The next step in the evolution of unvented cylinders was to insert an air bubble at the top of the cylinder to deal with expanding water. This internal system removes the need for an external vessel, simplifying both installation and maintenance. This is an effective solution, but the air bubble needs frequent replenishment meaning annual servicing is necessary.
Fabdec has created a solution to both problems with their patented 3S Technology; this revolutionary system not only removes the need for an external expansion vessel by using an internal air bubble, but also requires no maintenance!
How Does it Work?
Fabdec's EXCELSIOR WXI 3S Technology works on a principle known as the 'Venturi effect'. A special inlet device uses fluid dynamics to create negative pressure, bringing in air at the same time as it draws water from the mains. This air is used to recharge the gap at the top of the cylinder as it's needed.
This means the cylinder automatically recharges itself with air so no maintenance is needed and no need for an external expansion vessel.
Key Features
Immersion Heater: 3kW, Incoloy 825 with thermostat incl. Cut-out
60mm environmentally friendly foam
3 bar water pressure at the outlet (subject to incoming pressure)
Long life with no moving parts
25 years cylinder warranty
No additional parts required
No external expansion vessel, quicker installation
No replenishment of the expansion needed
WRAS, Benchmark & CE approved
Designed & manufactured in the UK
Direct and indirect models 80-500 litres
Benefits
Whether you're a homeowner or an installer, the Fabdec Unvented Cylinder with 3S Technology has plenty of benefits:
| Features | Benefit to Installer | Benefit to Homeowner |
| --- | --- | --- |
| Duplex Stainless Steel | Local support | Spares & service backup |
| Butt Welded Joints | Eliminates Corrosion | Long cylinder life |
| Inlet Diffuser | Maximises Hot Water | Maximises Hot Water |
| High Performance Heating Coil | Fast-reheat times | Constant hot water |
| Minimal Heat Loss | 60mm insulation with outer casing | Lower energy use |
| High flow rates | No shower pumps | Fast filling baths |
| Balanced Hot & Cold Water | Mains pressure to all outlets | High performance showering |
| Pre-plumbed Available | Ease of installation | Minimal disruption |
| Twin or Triple Coil Available | Suits all heat sources | Useable with solar or heat pumps |
| Excelsior WXI with 3S Technology | Reduces installation time | Maintenance-free |
| Hi-Flo Excelsior WXI with 3S Technology | Suits large domestic/commercial | Higher flow rates with 3S technology |
About Fabdec
Based in Ellesmere in Shropshire, Fabdec has been producing stainless steel cylinders since 1960. The Fabdec EXCELSIOR range includes unvented water heaters in a range of capacities for both domestic (80 – 305 litres) and commercial installations. The company also produces buffer vessels up to 32,000 litres, heat pumps and solar options.
For more information on the Fabdec Unvented Cylinder with 3S Technology, visit the Fabdec website.
 
---
Are you a Gas Safe Installer?
---