Introducing the Logicor Heating & Hot Water System
With the government's zero carbon by 2050 target now officially in place and gas boilers already banned from new builds from 2025, the need to find alternative heating systems is more urgent than ever before. One of the most popular recommendations is that we invest in the electrification of our heating network and power it with renewable electricity. If this becomes a reality, energy efficient electric heating systems could be the future for many of us.
But what would an electric heating system of the future look like?
Well, it seems Logicor have a potential solution which could be a game-changer. Using the latest in smart communication technology and radiant infrared heat, this highly efficient system can provide all of your heating and hot water through electrical wiring, completely replacing a gas, oil or electrical system.
Home Heating with Logicor Clear Heater Panels
Clear Heater Panels are sleek, subtle and contemporary heaters which can completely replace a gas, oil or electric heating system in the average UK home. The system uses pulses of electricity and infrared heat to keep energy use to a minimum and heat the objects and people in your home, rather than the air. The system requires no plumbing or complicated wiring; the panels are simply mounted on the internal walls of your home (facing the external walls) and plugged in.
There are 4 sizes of panel available which can be placed in a low, middle or high position and each panel can be individually controlled through the Smart Control Panel, so you can have different temperatures throughout the home. The control panel also enables the heaters to communicate with each other.
The process of removing your current heating system and replacing it with Clear Heaters takes around 1 day (on average) and the installation team will ensure your heaters are positioned to achieve the best possible heating performance.
Heat Water with the Logicor InLine Hot Water System
Logicor's InLine Hot Water System is a small (500 x 470 x 90mm) and lightweight unit (no more than 15kg) which is mounted to a wall using just 4 screws. It is powered by electricity, A rated for efficiency and can provide all the domestic hot water needed by the average 3-4-bedroom home.
The system will provide hot water on demand to a maximum operating temperature of 46°C (in line with Building Regulations), average flow rate of 6 litres/min and a maximum operating pressure of 4 bar. When supplying two outlets the flow rate will automatically adapt so the temperature of the water is not affected.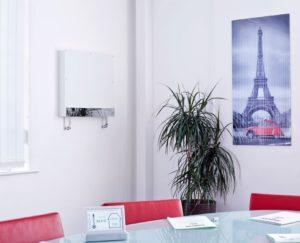 Using the Control Panel you can adjust the temperature of your hot water in increments of 0.1°C and select how much water you want to heat to ensure you don't use more energy or water than you need to. The Control Panel also enables you to monitor how much water you use in a day/week/month while keeping track of costs in real time.
If you install the InLine Hot Water System alongside Clear Heater Panels, you can remove the need for oil or gas in your home. Both the Clear Heater Panels and InLine Hot Water System are guaranteed for 20 years from the date of installation.
What are the Running Costs?
Logicor Clear Heaters & Hot Water vs Gas Boiler
Electricity as an energy source for heating has a reputation for being expensive, especially when compared to gas, so surely the Logicor system would increase your heating bills? Not according to Logicor's market research and customer data. Logicor's data shows that customers who switch from an A rated, condensing gas boiler to the Clear Heater Panels and InLine water heater save an average of 50% on their heating bills and 43% on their hot water bills. To illustrate the potential hot water savings, Logicor provided us with these average annual costs of filling a bath every day based.
| Heating Method | Average Bath: 80 litre | Medium Bath: 150 litre | Maximum Bath: 230 litre |
| --- | --- | --- | --- |
| Electric Immersion Heater | £161 | £302 | £464 |
| Modern Gas Boiler | £57 | £108 | £165 |
| Logicor's InLine Hot Water System | £33 | £62 | £94 |
While these figures are averages and will vary from household to household, the significant savings can be attributed to the intelligent and energy efficient technology.
How Do Clear Heaters Reduce Energy Use?
The Clear Heater System is 100% efficient which means none of the energy you pay for is wasted. A modern A rated boiler is typically 90-92% efficient while older models can be significantly less efficient.
Conventional heating systems will heat the air in your home so unless your home is fully insulated at least some of the heat will be lost through windows, walls, ceilings etc. Infrared radiant heat warms the objects and people directly which drastically reduces heat losses.
Our bodies emit infrared heat to a maximum of 10microns and the radiant heat given out by the Clear Heater Panels is between 4-9microns in strength to work in harmony with our bodies. This delivers more comfortable warmth which means that users of tend to heat their rooms around 2°C lower than with a conventional gas central heating system, using less energy to achieve the same level of comfort.
Thanks to the phased energy function of the clear heater panels they only need to be working for 25% of the time to reach temperature.
The Clear Heater System enables you to switch on individual heaters so you can have different temperatures in different rooms or zones of your home, so you're not heating rooms unnecessarily.
Clear Heater Panels react very quickly to requests for warmth and can provide heat to specific rooms; a conventional system has to heat the whole home, even if you only want heat in one room, which means it takes longer to reach a comfortable temperature.
The Smart Control Panel gives you complete visibility and control over how much you're spending on heating and/or hot water by displaying real-time usage and how much you've spent on energy.
If you have a solar PV system in your home generating free renewable electricity, you can power the system for free for at least some of the time, so your running costs could be even lower.
You can choose how much water you want to heat with the InLine Hot Water System Control Panel so you aren't wasting energy or water.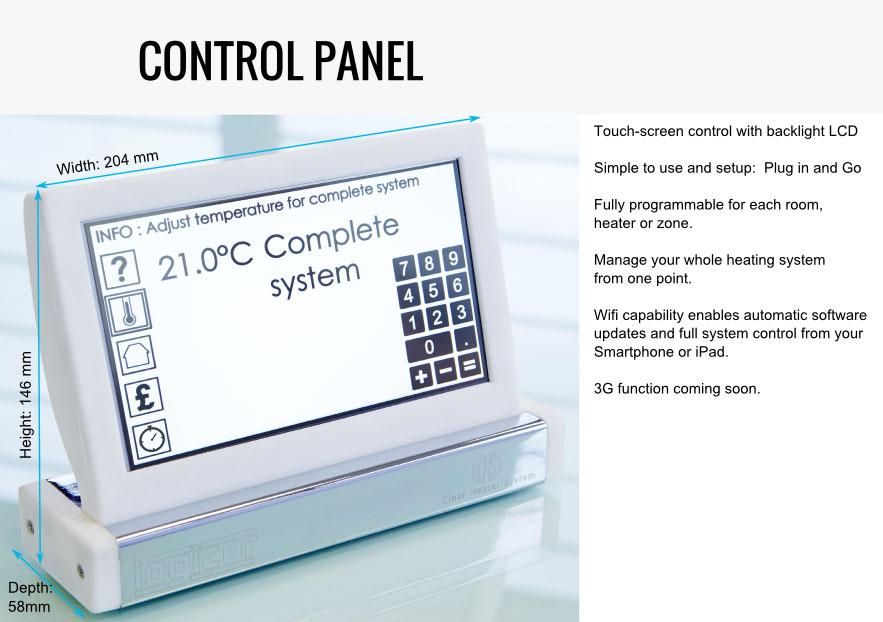 Control Your System with the Clear Heater Control Panel
The Clear Heater System is easy to control and monitor thanks to the intelligent control panel. The small touchscreen unit plugs into a wall socket and acts as the 'brain' of the system, enabling your heater panels and InLine Hot Water System to communicate with each other through the electrical wiring of the home.
Logicor Integrated Home
Logicor is continually investing in product development and innovation. This has resulted in the next stage in the Logicor heating system, the 'Integrated Home'. The latest Clear Heater System Panels feature integrated surround sound speakers, microphone, camera and video display. When combined with Logicor's App Services your heating system will respond to your voice commands and can also become your baby monitor, music system, burglar alarm, air freshener, clothes dryer and more.
What is Infrared Heat?
There's a common misconception doing the rounds that using infrared heat in the home would be damaging to our health, when in reality it seems far more likely that the opposite is true. Here's a very simple explanation of what infrared heat is…
Infrared heat is a form of light which sits on the electromagnetic spectrum between microwaves and visible light.
Radio – Microwave – Infrared – Visible – UV – X-ray – Gamma rays
There are 3 types of infrared light which are used in our everyday life known as far infrared, middle infrared and near infrared. Near infrared is used in TV remotes or for sending data between mobile phones and computers. We don't feel the heat from near infrared, but we do feel the heat from far infrared which is used in hospital incubators for newborn babies, food heaters, modern hair dryers and saunas. In fact, any object which has a temperature radiates a certain level of infrared heat, even if we can't feel it. When an object is hot (but not hot enough to emit visible light), it emits infrared heat.
Benefits of Infrared Heat
Far infrared light provides many of the same benefits as sunlight but does not contain the harmful UV light.
Infrared heats objects and people rather than air while traditional heating systems dry out the air and leave behind a static atmosphere.
Infrared provides the same level of comfort as conventional heating but at a lower temperature and with minimal circulation of air which reduces the risk of mould, damp and dust circulation.
Infrared heat is reported to have many physical health benefits and is used throughout the world in detoxification, anti-ageing treatments, ear, nose and throat conditions, blood circulation, acne, insomnia, pain relief and more.
While convection heating heats the air resulting in an uneven heat, infrared heats the objects and people which is a much more efficient method.
About Logicor
David Bowen started Logicor over 15 years ago as an environmentally orientated research and development company. By looking into ways to reduce our energy use and fuel poverty, the Logicor group has now invented 48 products and had the idea to use infrared tech and heating/cooling properties of a carbon element over 10 years ago.
Logicor can also act as an energy supplier to owners of their complete home heating and hot water package. Logicor Energy offers a low flat rate for energy used (no estimated billing thanks to the intelligent Control System) with no fixed term, exit fees or standing charges. In some cases they also reward customers with free energy deals for a fixed period.
To find out more about Logicor and the Clear Heater System, visit www.clear-heater.co.uk.