The BoilerMag Domestic Heating System Filter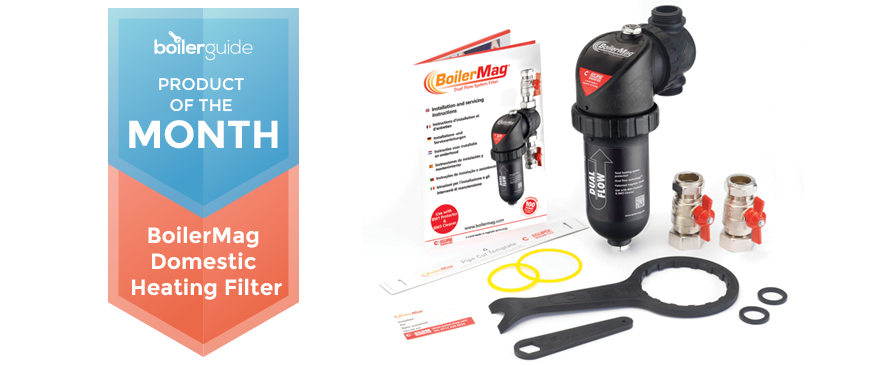 The BoilerMag Domestic Heating System Filter has been designed for practicality of installation and long lasting high performance. It uses tried and trusted patented magnetic technology that removes virtually 100% of magnetite and scale from the system in the first pass through the filter.
The filter is built for performance and comes with high quality isolation valves. It also boasts a unique magnetic circuit which ensures the system cannot block, along with a patented magnetic core for a large magnetic surface area.
With a 3 year warranty and high quality components, homeowners can have peace of mind that the BoilerMag Domestic Heating System Filter offers long lasting protection for their system.
BoilerMag was designed for practical installation and servicing, meaning it has a range of features that make life easier for the installer. The filter has easy in-line installation, and it's 360 degree adjustment allows installation at any angle – either pipework or filter. It requires minimal access space, so the unit doesn't even have to be fully removed from the pipework. Cleaning and flushing is also considered, with a simple flush access point (and a flush attachment available separately).
BoilerMag Domestic Heating System Filter benefits
Fits in line and has 360º adjustment for easy installation
Easy to service and clean
High performance dirt removal rates
22mm or 28mm versions available
Unique dual flow technology - filters twice on one pass
Removes both magnetic and non-magnetic debris
Offers protection for years
Guaranteed no block
Easy access for chemical dosing
Interested in learning more about the BoilerMag Domestic Heating System Filter? Get in touch or visit the BoilerMag website:
www.boilermag.com
---
Are you a Gas Safe Installer?
---