Do Radiator Covers Reduce Efficiency?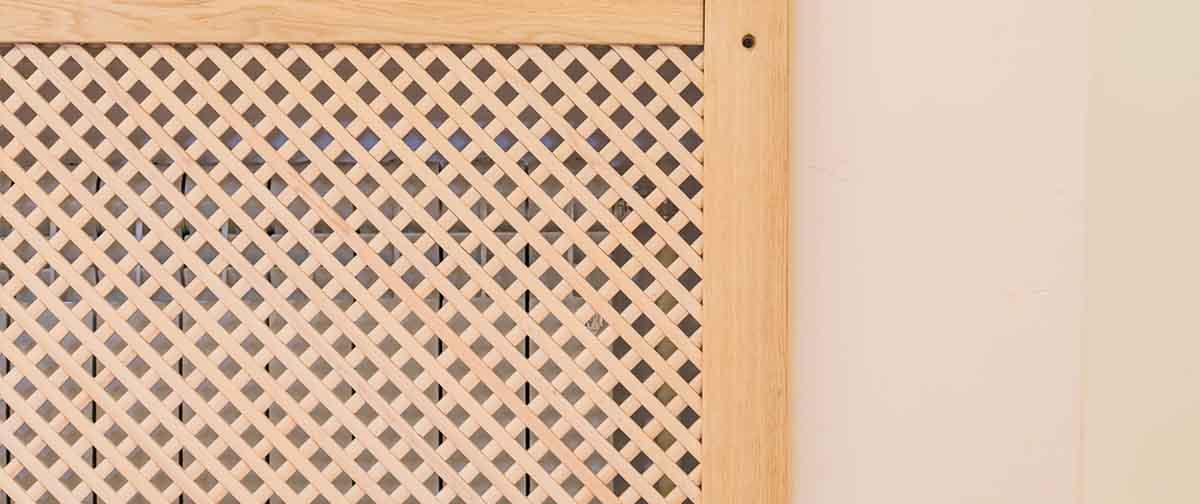 If designed well with plenty of space for the warm air to travel through, a radiator cover shouldn't reduce the efficiency of a radiator and could even improve it if the cover has a reflective backing. However, a poorly designed radiator cover will trap heat and increase your energy bills.
---
---
Do radiator covers block heat?
Radiators heat a room through convection – warm air rises from the radiator to the ceiling and this is then moved around the room, heating it throughout.
Radiator efficiency is measured in BTUs (British Thermal Units) and can't be changed by the addition of a radiator cover. However, the obstruction could stop warm air from being so evenly distributed.
For the radiators to remain efficient, there needs to be sufficient spacing between the radiator and casing. It's recommended that the radiator cover should be wider than the radiator by at least:
40mm in width
30mm in height
20mm in depth
This spacing will allow for the heat coming off the radiator to make its way into the room despite the cover.
Could radiator covers improve efficiency?
A radiator cover with a reflective backing could actually increase the efficiency of how the heat is emitted around the room.
Radiator reflector panels prevent heat from emitted from the back of the radiator being lost out of the wall behind it by reflecting it back into the room.
It's worth noting that you don't need radiator covers to benefit from a reflective backing as they can be installed without the cover. It's also possible to make your own radiator backing by covering a sufficiently sized piece of carboard with foil and sliding it behind the radiator.
Benefits of radiator covers
There are a number of reasons why homeowners might want to use a radiator cover, regardless of how it might affect how warm a room may feel. We took a look at the top 3:
Child proofing
A radiator can present the risk of burns if a child touches it – a big problem with steam radiators which tend to get hotter to the touch. For this reason many homeowners choose to child proof them, with safety gates and radiator covers being the primary methods.
Décor and appearance
Let's face it, radiators can be ugly. Not everyone wants to or can afford to replace theirs with a more attractive version. Wooden covers are a quick and often cheap way of hiding a radiator. If this is the primary goal of using a radiator cover, there are also alternatives such as paint designed specifically for radiators or printed wraps that stick on and allow heat to pass through.
Act as additional shelving or seating
Radiator covers are not only great at hiding the radiators but they can also serve a second purpose, such as additional shelving and even be used as a window seat in some cases.
Radiator noise reduction
Central heating systems are often naturally a little noisy and whilst not a perfect solution, radiator covers can help to reduce the volume of these sounds.
If your central heating system is making any unusual or new noises, we highly recommend hiring a Gas Safe registered engineer to take a look. You can get free quotes from qualified engineers in your area by taking a few moments to complete our simple online form.
Radiator covers and thermostatic radiator valves
Thermostatic radiator valves (TRVs) could also become confused by the addition of a radiator cover. TRV's work by measuring room temperature and adjusting the flow of hot water through radiator pipes accordingly. If they are encased within a cover they may read a temperature which is too high, due to the space inside the cover being warmer than the rest of the room.
---
---
What else can impact the efficiency of radiators?
There are many reasons why a radiator might not be heating up a room as efficiently as it could.
Furniture too close to radiators
A concern with radiator covers is that they will prevent the heat from the radiator making its way into the room and furniture can have the same impact. If you have a large piece of furniture, like a sofa, right in front of the radiator, it will block the heat before it's had chance to circulate around the room. Remember to keep your furniture away from the radiators so that they have plenty of space.
Curtains hang over radiator
When it comes to radiators under windows, closing the curtains will help to keep the heat in the room. However, should the curtains hang over the radiator then some heat could end up being trapped between the radiator and the curtain – heat that you'll be losing out on.
Poor insulation
You won't feel the benefit of even the most efficient central heating system and radiators if your property doesn't have sufficient insulation. Proper insulation will prevent heat from escaping your home that would otherwise be lost and there are many forms of insulation:
Loft insulation
Cavity wall insulation
Floor insulation
Double or triple glazing
Blockage in the system
When you turn the central heating on, your boiler heats water that's then circulated around the system. For the entire radiator to heat up efficiently, it has to be free from blockages. It's possible to tell if there's a blockage as the radiator will only partially heat up. These blockages can come in the form of air or build-up of debris and are dealt with in different ways.
Air can make its way into the central heating system when water enters the system from an expansion tank and due to movement of the pump which circulates the water. Clearing the air can be done by bleeding the radiators and is perfectly safe to do without the help of a heating engineer – should you not feel comfortable don't hesitate to contact an engineer.
When it comes to a physical blockage, this could be made of of rust, dirt and other debris that slowly builds up over time and becomes a mud-like substance which prevents the hot water from circulating properly. Should it get to this point, you will need to hire a heating engineer to carry out a powerflush which involves them flushing chemicals through the central heating system to clear out any blockages.
---
---