Search for UK's Oldest Boiler Finds 32-Year-Old Relic
A household in Alnwick, Northumberland, may find itself in receipt of £3,000 to put towards the cost of a replacement boiler if reports are confirmed that its current boiler is the oldest operational appliance of its kind in the UK.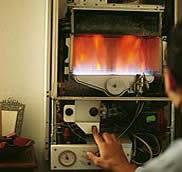 The search for the UK's oldest domestic boiler was initiated earlier this year by npower's hometeam department, which hopes to encourage the owners of such an appliance to replace it with an A-grade condensing boiler. The £3,000 incentive is likely to appeal to the homeowners who happen to operate the UK's oldest domestic boiler for a number of reasons; indeed, not only would a replacement condensing boiler offer significant environmental benefits at the local level, but it would probably save a small fortune in heating bills.
The npower hometeam initiative aims to serve as an example for the rest of the country following the end of the Boiler Scrappage Scheme in Scotland, which came about after a similar, larger scheme ended in England and Wales. The Boiler Scrappage Schemes enabled households to claim vouchers that could be put towards the cost of replacing old energy inefficient boilers. In many cases, such vouchers were matched by energy firms, including npower hometeam, so households were able to save considerable amounts of money towards replacing old boilers. According to the Energy Saving Trust, up to £305 in energy bills could be saved on average each year by switching from an E-rated boiler to an A-rated condensing boiler*.
Head of Sales for npower hometeam, Richard Cotton, claimed that the search for the UK's oldest boiler had revealed numerous candidates. Mr Cotton said: "In our search for Britain's oldest boiler, we've already uncovered many boilers more than 30 years old, with some families owning boilers that are older than their grown-up children". In regard to the household in Alnwick, the 32-year-old boiler is currently leading the way in the npower hometeam initiative; however, there may yet be older boilers firing up in homes across the UK, so npower hometeam is not quite ready to hand over the £3,000 cheque just yet.
*Source: http://www.energysavingtrust.org.uk/home-energy-efficiency/boiler-replacement. Figures based on installing a new A-rated condensing boiler with a programmer, room thermostat and thermostatic radiator controls (TRVs) in a gas-heated home from an older boiler with a programmer and room thermostat. Based on fuel prices as of April 2018 for a detached house.