Hive Active Heating from British Gas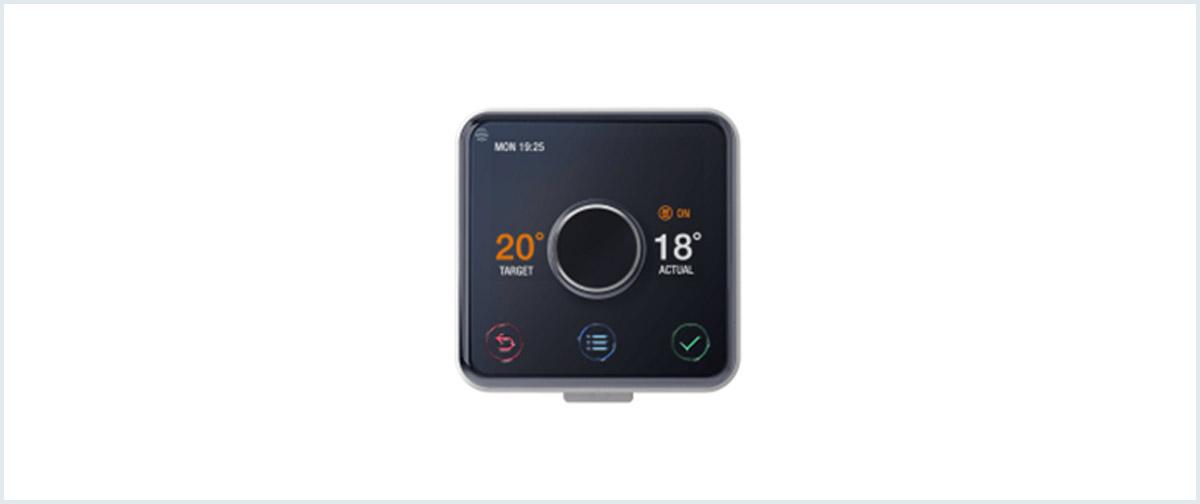 A clever little heating system from British Gas, Hive Active Heating embraces innovative technology to give you complete control of your heating and hot water remotely, from your smartphone, laptop or tablet.
Heating accounts for around two-thirds of our domestic energy consumption. As more and more people get smarter about energy efficiency they are turning to intuitive heating controls like smart thermostats as a practical way to reduce their energy usage.
---
Buy Your Smart Thermostat Today!
---
What is the Hive Active Heating?
Hive by British Gas was launched in October 2013 and is one of several popular smart heating products currently available in the UK, designed to help you to trim your heating bills and stop wasting energy. Hive Active Heating comprises of:
A wireless thermostat;
An optional Hive Hub that connects to your home's broadband router;
A receiver wired to your central heating boiler so you can turn it on and off;
If you have a separate hot water tank you'll be able to control your hot water too.
The average annual dual fuel bill is around £1,264 – although the amount a household pays depends on how much energy is consumed and the payment method. Making savings in energy consumption will translate into cheaper bills. According to British Gas, Hive Active Heating can actually help you reduce your annual energy bills by up to £130.
Hive Active Heating is compatible with most gas, LPG and oil boilers. One of the cheaper smart heating systems on the market, it costs £160 - £200 supplied and fitted by a British Gas engineer. The kit can be purchased for £105 - £180 excluding installation.
Homeowners with oil central heating will need to arrange for their own Hive installation with an OFTEC accredited heating engineer.  If you've got an electric boiler, as long as you have a standard room thermostat and/or programmer it should also be compatible. However it's always best to check with the manufacturer to make sure that your current boiler is Hive compatible.
Once installed, and your existing controllers have been replaced with a wireless system that works with your current heating set up, you'll be able to control your heating remotely with the Hive app or online via their website. If you want to use the Hive app you will need either an Apple iPhone or iPad running iOS 6 or later or an Android device (min 2.3). Any time you prefer to control your heating or hot water manually, you can do so using the wall-mounted thermostat.
How does the Hive Active Heating work?
The Hive Active Heating Smart Thermostat is made up of 3 main parts: a hub, wireless thermostat and a receiver. The wireless thermostat can be fitted to the wall in any room of the house while the hub plugs into the back of your broadband router, connecting the smart thermostat to the Internet so it can be controlled remotely. And last but not least, the receiver sits next to your boiler enabling it to "talk" with the thermostat.
Once a heating engineer has been out to install Hive Active Heating, you should be good to go. You control the smart heating system via an app or through the online dashboard and can manage temperatures on the go. You can adjust the thermostat and set a schedule for your heating and hot water. If the temperature in your home dips below 7 degrees Hive will automatically warm up your home if it gets too cold.
There are many features of the Hive Active Heating thermostat that will help to give you more control over your central heating than ever before:
Hive multizone
Control up to 3 heating zones around the home.
Scheduling
Set daily heating and hot water schedules, perfect if your needs are different from day to day.
Frost protection
Helps to prevent central heating pipes from freezing over during the winter.
Geolocation
The Hive Active Heating thermostat can recognise when you've left the property with the heating on and remind you to turn it off from wherever you are.
Holiday mode
Full control of your central heating while you're away to keep your home at the right temperature.
Ready by
Set the central heating to pre-heat your home to an ideal temperature for your arrival.
Hive Active Heating specifications
Hive Active Heating Specifications
Thermostat dimensions (HxWxD)
100mm x 104mm x 48mm
Receiver dimensions (HxWxD)
106mm x 98mm x 44mm
Weight
0.212kg
Thermostat power
4 x AA batteries (included)
Receiver power
230V mains
Compatibility
Most gas and LPG, oil boilers with existing thermostat/programmer, electric boilers with room thermostat/programmer
System requirements
Internet connection of at least 1.5mbps
Benefits of the Hive thermostat
From lower energy bills to controlling the heating with your voice, there are many benefits to installing a Hive Active Heating thermostat:
Reduce your heating bills by up to £130 a year
Compatible with most gas, LPG and oil central heating systems
Say goodbye to tedious manual thermostat settings
Complete control of your heating and hot water
Manage heating and hot water temperatures on the go
Create scheduled heating events
Compatible with Amazon Alexa, Google Assistant and IFTTT (if this then that)
The Hive Active Heating hardware is covered by a 1 year warranty as standard
How much does a Hive thermostat cost?
When purchasing a Hive thermostat, you'll have the choice of installing it with or without the Hive Hub which allows you to control the heating in your home from your smartphone. Before adding on the cost of installation, the Hive Active Heating unit costs £179 and the Hive Active Heating Kit without Hive Hub will be £99. If you choose to install it without the Hive Hub, you can always get one at a later date for £80.
---
Buy Your Smart Thermostat Today!
---