Nest Learning Thermostat
The Nest Learning Thermostat is a heating thermostat and a programmer in one; it's the perfect bit of smart heating kit for modern homes and busy lives. Developed by Tony Fadell who led the team that designed the Apple iPod, Nest works by learning your energy habits to bring down your energy costs, making sure you don't waste unnecessary energy and money. 
First launched in the US back in 2011, Nest is probably one of the most well known smart thermostats on the market. Now owned by Google, this popular smart thermostat became available in the UK in 2014. Providing precision temperature control, with Nest you don't need a programmer: it works by learning your energy habits to create a personalised schedule to heat your home efficiently. And it keeps on learning too, and adapting to any changes in your energy usage and routine.
If you've brought a new energy saving combi boiler, unless you purchased a top of the range model or upgraded to an advanced thermostat and programmer, the chances are your boiler will only have basic temperature controls. Embrace smart thermostat technology like Nest and you'll have complete control of your heating. If you want to attack your energy bills head on, a new energy efficient condensing boiler teamed with a smart thermostat is the smartest option.
---
Buy Your Smart Thermostat Today!
---
What is a Nest Learning Thermostat?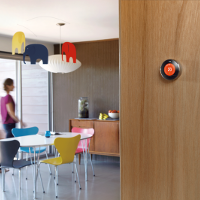 Like most modern smart thermostats, Nest will work with almost all Condensing and combi boilers. It's also compatible with system and heat only boilers, as well as air source and ground source heat pumps. You're looking at a price of around £279 for Nest 3rd Generation, fully installed. Without installation it will cost you £219.
As of 2018 you can now purchase the Nest Thermostat E, a simplified and lower cost version of the Nest.
How Does it Work?
Just as the name suggests, Nest is a learning thermostat. This clever bit of kit will adapt to your energy habits and it only needs about a week to learn your routine. The Nest Learning Thermostat comprises of a thermostat and the heat link, which controls the boiler and communicates wirelessly with the thermostat.
Once installed and connected to WiFi, you can use the Nest app to control the thermostat from a tablet or smartphone and take control of your heating remotely. Alternatively, login via a computer and you can edit your personalised heating schedule, make adjustments to settings and see how much heat you've used. When you leave the house, the Nest will turn itself down to save energy. It will learn your preferred time to turn on the heating, what time you turn it off and also what your preferred temperature is. Nest is always learning, always adapting to changes in your lifestyle and heating habits.
Benefits of the Nest Learning Thermostat
According to Nest, its customers in the US have enjoyed savings of around 20% on average on their heating and cooling bills. Although with a different climate in the UK our energy requirements are going to be rather different. Other benefits include:
Improve the efficiency of your home
Lower heating bills
Compatible with combi and condensing boilers, and system and heat only boilers
Use with air source and ground source heat pumps
Control your heating via a computer, smartphone or tablet
Automatic shut off – Nest won't heat an empty home
Learns your schedule and programmes itself to heat your home efficiently
Easy to operate with an attractive design
---
Buy Your Smart Thermostat Today!
---