Ariston vs Vaillant: Boiler Comparison & Reviews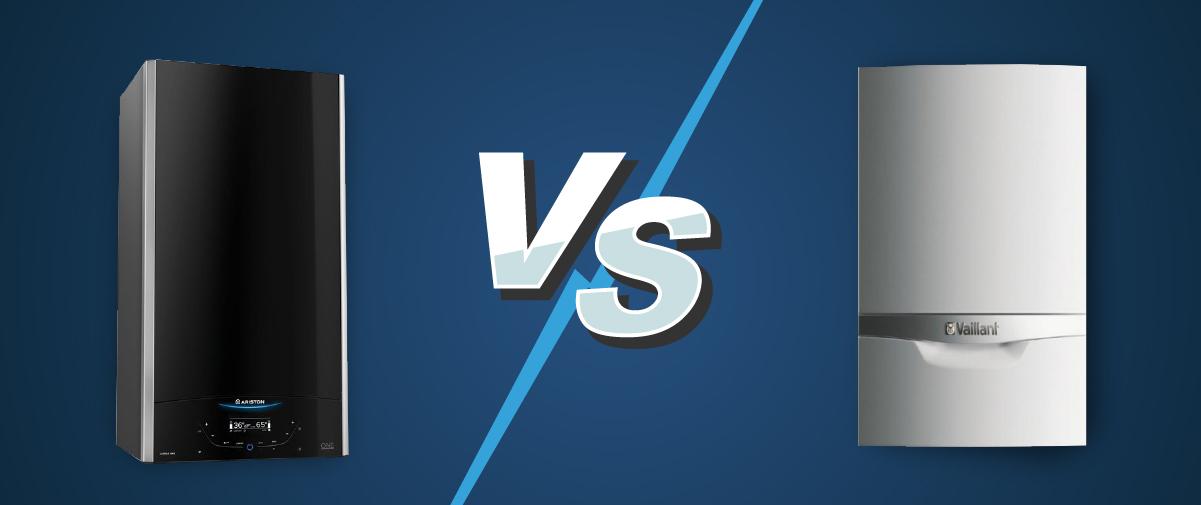 Vaillant have been a leading UK boiler manufacturer for a number of years, setting industry standards with their innovative technology. Ariston, on the other hand, have built a good reputation in the heating industry and with the release of the ONE Series may well be worth considering alongside the premium Vaillant boilers.
To see if Ariston have bridged the gap to Vaillant, we've put them head-to-head to help you choose the right manufacturer when the time comes to replace your existing boiler.
Ariston vs Vaillant: which boiler brand will come out on top?
---
---
Who are Ariston and Vaillant?
Environmental impact is at the heart of everything we do nowadays – especially when it comes to home heating – and Ariston have made of point of making sustainability a key part of all their manufacturing processes. So it will be no surprise to hear that they manufacture efficient gas-fired combi, regular and system boilers and all at an affordable price.
Vaillant have been a leading boiler manufacturer for a number of years, delivering highly efficient, innovative and reliable units that are well received by homeowners and installers.
Ariston One Series vs Vaillant ecoTEC Plus
We've put ranges from each manufacturer head-to-head to show what each brand has to offer: the Ariston ONE Series, Ariston's most advanced boilers to date and the Vaillant ecoTEC Plus, a range of boilers that deliver efficiency and performance.
Ariston One Series
The One Series is Ariston's leading range of condensing wall-mounted boilers gas-fired combi and system boilers. Thanks to the high levels of efficiency these units can achieve, they've been endorsed by the Energy Saving Trust which should give you the confidence that an Ariston One Series boiler will help to keep your energy bills down.
Boiler
Output Ratings
Efficiency
ErP Rating
Warranty
Potential Cost
Combi Boilers
Alteas ONE Net
30 & 35
90.1%
A+
12 Years
£1,800 – £2,000
Genus ONE Net
24, 30 & 35
90.1% – 90.4%
A+
12 Years
£1,600 – £1,950
Clas ONE
24, 30 & 38
90%
A
8 Years
£800 – £1,200
Clas Net ONE
24, 30 & 38
90%
A
12 Years
£1,200 – £1,500
E-Combi ONE
24 & 30
90%
A
2 Years
£500 – £600
System Boilers
E-System ONE
24 & 30
90%
A
2 Years
£730 – £800
Clas System ONE
18, 24 & 30
90%
A
8 Years
£900 – £1,000
Vaillant ecoTEC Plus boilers
The Vaillant ecoTEC Plus range of boilers have proven popular with homeowners as they're available in a wide range of outputs and can help to reduce energy bills. They're also highly rated amongst installers thanks to their ease of use and quality of the components.
Boiler
Output Ratings
Efficiency
ErP Rating
Warranty
Potential Cost
Combi Boilers
ecoTEC Plus
25, 32, 35 & 38
89.3%
A
5 Years
£1,025 – £1,600
System Boilers
ecoTEC Plus
12, 15, 18, 24, 30 & 37
92 – 94%
A
5 Years
£850 – £1,250
ecoTEC Plus 48 & 64
48 & 64
94%
A
5 Years
£1,500 – £1,900
---
Ariston ONE Series vs Vaillant ecoTEC
Efficiency
When compared with many other manufacturers, Vaillant often come out on top in terms of efficiency thanks, in part, to having a heat exchanger made from stainless steel. However, in Ariston ONE Series boilers have one too.
If used with the Cube RF heating controls (provided with the boiler) the Alteas ONE Net can achieve an ErP efficiency rating of A+. Plus, by using the Ariston Net app on your smart device, you will have the ability to control your heating from wherever you are and you'll also receive recommendations and advice to keep your energy bills down.
Features
One Series and ecoTEC Plus boilers are made up of some key components that build on previous offerings by each manufacturer.
Features of Ariston One Series boilers:
Compared to previous Ariston boilers, the waterways are 142% wider which allows for increased amounts of water to pass through the system at a faster rate and greatly reduce the risk of a blockage.
The stainless steel XtraTech heat exchanger transfers heat at a better rate than previous models for increased efficiency.
If you're tired of the conventional white casing of most boilers, the Alteas ONE Net is fronted by an Ultrasafe black glass panel to give it a sleek modern design.
LPG conversion kits available for off-grid properties
Endorsed by the Energy Saving Trust
Features of Vaillant ecoTEC boilers:
Stainless steel heat exchanger for increased efficiency and extended lifetime
Precision heating helps to keep your energy bills down
Combi boilers are able to deliver hot water to taps and showers within 5 seconds
The ecoTEC Plus Combination Store unit is unlike other combi boilers as it can store up to 20 litres of hot water in the actoSTOR.
LPG models also available
Awarded a Quiet Mark accreditation thanks to being ultra-quiet during operation
Endorsed by the Energy Saving Trust
Warranty
With Ariston introducing some of the lengthiest warranty periods available on the market, they're now in a much better position to compete with the likes of Vaillant than they might have been a few years ago.
As standard, Ariston boilers come with a 2 year warranty but warranty periods of 8-12 years are available depending on the model
Price
As Ariston aren't often considered a leading boiler manufacturer, falling short of the standards set by the likes of Vaillant, Ideal, Worcester Bosch and Baxi, you might expect them to be competitive on price. However, with their ONE Series this isn't really the case, with price tags not too dissimilar to the Vaillant ecoTEC units.
Having said this, the high efficiency, extensive warranties and premium components available with Ariston boilers could mean they're making a case for being one of the leading manufacturers.
Based on the reviews from installers, Vaillant have built a reputation for manufacturing reliable systems that won't let you down making them a worthwhile investment.
Installation
On top of the price of the unit itself, you will also need to consider the installation costs which will vary based on a number of reasons:
Time of year
Where you live (installers in London tend to be more expensive)
Rates charged by the installer or company
Type of boiler being installed
How simple the boiler is to install
We're going to focus on this last point as manufacturers are continuously working to make the installation of their boilers more straightforward.
Ariston ONE Series boilers are lightweight and have simple-to-fit connections. Plus, if you already have an Ariston boiler installed in your home, the ONE series units connect up in all the same places, making the installation a much simpler process.
Once the unit has been installed, when it comes to servicing or any repairs, frontal access as well as generous spacing between components makes the whole process much simpler.
Vaillant ecoTEC Plus combi boilers have been voted the easiest combi boiler to install by installers in the 2019 UK Domestic Gas Boiler Survey. This comes mainly down to the compact dimensions and low lift weight but the addition of a filling loop – which refills the central heating system with water – helps to make things simpler too.
To help you find the most competitive price for installation, we highly recommend comparing quotes from multiple engineers. And at Boiler Guide, we've made finding quotes simpler than ever.
Simply take a few moments to click through our online form and you'll soon get free quotes from up to 3 boiler installers based near you. Compare the quotes based on price, knowledge and customer service then you choose to hire the best installer for you. Or not, there's no-obligation whatsoever.
Winning boiler manufacturer: Ariston or Vaillant?
So, is an Ariston boiler worth considering over a Vaillant unit?
There's no denying that the Alteas ONE Net with its black glass front has made a mark on the industry and not only in terms of aesthetics. The Ariston ONE Series includes a range of highly-efficient units covered by extensive warranties that are pretty straightforward to install too.
Vaillant have been a trusted range for a number of years, leading the way in terms of innovation and their ecoTEC Plus range includes some of the best boilers on the market. Their boilers have been tried and tested and if your decision ultimately comes down to price, a Vaillant ecoTEC Plus boiler could be the cheaper choice.
While we might have crowned Vaillant the winner, they'll need to keep on their toes because Ariston are an ambitious brand manufacturing some very desirable boilers.
---
---