Ariston Boilers: Compare Efficiency, Warranty & Price
Ariston has been established in the heating industry since 1960 and today provides millions of families in over 150 countries with efficient and high quality solutions through innovative Italian design.
They manufacture combi, system and regular boilers, all of which run on natural gas while LPG conversion is available on some models which is great news for properties that aren't connected to the gas network. Each boiler type has its own pros and cons which you'll need to weigh up when looking for a new boiler as one type of boiler will be better suited to your home than another. As well as finding the right boiler type, you will need the most suitable model which means comparing the output rating, efficiency, warranty and price.
Output rating: All boilers have an output rating, measured in kilowatts (kW), which shows the power of the unit. Strictly speaking, the higher the output rating, the higher the demand for central heating and domestic hot water a boiler will be able to meet.
Efficiency: A new boiler should help to lower your energy bills and all boilers have an efficiency rating which displays how much fuel is converted into usable energy for central heating and hot water. Ariston boilers typically have an efficiency rating of around 90% meaning that for every £1 you spend on heating your home, around 10p will be lost to the waste gases expelled through the flue pipe during operation.
Warranty: In the unlikely event that there's an issue with your Ariston boiler after the installation, the warranty will see that you're covered. All boilers will have a warranty attached to them but the length will vary from model to model. Ariston boilers are available with warranties of 1 year right up to 12 years.
Price: Ariston boilers are typically priced at between £500 and £2,000 giving a suitable option no matter your budget.
Compare all of the boilers manufactured by Ariston using our Boiler Comparison Tool which contains output rating, efficiency and warranty length. You can compare up to 4 boilers by tapping the 'add boiler' symbol. Tip: include your existing boiler as part of the comparison to find a better model.
---
---
Compare Ariston combi boilers
Combi boilers are the most popular boiler type in the UK. This is largely thanks to them being single cost-effective units that don't require any additional tanks or cylinders. Combi boilers take water directly from the mains and heat it on demand before circulating it round the central heating system or hot water outlet.
To help you find the most suitable boiler for your home, a 24-27 kW combi would be ideal for smaller homes with 1 bathroom and around 10 radiators, while properties with up to 15 radiators should look for an output rating of 28-34 kW.
Compare Ariston regular boilers
Regular boilers, also known as conventional or heat-only boilers, are the oldest type of heating system and are often found in older traditional properties. Ariston have now discontinued their sole regular boiler.
Compare Ariston system boilers
System boilers heat water from the mains and circulate it round the central heating system or for storage in a hot water cylinder. Ariston system boilers have output ratings of 18 kW up to 30 kW making them a great option for small to medium sized homes with 1-2 bathrooms.
If an Ariston boiler is the right fit for your home, send us an enquiry today and we'll match you with up to 3 Gas Safe registered engineers based in your local area who will each provide free quotes for your boiler replacement.
---
---
Benefits of Ariston combi boilers
Ariston's Combi Boilers hide a lot of power in a deceptively small design. As with all Combi boilers, no separate hot water cylinder is required so it will tuck neatly in your home and simply get on with the job of providing hot water for both your radiators and taps. High efficiency, intelligent technology, simple controls and sleek design make Ariston's Combi Boilers perfect for the modern day homeowner.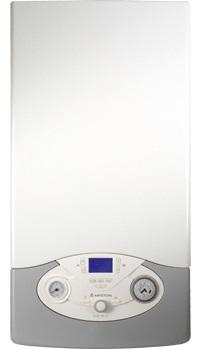 Enjoy the benefits of hot water on demand
Make the most of your loft and airing cupboard space
No worries about wasting water or energy – you only heat what's needed
Available with 2, 5, 8 or 12 year warranty
Stainless steel heat exchanger
No hot water cylinder needed
ErP 'A' rated for energy efficiency
Auto-diagnostic system
Anti-frost device
Range of wired and wireless controls available
Decision made? The next conversation will inevitably be centred on cost but don't worry ― you have options!
The price of installation will vary depending on which Gas Safe engineer you hire and it really pays to shop around, as well as choosing a boiler at the right price. There are lots of reputable heating engineers who will be able to advise you what to expect and we can put you in touch with three providers in your area, all of whom are highly recommended.
Send us an enquiry today and we'll find up to 3 Gas Safe engineers in your area to provide quotes. Once we've done the leg work you can make your decision on the best choice for you and, with your new boiler installed in next to no time, you can watch the savings roll in. Get quotes for a new Ariston boiler.
Benefits of Ariston system boilers
One of the major advantages of a system boiler is that it heats hot water directly from the mains so there is no need for a cold water tank in the loft but you do need a hot water cylinder to store hot water.
If your home gets through a large amount of hot water then this could be the choice for you. This is an ideal option for those with multiple bathrooms.
Ariston System boilers provide powerful heating performance, reliability and, of course, money saving efficiency.
Suitable for various sizes of property
Hot water always available as the cistern automatically replenishes
Available with 2, 5, 8 or 12 year warranty
Stainless steel heat exchanger
Compact and quiet
ErP 'A' rated for optimum energy efficiency
Auto-diagnostic system
Anti-frost device
Range of wired and wireless controls available
If you think it's time to start saving money with your new Ariston System boiler the next step is to do find a minimum of three installation quotes from different engineers as the price for this can vary. A heating engineer can recommend the best boiler and heating system for your needs including the output (size) you'll need.
There are a few things to consider such as the upfront cost of installation, annual servicing and any repairs needed during the lifetime of your new boiler, but there's always a bright side; think of all the money you could be saving on your energy bills! Get quotes for a new Ariston boiler.
Benefits of Ariston regular boilers
If you're replacing an older, traditional boiler then a new Ariston regular boiler will still need similar pipework to connect the three elements needed (boiler, water tank and cylinder).
Rather than changing to a completely different type of heating system such as the 'all-in-one' Combi boiler, replacing with a modernised Regular boiler will reduce complexity during installation and reduce your costs while still providing a better level of energy efficiency than your old boiler.
A compact and stylish unit like Ariston's with advanced control system and 'AUTO' function technology will continuously respond to the temperature of your home ensuring peak performance at all times, improved energy efficiency and money savings.
Suitable for older properties with a traditional central heating system in place
Gives plenty of hot water for standard use
5 year warranty
'AUTO' function technology
Stainless steel heat exchanger
Easy to use and install
Compact and quiet
'A' ErP rated for optimum energy efficiency
Auto-diagnostic system
Anti-frost device
Range of wired and wireless controls available
Energy Saving Trust recommended
A regular system might have three significant component parts i.e. boiler, water tank and cylinder, but it is still a very cost-effective solution for your heating and hot water requirements.
The cost of installation is an important factor to consider when you're budgeting. If you're replacing an older, traditional boiler then a new Ariston regular boiler will still need similar pipework to connect the three elements. This simplifies things significantly for the engineer and should therefore be more cost effective than changing to another completely different heating system. Remember to get at least 3 quotes to make sure you're getting the best deal. Get quotes for a new Ariston boiler.
---
---
Ariston Boiler Service
It's important to keep your boiler in the best possible condition with an annual boiler service by a professional engineer. This will ensure the boiler can operate as efficiently as possible, keeping heating bills to a minimum, and that there are no potential safety issues to be concerned about. A boiler service is also a great way to catch and fix small repairs before they have the chance to worsen over time and cause an expensive breakdown. Find out what's involved in an annual boiler service, why it's so important, the benefits and how much they cost in Ariston Boiler Service.
Ariston Boiler Warranty
Every boiler manufacturer offers a standard warranty with their boilers which last between 1-10 years. The warranty is your insurance policy and means if a fault develops the manufacturer will resolve it within a specified time frame. Some warranties include both parts and labour while others may only cover parts. The most important thing to remember is to get your boiler serviced by a Gas Safe registered engineer every year as failing to do so is likely to invalidate your warranty. For more detail about this brand's warranty (including the small print) take a look at Ariston Warranties.
Ariston Boiler Repair Advice
Even the highest quality boiler can develop faults and problems as they age. Some are minor issues you may be able to handle yourself but most will need a Gas Safe registered engineer to diagnose and repair the problem. To find out if there are any common problems associated with this manufacturer you can read our guide to Ariston Boiler Repairs & Common Ariston Boiler Problems.
---
---
Ariston Renewables
Ariston manufacture a NUOS Plus heat pump water heater which is available in both 200L direct and 250L indirect models. The NUOS Plus delivers an energy efficient hot water supply for homes not on the gas grid or looking to add in some renewable technology such as an air source or ground source heat pump.
Ariston also offer a range of solar thermal collectors including flat, on-roof, horizontal and vertical panels which will produce hot water for your home using the free, renewable heat of the sun.
Ariston Boiler Controls
Cube S Net
The Cube S Net is a Wi-Fi thermostat which can be controlled using the Ariston NET app. The app gives you real time control of your boiler via a tablet or smartphone. You can change your boiler's status to be changed between seasons, holiday 'anti-freeze' mode, switch it off entirely or create a bespoke programme for each day of the week. The app also displays energy reports and recommendations ensuring you have complete control at all times.
If you combine the Cube S Net with a series of Cube RF or Sensys Modulating Room Sensors you can heat individual zones in your home to different temperatures.
Programmable Room Thermostat
Compatible with all 'evo' boiler this 7 day programmer with night set back mode (for setting a lower temperature at night from the daytime).
Ariston Room Thermostat
This simple to use manual thermostat is compatible with all Ariston boilers.
Sensys Modulating Room Sensor
When combined with the Ariston Outdoor Sensor the Sensys' 'Auto' Function can automatically adapt your heating depending on the temperature outside.
---
Reference
Visit the Ariston website for further details.