Ariston Boiler Service & Maintenance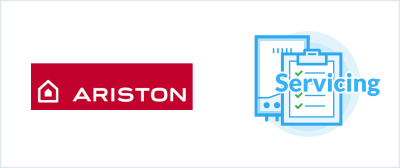 Ariston boilers are manufactured to the highest standards, but as with any household appliance it has to be looked after to ensure it can work as effectively and efficiently as possible for as long as possible.
Ariston boilers can last as long as 15 years if maintained correctly and the most important part of this is the annual boiler service.
---
---
What is a boiler service?
A boiler service is something you need to arrange every year; a Gas Safe engineer should visit your home to check that your boiler is running efficiently, effectively and safely. If you have an oil boiler the service should be carried out by an OFTEC registered engineer.
For gas boilers by Ariston, you need to find a Gas Safe registered engineer which means they are listed on the UK's official list of engineers legally allowed to work on gas appliances. You can check if an engineer is registered by visiting the Gas Safe Register website and you should always ask to see their Gas Safe ID card when they arrive to service your boiler.
A thorough boiler service should last at least 30 minutes but this may vary depending type of boiler you have and if they come across any faults that need fixing.
Why it's important to service your Ariston boiler
Safety
An annual boiler service is the best way to prevent small problems turning into safety hazards such as carbon monoxide leaks. Carbon monoxide is an odourless and colourless gas which can quickly cause brain damage and, in some cases, death if it's undetected. If you're concerned that your boiler may not be working safely you should get in touch with a Gas Safe engineer even if your annual service is not yet due.
Keep heating nills to a minimum
The more efficient your boiler the less fuel it will need to use to heat your home. This means cheaper heating bills and lower carbon emissions released into the environment, so it's important the boiler is working at maximum efficiency as much as possible. Efficiency will naturally decline as the boiler ages, but an annual service will help it to deliver a higher level of efficiency for longer.
Prevent breakdowns
Even the smallest fault can turn into a breakdown if left to worsen for too long. An annual service gives an engineer the opportunity to ask you if you've noticed any changes with the boiler's performance and can identify components which are close to needing replacing. Prevention is always better than cure and preventing a fault before it has time to cause bring you a hefty repair bill is no exception.
Keep the warranty valid
Your Ariston boiler will usually include a manufacturer's warranty of between 2-12 years which means any faults that develop in that time will be repaired free of charge. Ariston specify that their boilers should be serviced by a competent engineer within 12 months of its installation to ensure the warranty remains valid.
---
---
Boiler service checklist
When a Gas Safe engineer visits your home they will run some efficiency and safety checks and also ensure that the system is working as effectively as possible. This includes:
A visual check of the boiler to make sure there are no leaks or areas of corrosion. They will also confirm that the flame is blue and not yellow or orange.
The removal of the boiler's casing to check and clean the internal parts such as the heat exchanger, burner, main injector, safety devices and spark probe.
Ensuring the flue terminals are clear of obstruction and fitted safely and that seals and pipework are intact.
A check of both the gas pressure gauge and flow settings to ensure they're at the correct level.
Finally, the engineer will start the boiler up again to look for any operational faults with the boiler or temperature controls.
At the end of the service the engineer will give you a report which details what checks they've carried out and any issues they've addressed. If you don't understand anything on the report the engineer will be able to explain.
How much does an Ariston boiler service cost?
The average gas boiler service will cost between £60 – £120. Boiler service prices do tend to vary depending on where you are in the country (a boiler service in London is likely to cost more than a service in Yorkshire, for example) and will be impacted by the type, model and age of the boiler.
You'll also find that different engineers will charge different prices so it's always best to compare multiple quotes before settling on a particular company. You may also be able to save a little by getting a service carried out in summer when engineers are generally less busy. This also means any problems the engineer finds can be dealt with before winter arrives to give you peace of mind you won't be without the boiler when you need it most. If the engineer does find any faults you will need to pay for the repair on top of the service charge.
Remember... NEVER try to carry out a boiler service by yourself – always find a Gas Safe registered boiler engineer.
---
---
Boiler service plans
To avoid paying for a boiler service in one lump sum you can opt for a boiler service plan instead. This means smaller payments are spread out over the course of a year. Boiler cover or insurance often includes an annual service.
However, these plans usually cost over £100 when you add up all the payments so are generally more expensive in the long term. And, in terms of boiler cover against repairs, if your boiler is under the manufacturer's warranty this should already be covered making insurance unnecessary.
For owners of boilers which are 8 or more years old and no longer under a manufacturer's warranty, a boiler cover and service plan can give great peace of mind that they won't face repair costs should the boiler break down.
Boiler maintenance
Boiler servicing is a must if you want to keep your Ariston boiler in good condition for as long as possible, but what else can you do to maintain an efficient boiler? Here are a few simple boiler health checks you can carry out yourself.
Is the condensate pipe insulated?
Insulating external pipes can prevent them from freezing in winter. Frozen pipes can cause your boiler to break down as blockages lead increased pressure in the system and potential leaks. You can insulate pipes with lagging such as mineral or glass wool, polyethylene or foam.
What's the pressure level?
It's perfectly normal for the pressure in your heating system to drop over time but you should remember to keep an eye on the pressure level from time to time. If the pressure is too high it can cause damage to the system and if it's too low the boiler may struggle to work at all. It should sit between 1 and 1.5 bar; you can adjust the pressure yourself using your manufacturer's instruction manual or contact a professional engineer to check everything is working as it should be.
Is your home well insulated?
A boiler needs to work harder to heat a poorly insulated home which will increase your energy bills and puts more strain on the boiler which could shorten its lifetime. Remember sealing up window frames, letterboxes, chimneys or other draughts are simple ways to reduce heat loss.
Book your next annual service!
These tips are the things you should be doing to help you boiler do its job as well as possible, but none are a substitute for an annual service by a Gas Safe engineer. Some people can feel like putting off a service for cost reasons, but it's possible to get a good deal if you know where to look.
Need a boiler service?
The best way to save money on the cost of your boiler service is to compare quotes from different engineers – don't just accept the first price you're given! We recommend comparing at least 2-3 prices to be sure you're getting the best deal possible.
Send us a quick enquiry today by completing our simple online form and we'll be in touch to provide you with boiler service quotes up to 3 Gas Safe trusted engineers in your area.
Back to the main Ariston page.