Baxi or Vaillant: Boiler Comparison & Reviews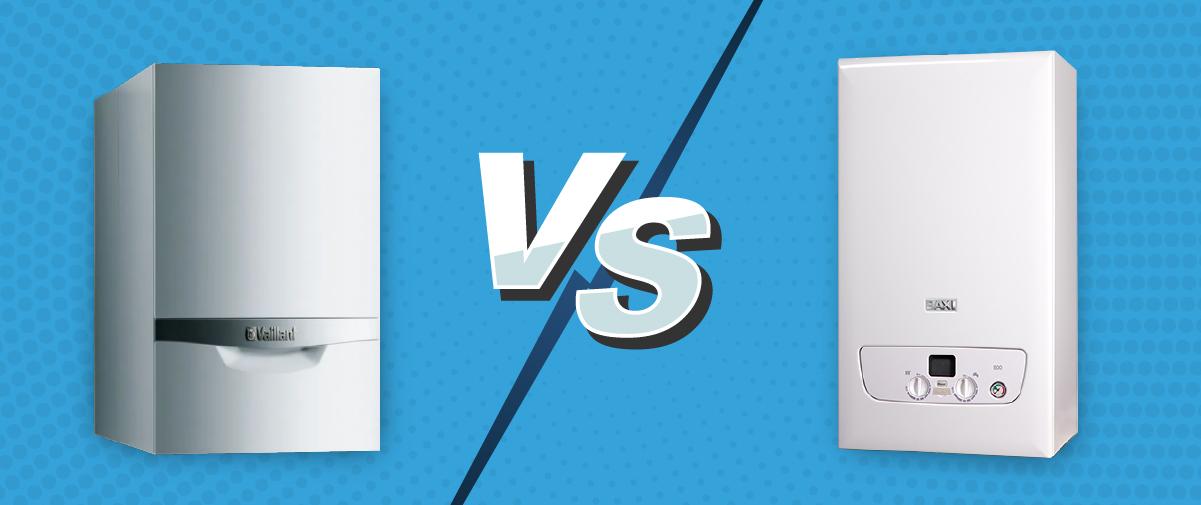 Baxi and Vaillant are amongst the leading boiler manufacturers thanks to offering highly reliable and efficient boilers that are well reviewed by installers and homeowners.
When it comes to choosing a manufacturer for your next boiler, which is best: Baxi or Vaillant?
Baxi vs Vaillant
Baxi boilers
Baxi has built a strong brand in the UK as a reliable boiler manufacturer and their units are highly recommended by many boiler installers.
If you're looking for flexibility with the installation of your next boiler then a Baxi might be the best option thanks to their units having a twin flue system. A twin flue can stretch to a distance of 15 metres at a diameter of only 80mm which means they can be installed in an internal cupboard away from external walls.
Vaillant boilers
One of the most recognised manufacturers of quality boilers, Vaillant are well-reviewed by homeowners and installers alike.
A big benefit of installing a Vaillant boiler is how quiet they are during operation and that is why they're the only boiler manufacturer to be awarded the Quiet Mark accreditation.
One key plus point that both of these brands share is that they offer models which use stainless steel heat exchangers. Aluminium is the most common material for heat exchangers, and while it is effective, stainless steel offers many more benefits:
Extends potential lifetime of the unit
Helps to increase efficiency
Much less likely to need repairing
Be sure to check the specification of the model type you're interested in to confirm if it uses stainless steel. Baxi does offer some heat only models which use aluminium, but this isn't typical in their combi or system boilers.
---
---
Baxi and Vaillant boiler ranges
Baxi and Vaillant both manufacture combi, regular and system boilers that run on natural gas – with Vaillant also offering some LPG models too.
Best combi boilers
A combi boiler is the perfect boiler for smaller properties with 1-2 bathrooms, as they supply central heating and domestic hot water on demand; rather than storing hot water in a cylinder.
Both Baxi and Vaillant have many options when it comes to condensing combi boilers and comparing them can be a challenge.
CH = central heating. DHW = domestic hot water.
A warranty period of up to 10 years is available when the boiler is installed by a Vaillant Advance Installer.
Best regular boilers
In terms of efficiency and warranty, the Baxi 800 Heat regular boilers are the best option between the ranges offered by Baxi and Vaillant.
CH = central heating
Best system boilers
The way system boilers work is somewhere between a combi and regular units. While, like a combi, system boilers heat water from the mains, they store hot water in a cylinder for use at a later time rather than providing it instantly.
Baxi system boilers are available with lengthier warranties than Vaillant models (7-10 years compared to 5 years), but the ecoTEC Plus and ecoFIT Pure ranges from Vaillant are slightly more efficient units.
---
---
Efficiency
Baxi and Vaillant both have boilers endorsed by the Energy Saving Trust which will give you confidence they'll help save you money on your energy bills.
Price
In terms of price, there isn't much difference between the boilers manufactured by Baxi and Vaillant. For all boiler types, there's a range of models available with a price tag to suit higher and lower budgets. On the whole, the most affordable units are manufactured by Baxi which could help with your decision making.
| Boiler types | Baxi boiler costs | Vaillant boiler costs |
| --- | --- | --- |
| Combi | £625 – £1,385 | £875 – £1,600 |
| Regular | £662 – £1,095 | £790 – £1,500 |
| System | £740 – £1,127 | £590 – £1,500 |
Warranties
A standard Baxi warranty will see that you're covered for 2 years, but depending on the model you could be covered for as long as 10 years. No matter the length of the warranty, it will only cover the boiler itself and the integrated controls, not any additional accessories such as the thermostat.
Reading the terms of a warranty can be confusing, but not when it comes to finding out more about Baxi boilers. Their warranties have been approved by the Plain English Campaign, meaning that they're simple to get your head around.
Vaillant boilers come with a standard warranty of between 2-5 years, covering the parts and labour. For even more peace of mind, many of their units offer the opportunity to increase it to 7-10 years when installed by a Vaillant Advance installer. During a Vaillant warranty, boiler component failures are covered, but if the fault is caused by contaminated water, you will be charged for the repairs.
Which manufacturer comes out on top?
There are benefits to having either a Baxi or Vaillant boiler installed, but some of their advantages are different, which could make one more suited to your home than the other.
If you're looking to relocate your boiler to a new location – especially if it's away from an external wall – then Baxi is likely to be your best bet. The twin flue system offers greater flexibility when it comes to installation, making it much more likely that the boiler can be installed in your desired location.
Ultimately though, for many, the decision to go with one boiler manufacturer over another comes down to budget. More often than not, Baxi boilers are the cheapest option but it's worth considering model efficiencies levels as this can impact your energy bills; extends the life of the boiler, and greatly reduce the risk of a fault.
More boiler brands
If you want to continue you your search for a boiler manufacturer, the list of leading boiler brands extends beyond Baxi and Vaillant:
On the whole, all of these brands are well reviewed by homeowners and installers. You can compare their units using our Boiler Comparison Tool.

Once you find the right boiler manufacturer for you, you'll then need to find a heating engineer to carry out the installation. Hiring the right heating engineer is just as important as installing the right boiler and that's where we can help.

By completing our simple online form, you'll get free quotes from up to 3 boiler installers based in your local area. Getting more than a single quote will give you the greatest chance of finding the most competitive price.

---

 

---