Which are the Best Cheap Boilers?
If it's time to replace your heating system then finding the best cheap boilers may be a high priority. Many leading boiler manufacturers offer more affordable options well worth considering.
Here we look at the best cheap combi boilers as they're commonly less costly than system and regular boilers.
---
---
What's the cheapest price for a combi boiler?
Combi boiler prices start at around £450 rising to over £2,000. They're often the cheapest type of boiler and don't need to be installed alongside any tanks or cylinders which will help to keep installation costs down too.
It isn't unheard of for combi boilers to cost more than £2,000 but most come below this figure.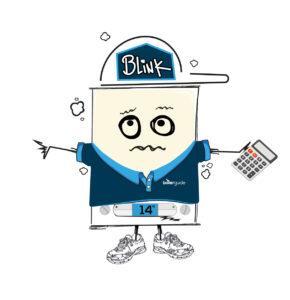 As well as the cost of the combi boiler itself, you'll also need to think about the installation. This will add to the costs and tends to be priced between £500 and £1,000.
Combi boiler installation prices are likely to be at the higher end of this scale if it's replacing a different type of heating system (system or regular boiler). Or, if you're planning to move the boiler from one location to another.
To keep installation costs to a minimum, we highly recommend comparing quotes. Getting quotes from at least 2 heating engineers will give you the confidence you're receiving a competitive price.
You can get free quotes from up to 3 heating engineers in your area by tapping through our simple online form.
Which are the best cheap combi boilers?
We'll start out by saying that buying a cheap combi boiler isn't always the best decision. Cheaper boilers may require more frequent repairs and need replacing much sooner than a higher-end model. Essentially, you get what you pay for.
Having said this, there are some reliable and efficient cheap boilers available on the market. And many are manufactured by leading boiler brands.
The table below reveals some of the best cheap boilers available to UK homeowners.
| Brand | Model | Central Heating Output | Domestic Hot Water Output | Average price |
| --- | --- | --- | --- | --- |
| Worcester Bosch | Greenstar 2000 | 20 kW | 25 kW | £730 |
| Vaillant | ecoFIT Pure 825 | 19.1 kW | 25.2 kW | £907 |
| Ideal | Logic Plus C24 | 24.2 kW | 24.2 kW | £847 |
| Glow-worm | Betacom4 | 21.2 kW | 24.2 kW | £525 |
| Baxi | 224 | 21.8 kW | 24 kW | £549 |
| Vokera | Compact 25A | 20.8 kW | 25 kW | £545 |
Cheapest Worcester Bosch boiler
Worcester Bosch Greenstar 2000 25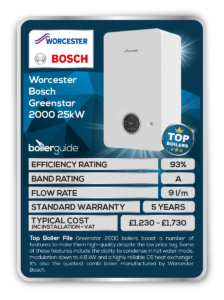 Worcester Bosch offers an extensive range of boilers. From high-end industry leading heating systems to more affordable options.
In 2019, they launched the Worcester 2000 range of combi boilers. These boilers were designed to make the reliability, efficiency and quality of Worcester Bosch boilers to more homeowners.
The quietest combi boiler manufactured by Worcester Bosch
Modulates down to 4.8 kW to minimise energy usage
Increased efficiency and reliability thanks to the C6 heat exchanger
Designed for a quick installation
The Worcester Bosch Greenstar 2000 25 is available for around £730 and comes with a 5 year warranty as standard.
Compare the full range of Worcester Bosch boilers.
Cheapest Vaillant boiler
Vaillant ecoFIT Pure 825

Vaillant is another leading boiler manufacturer offering a wide range of boilers to suit various property types. Their ecoFIT Pure range includes one of their cheapest combi boilers while maintaining the brands reputation for quality, efficiency and reliability.
Features that help to make the ecoFIT Pure 825 Vaillant's best cheap boiler include:
Ultra-quiet operation
Can be installed within a cupboard
Clear and understandable LCD display
Compatible with Vaillant heating controls
The standard 2 year warranty can be extended to 7 or even 10 years (when fitted by a Vaillant Advance installer) to give you additional peace of mind.
Compare the full range of Vaillant boilers.
---
---
Cheapest Ideal boiler
Ideal Logic+ C24

Ideal is a well-known UK boiler manufacturer who have built a strong reputation for delivering reliable heating systems.
Designed for a compact cupboard installation
Built-in frost protection to keep the boiler healthy during the winter
Fully modulating down to 4.8 kW to keep energy consumption to a minimum
Endorsed by the Energy Saving Trust
It's available with a lengthy 7 year warranty as standard and the heat exchanger is covered for 10 years.
Compare the full range of Ideal boilers.
Cheapest Glow-worm boiler
Glow-worm Betacom4 24

Glow-worm are widely recognised as manufacturing affordable heating systems that are highly regarded by heating engineers. The Betacom4 range of boilers has built on previous models to deliver a highly efficient heating system that's easy to use.
Compact heating system
Fitted with an aluminium heat exchanger to help increase reliability and efficiency
Control the boiler from your smartphone with the MiGo app
Available with a standard 2 year warranty that can be extended to 6 years.
Compare the full range of Glow-worm boilers.
Cheapest Baxi boiler
Baxi 224

The Baxi 200 range of combi boilers make modern boiler technology available at an affordable price. Their 200 combi boiler range has been developed into the 400, 600 and 800 but remains a tried and trusted heating system.
Can be installed in a standard kitchen cupboard
Flexible choice of installation locations
Low lift weight makes installation more straightforward
Once installed, you'll be covered by a 3 year parts and labour warranty as standard.
Compare the full range of Baxi boilers.
Cheapest Vokera boiler
Vokera Compact 25A

Vokera are well known for offering more affordable heating systems than many of the leading boiler brands. As a result, their boilers can be found in over 500,000 homes across the UK and Ireland.
Fits perfectly within a kitchen cupboard
Install with Vokera Intelligent controls for efficiencies of up to 97%
Endorsed by the Energy Saving Trust
Compare the full range of Vokera boilers.
What makes a boiler more expensive?
A number of factors can make one boiler more expensive than another. Firstly, there's the pricing set by manufacturers. Each will have their own pricing structures and this is why you'll often find one boiler brand to be priced differently to another.
There's more to consider than this though. WIth boiler prices varying because of several things, including:
Output rating
Warranty period
Heating controls
Complexity of the installation
Whether it's fitted with any additional parts, such as a magnetic filter
How to save money on installation
So, you've done your research and found the best cheap boiler for your home. Next, you'll need to find a heating engineer to carry out the installation. And we have a few tips to help you save money on a boiler installation.
On average, the installation of a combi boiler can cost between £500 and £1,000. It's possible for the price to go beyond £1,000 if it's a particularly complex installation.
The single best thing you can do to save money on a boiler installation is to compare quotes.
By comparing quotes from at least 2 heating engineers, you can be confident that you're getting a fair price. If you were to receive a single quote you wouldn't know if you were being overcharged.
As well as comparing quotes, you can save more money by arranging the installation for during the summer. Heating engineers tend to have more time available in their diary when the weather's warmer which can reduce the costs.
Plus, replacing your boiler when you're less likely to need the heating will reduce disruption and you'll have a new efficient heating system once winter comes around.
Spread the cost with boiler finance
Rather than paying for a new boiler installation all in one go, you may be able to spread the cost. With boiler finance, you could potentially be making monthly payments of as little as £15 to £20. With interest you may end up paying more than if you paid in full upfront but it's a more manageable option for many people.
Interested in boiler finance? Read more in Boiler Finance: 6 Things You Need to Know.
Get free quotes for a new boiler
You can get free quotes for the best cheap boilers right here at Boiler Guide. Simply take a few moments to complete our online form and before you know it, up to 3 heating engineers will be in touch. Each will give you a free quote for you to compare then you can decide which is best for you.