Best Unvented Cylinders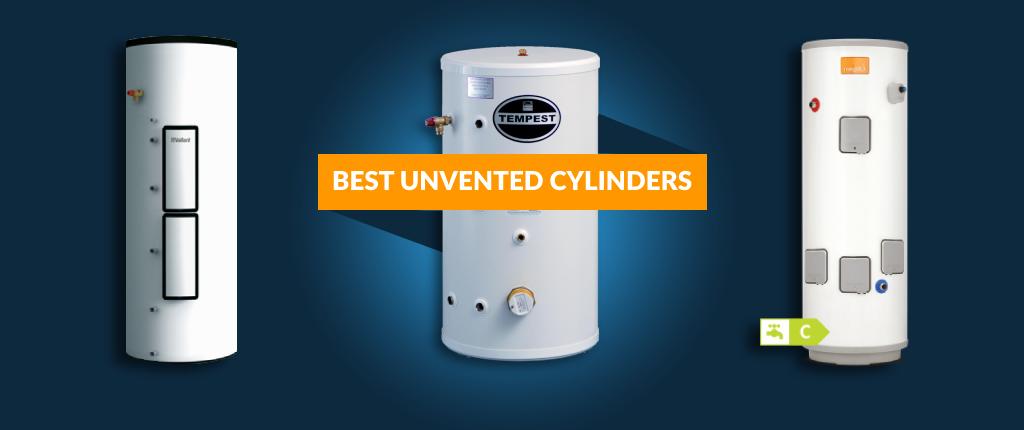 Designed for installation alongside a system boiler, an unvented cylinder is ideal for homes with multiple bathrooms. Installing the best unvented cylinder can lower your heating bills, deliver strong water pressure and comfortably meet demand.
Unvented cylinders are widely recommended by professional installers over traditional vented systems, but which brands come out on top?
---
---
What is an unvented cylinder?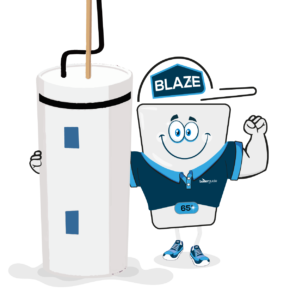 An unvented cylinder stores domestic hot water ready to be used when you turn on a hot water outlet. They're connected directly to the mains water supply and can be heated by a system boiler (indirectly) or by an immersion heater (directly).
The alternative options are vented cylinders. Vented cylinders aren't connected to the mains and are instead fed by a cold water tank in the loft. Rather than system boilers, they're designed for installation alongside a regular boiler. This means that they take up more space and can't deliver such high water pressure.
Indirectly heated unvented cylinders can even be powered by a solar thermal system. Doing this will help to reduce your impact on the environment and lower your energy bills.
Which are the best unvented cylinders?
The best unvented cylinder for your home will depend on the demand for hot water. Fortunately, there's no shortage of options when it comes to finding the best unvented cylinders.
Some of the best unvented cylinder manufacturers include:
Heatrae Sadia
Telford
Gledhill
Viessmann
Vaillant
Each of these brands offer a number of options in a range of capacities.
| Brand | Model / Size | Size (litres) | Reheat Time from cold | ErP Efficiency Rating | Warranty |
| --- | --- | --- | --- | --- | --- |
| Heatrae Sadia | Megaflo Eco Plus | 250 | 22 mins | B | Lifetime |
| Telford | Tempest Stainless Steel | 250 | 35 mins | C | Lifetime (2 years parts and labour) |
| Gledhill | StainlessLite Plus Indirect | 248 | 36 mins | C | 25 years (2 years parts and labour) |
| Viessmann | Vitocell 200-V | 250 | 19 min | B | 25 years against corrosion |
| Vaillant | uniSTOR | 250 | 30.3 mins | B | 25 years (2 years parts and labour) |
The above comparison of the best unvented cylinders, looks at indirectly heated cylinders with a capacity of around 250 litres. This is an ideal capacity for properties with 4 bedrooms and 2 bathrooms.
Note: As of September 2020, Worcester Bosch announced that they would no longer by manufacturing unvented cylinders. If you already have a Worcester Bosch Greenstore unvented cylinder installed then you can still rely on Worcester Bosch for support.
Heatrae Sadia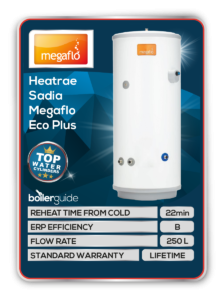 The Megaflo Eco Plus by Heatrae Sadia is one of the biggest names in heating cylinders. Over the years, they've built a strong reputation for both reliability and excellent performance.
The Megaflo Eco Plus boasts a floating baffle expansion vessel within the unit so there are no extra sections to accommodate. Key features include:
Capacities range from 250 to 1,000 litres
High flow rates of up to 176 litres per minute
An indirect heating coil or electric heating components to deliver a quick heat recovery time
External expansion vessel
Pre-plumbed and pre-wired SystemFit and SystemReady options for use with heat only or system boilers
60mm CFC / HCFC-free injected foam delivers both heat retention and energy efficiency
Unique 'L' shaped immersion heater maximises the volume of hot water
Megaflo Eco Plus cylinders come with a lifetime warranty which, in addition to the above features, makes it one of the best unvented cylinders.
---
---
Telford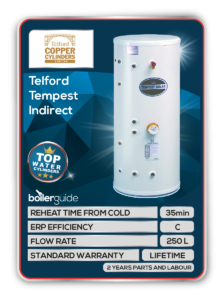 The Telford Tempest Indirect unvented cylinder has been designed for installation as part of a heating system which includes a gas or oil boiler. Key features of the Telford Tempest Indirect unvented cylinders include:
Duplex stainless-steel offers high resistance to corrosion
Completely insulated to retain heat
A 3kW immersion heater
A range of capacities from 90 to 500 litres
The components are covered by a 2 year warranty while the inner container has a lifetime warranty.
Compare Telford unvented cylinders.
Gledhill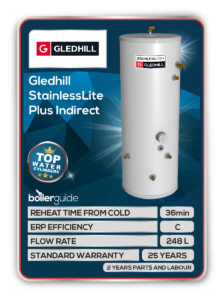 The StainlessLite Plus Indirect by Gledhill is a highly efficient unvented cylinder that's available in a range of capacities to suit various property types. The Stainless Lite Plus cylinder is the lightest on the market. It includes a high efficiency corrugated tube coil delivering much faster recovery times than plain tube coils. It's well insulated to reduce heat recovery times and boasts a number of other features too:
A corrugated coil transfers heat to the water effectively and efficiently
Available in capacities from 90 to 400 litres
A 90° elbow and low lift weight help to reduce installation time
Compatible with solar PV and solar thermal to help increase your energy savings
Slimline models are also available to help save space
Comes with an extensive 25 year warranty to see that you're well covered.
Compare Gledhill unvented cylinders.
Viessmann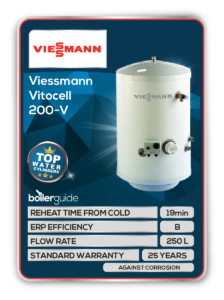 The Viessmann Vitocell 200-V is a range of indirectly heated unvented cylinders designed for installation alongside a Viessmann Vitodens system boiler. However it can be installed alongside non-Viessmann system boilers or traditional S or Y heating systems if purchased with an additional safety kit.
Capacities of up to 300 litres
50mm polyurethane foam insulation exceeds CHESS Best Practice with energy loss as low as 1.4 kW/24 hr
Heating coil recovers in less than 19 minutes delivering a 30 minute water reheat time from cold
Includes a back-up immersion heater (3 kW)
Supplied with an external expansion vessel
Lightweight design allows for a more straightforward installation
Viessmann has attached a 25 year warranty against corrosion to their Vitocell 200-V range.
Compare Viessmann unvented cylinders.
Vaillant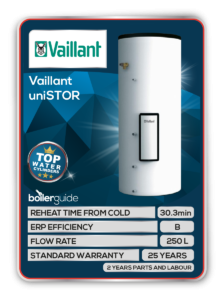 Vaillant uniSTOR unvented cylinders are available as Slim line, pre plumbed and standard models. All of which include a host of features, such as:
The 120l and 150l standard cylinders achieve an ErP A-rating
Adjustable feet allows for installation on uneven surfaces
Fitted with a high level of insulation to reduce heat loss
Available with a 2 year parts and labour warranty as well as 25 years on the cylinder shell.
Finding the best unvented cylinder
When comparing the best unvented cylinders, you'll need to think about whether it's heated directly or indirectly, its capacity, the length of the warranty, whether it's insulated and the type of boiler you have.
Direct or Indirect?
This refers to the method used to heat the water in the cylinder and will have an impact on your running costs.
Cylinders that use an indirect system rely on an external boiler as the heat source for the water. So, in the case of unvented cylinders, that means a system boiler. The water in a directly heated cylinder is heated by an internal immersion heater. This immersion heater is powered by electricity which is more expensive to run but makes a great option for homes without access to gas.
Indirect systems are usually the preferred option but there is a risk that if the boiler should fail you will lose access to hot water completely. To prevent this many homes opt for an indirectly heated cylinder with an immersion heater included as a back up.
What size cylinder do you need?
There's a balance between finding a cylinder with sufficient capacity for your home while also ensuring it's not so big. After all, this would see your energy usage increase for no reason.
The table below shows a guideline capacity depending on the size of your property.
Bedrooms
Showers / Bathrooms
Indirect (litres)
Direct(litres)
1
1
75/120
120/150
2
1
150
180
3
2
180
210
4
2
210
250/300
Larger properties
300+
300+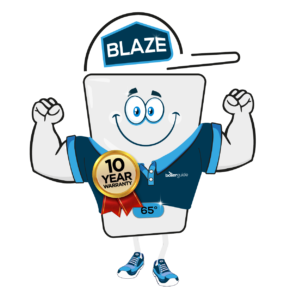 To get a more accurate capacity for your new cylinder, you should seek the opinion of a professional installer.
Warranty
The best unvented cylinders will offer a lengthy warranty period. During this time, you'll be covered by the manufacturer in the unlikely event of an issue. Each manufacturer will have their own set of terms as to the issues covered by the warranty.
It's often the case that the unvented cylinder will need to be serviced annually to keep the warranty valid.
Insulation
A well insulated unvented cylinder will stay warmer for longer. This will help to keep your energy usage down to a minimum.
Some cylinders have insulation included such as foamed polyurethane but you can also purchase jackets and foam tubing to maximise heat retention.
Expansion unit
As the water in the cylinder is heated it increases in volume. Vented cylinders have a vent pipe where the water goes to prevent a buildup of pressure.
In unvented cylinders, as the name suggests, the vent pipe is not there. Some unvented cylinders deal with the excess pressure by including an external expansion unit and some use an internal air bubble that is created at installation.
Note: Legally, unvented cylinders can only be installed by engineers with a G3 Unvented Hot Water qualification. This is in addition to being a Gas Safe registered engineer.
How much does an unvented cylinder cost?
Unvented cylinder costs will vary depending on the brand, model and its size. Many of the best unvented cylinder ranges are available for under £1,000. However, the higher-end models with larger capacities for hot water can exceed this.
| Best Unvented Cylinder Ranges | Potential Cost (excluding installation) |
| --- | --- |
| Heatrae Sadia Megaflo Eco Plus | £1,500 – £2,300 |
| Gledhill StainlessLite Plus Direct | £300 – £600 |
| Telford Tempest Indirect | £475 – £575 |
| Viessmann Vitocell 200-V | £1,000 – £1,300 |
| Vaillant uniSTOR | £650 – £1,500 |
You'll also need to think about the installation. Unvented cylinder installation prices will vary depending on the rates of the installer which makes comparing quotes very important. Find out more about Unvented Cylinder Installation.
Get free unvented cylinder installation quotes
Are you looking to install a new unvented cylinder? Then you can get free quotes right here on Boiler Guide. By completing our simple online form then you'll get free quotes from up to 3 installers.