Viessmann Unvented Cylinders
About the Brand


The Viessmann story began back in 1937 when a German man named Johann Viessmann set up a factory. A decade later his son, Hans Viessmann, took over the company and developed it into a much larger, international operation.
Today the company designs and manufactures a range of gas, oil and biomass boilers as well as heat pumps, solar PV and solar thermal.
Despite its present day status as a world leader in both commercial and domestic home heating solutions, it retains family values at its core with Maximilian Viessmann joining in 2016. He aims to take Viessmann forward in a digital age with a particular focus on renewable heating and lessening our impact on our environment.
Vitocell Unvented Cylinders
The Viessmann unvented cylinder range is called Vitocell and includes 3 variants:
| Model | Available Capacities (litres) | ErP Energy Rating | Description |
| --- | --- | --- | --- |
| Vitocell 200-V | 90, 120, 150, 180, 210, 250, 300 | B or C (depending on capacity) | A single coil cylinder to be indirectly heated by a gas or oil boiler. |
| Vitocell 200-B | 210, 250, 300 | C | A dual coil cylinder to be indirectly heated by both a gas or oil boiler and surplus solar PV energy. |
| Vitocell 300-B | 300, 500 | A | A dual coil cylinder to be indirectly heated by solar thermal collectors with a second coil for boosting hot water with a boiler. |
| Vitocell 300-V | 160, 200 | A+ | A domestic hot water cylinder with an indirect coil and A+ energy rating. |
All Vitocell cylinders are made from high quality Duplex stainless steel to resist corrosion and insulated by 50mm of polyurethane foam as well as an additional vacuum panel. The result is a highly efficient and durable cylinder with heat losses as low as 1.4kWh per 24 hours and a 25 year warranty.
The Vitocell 200-V is for use with a gas or oil boiler while the 200-B is also solar compatible. The Vitocell 300-B is primarily heated by a solar thermal systems but can be boosted by a gas or oil boiler via the secondary coil at the top of the cylinder. Each cylinder includes a 3kW backup immersion heater to give you peace of mind that should your boiler develop a fault you will still have access to hot water.
While these cylinders have been designed for use alongside a Viessmann Vitodens System boiler they will work with other brands (and Regular boilers) but an additional kit will need to be purchased.
Key Features
Fast reheat time of 19 minutes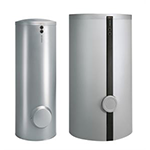 Lightweight, compact design and front connections for easy installation
CFC/HCFC free fire retardant polyurethane foam with an ozone depletion potential of zero (ODP Zero) and a global warming potential (GWP) of one
Insulation exceeds CHESS Best Practice with low heat losses as low as 1.4 kW/24 hr
No anode required to simplify maintenance
Backup 3kW immersion heater included
External expansion vessel (included)
Viessmann Vitocell 300-V
In 2019 Viessmann introduced the only domestic hot water cylinders on the UK market with an A+ energy rating. The Vitocell 300-V is a floorstanding DHW cylinder available in capacities of 160 or 200 litres. This model replaces Viessmann's A rated versions and are suitable for homes with boilers with up to 80kW in output.
Key Features
Maximum hot water flow rates: 24 litres per minute for the 160-litre cylinder and 34 litres per minute for the 200-litre
Heat-up time from 10 to 60 degrees: 20 minutes for the 160-litre cylinder and 24 minutes for the 200-litre cylinder
High level of heat retention is made possible by using a highly effective vacuum panel insulation as well as Polyurethane hard foam
Low pressure-drop of the heating coil, at only 15 millibars, is approximately 35% lower than a typical competitor cylinder.
Vitocell Warranty
The cylinder is protected by a 25 year warranty against corrosion and perforation while all the other components are covered by a 2 year warranty.
Vitocell Unvented Cylinder Cost
The cost of an unvented cylinder tends to fall between £500 – £1,000 but this will vary depending on which size and model you choose. This doesn't include the cost of installation which will vary from installer to installer.
The simplest way to save money on the cost of a new unvented cylinder is to compare quotes from 2 or 3 different suppliers. Complete our simple enquiry form to get free quotes from up to 3 qualified and reputable engineers in your area.