Biomass Boiler vs Gas Boiler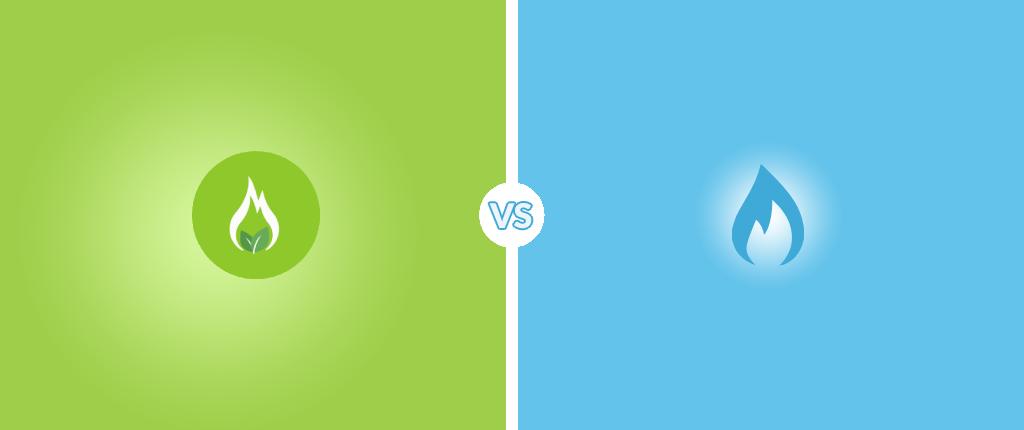 There's never been so many options when it comes to finding a new heating system for your home.
While gas boilers are the heating system of choice for UK homes they're not the only option. Biomass boilers are a renewable alternative that are carbon neutral, have low running costs and don't need to be replaced as soon.
So, which boiler type best suits your home? We put these heating systems head-to-head in Biomass Boiler vs Gas Boiler.
Biomass vs Gas: What's the difference?
As the UK looks to achieve its carbon targets, homeowners are being encouraged to turn to renewable heating systems. And one of the options is a biomass boiler.
Biomass fuel is biological materials such as plants and plant-based organisms. The fuel used by domestic biomass boilers is mostly wood and comes in the form of wood chips, pellets or logs.
Gas boilers, on the other hand, burn natural gas, a fossil fuel which releases carbon into the atmosphere when burned. Gas is supplied directly to the property by an energy supplier as and when needed.
For a gas boiler to be installed in your home, you must be connected to the gas network. That is unless you plan to have an LPG boiler. LPG is also a gas fuel but is stored onsite rather than supplied on demand.
What are the benefits of biomass?
Biomass boilers are a low carbon heating system that offer many benefits, including:
Carbon neutral
Burning wood is a completely carbon neutral process which means that only the carbon absorbed by the tree during its life is released back into the atmosphere.
Sustainable fuel source
Plants can be replanted, giving us an endless supply of fuel for biomass boilers. This is unlike fossil fuels (gas, oil and coal) which take millions of years to form and we're running low on the current supply.
Lower heating bills
Biomass fuel typically costs less than gas – the price of which is ever rising. You could even fuel your biomass with wood logs for free if you have access to a woodland area.
Boiler Upgrade Scheme
From May 2022, a new incentive for homeowners to turn to renewable heating systems will be launched by the government, known as the Boiler Upgrade Scheme (BUS). The scheme will offer upfront grants to help with the cost of replacing a fossil fuel heating system with a heat pump or biomass boiler.
You can read more about the scheme in our article, "What is the Boiler Upgrade Scheme?".
So, what about gas boilers? While they may not be a low carbon or carbon neutral heating system, they still have a wealth of advantages.
Highly efficient
While gas boilers burn fossil fuels, they do so efficiently. All new gas boiler installations must be condensing and this technology increases efficiency as more heat can be captured and used to heat the property.
More choice
Gas boilers are the most commonly installed heating system in the UK so it's no surprise that there's plenty of choice when it comes to finding a suitable model. Leading gas boiler manufacturers include Baxi, Ideal, Vaillant, Viessmann and Worcester Bosch.
Gas boiler replacement is straightforward
A like-for-like gas boiler replacement is a simple job for a Gas Safe registered engineer. So, if your home is currently heated by a gas boiler then a new one would be the most affordable option.
What considerations need to be made?
A new or replacement heating system is a big investment no matter which you have installed. So, it's important to weigh up the benefits with the potential downsides.
For all of their benefits, biomass boilers are large heating systems. A fair amount larger than gas boilers. The table below gives you an idea of boiler sizes based on a biomass and gas boiler manufactured by Viessmann.
| Boiler | Output Ratings | Boiler Fuel | Dimensions in mm (HxWxD) |
| --- | --- | --- | --- |
| Viessmann Vitodens 200-W | 16, 26, 30, 35 | Natural gas | 850 x 450 x 360 |
| Viessmann Vitoligno 300-C | 8, 12 | Wood pellets | 1,250 x 850 x 770 |
| Viessmann Vitoligno 300-C (with hopper) | 32, 40, 48 | Wood pellets | 1,539 x 1,332 x 1,224 |
The largest of these models is the Viessmann Vitoligno 300-C with a hopper. A hopper stores the wood pellets and automatically feeds them into the boiler when there's demand for heating or hot water.
As biomass boilers use a physical fuel, it has to be stored onsite. This is opposed to gas boilers which are supplied gas by an energy supplier as and when needed. For a gas boiler to be installed in your home, your property must be connected to the gas network. Unless the boiler is compatible with LPG – a gaseous fuel that's also stored onsite.
Comparing the costs
When comparing the initial costs of biomass boilers vs gas boilers, there's a fairly significant difference.
| Heating System | Potential Cost (Including Installation) |
| --- | --- |
| Gas boiler | £1,000 – £3,750 |
| Manually-fed biomass boiler | £4,000 – £10,000 |
| Automatic biomass boiler | £9,000 – £21,000 |
It's important not to rule out a biomass boiler solely because of the installation costs.
Firstly, because a biomass boiler doesn't need to be replaced for around 20-25 years compared to around 10 years for a gas boiler. Secondly, the long term fuel costs will be cheaper if you have a biomass boiler.
Unlike gas boilers, a biomass boiler can potentially be fuelled for free. This is if you have access to a wooded area where you can collect wood logs. Even if you don't have access to free wood then buying it in bulk is a cheaper option than gas.
| Fuel | Cost per kWh |
| --- | --- |
| Gas | 7.4p |
| Wood pellets | 9.9p |
*Figures based on prices for April 2022 (Energy Saving Trust)
Weigh up the advantages and disadvantages of biomass boilers in Biomass Boilers: Advantages & Disadvantages.
More renewable heating systems
A biomass boiler isn't the only option if you're looking to turn to a renewable heating system. So, if a biomass boiler doesn't sound right for your home then it's worth considering a heat pump or solar thermal. Heat pumps are able to extract heat from either the air or ground while solar thermal panels absorb heat from the sun.
Both of these systems can provide central heating and domestic hot water (if you have a hot water storage cylinder) and they do so in a sustainable and zero carbon way.
Will renewables replace gas boilers?
There's no hiding the fact that home heating is making a considerable contribution to the amount of carbon in the atmosphere. Home heating accounts for around 15% of all UK carbon emissions and this is largely because over 80% of UK homes have a gas boiler.
To combat this, the government is encouraging homeowners to turn to renewable heating systems. From 2025, new build homes cannot be fitted with a gas boiler – or any fossil fuel based heating system. While this will make new homes less carbon intensive, there are millions of boilers already installed across the UK. Replacing all of the gas boilers with renewable heating systems would be expensive and impractical or even impossible in some cases.
This could lead to a future where our homes are still heated by boilers but using a low carbon gas instead of natural gas. Hydrogen is the most likely fuel.
Which is the winner?
Biomass and gas boilers each have their own set of benefits. With the key benefit of biomass being that it's carbon neutral. However, biomass boilers are larger than gas boilers and require additional space for fuel storage. The required space could rule out a biomass boiler for many homes.
A biomass boiler is likely the best choice if you live off-grid. This is because you're likely to be familiar with storing fuel onsite and, if so, have the necessary space.
If you have a gas boiler installed in your home then a like-for-like replacement will be the least disruptive and more affordable option.
Find out if a Biomass Boiler is Right for Your Home.
Get free boiler quotes
We have a network of boiler installers right across the UK. To connect with those based in your area, all you need to do is complete our online form by clicking the link below.
Once you've finished, you'll get free quotes from up to 3 installers based near you. By comparing multiple quotes, you can be confident that you're getting the most competitive price.
If you're looking for free biomass boiler installation quotes, head to our renewables form.
---
Get FREE Boiler Quotes
If it's time to replace your current boiler, use our free service to
get quotes now
---