Boiler Broken? Here's What You Need To Do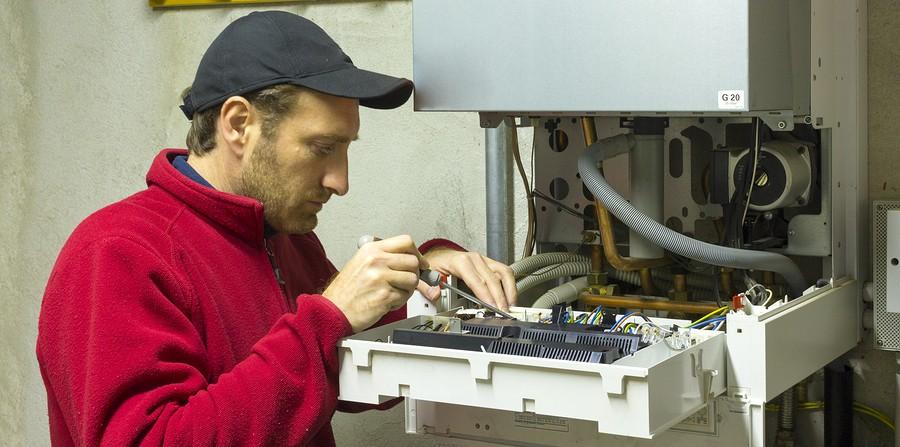 ---
---
A misbehaving or broken boiler is, to put it mildly, inconvenient, but it could also be dangerous. If you suspect a gas leak then you need to contact the Gas Emergency Services as soon as possible as this could be a gas emergency:
Smell gas in England? Call 0800 111 999
Smell gas in Scotland? Call 0800 002 001
Smell gas in Wales? Call 0800 002 001
Smell gas in Northern Ireland? Call 0800 002 001
If you don't smell gas, but your boiler isn't quite right, then please take this seriously – it's very important that you don't try to fix your boiler on your own. It's not only dangerous but may invalidate any warranty or insurance policy that you have.
To find a qualified and highly rated engineer in your area, use our free service to get quotes for a new boiler today.
What Is Wrong With My Boiler?
Aside from the obvious things you might expect like having no hot water or heating, there are a few other common symptoms of a broken or struggling boiler that it is possible to miss if you're not paying attention.
The pilot light or flame is orange / yellow in colour (it should be blue)
Banging, clanking or tapping are not happy boiler noises
It won't maintain a steady pressure (usually too high)
Unusually high gas usage suggests the boiler is not working at its best
---
---
Is Your Gas Supply Working?
The easy way to check your gas supply is to find out whether the other gas appliances in your household are working. You can also check a neighbour's gas supply to find out if they've been affected too.
If the gas stopcock is on but no gas is coming through, you have a gas supply problem and need to call your gas supplier.
Is Your Power Supply Working?
Check your electrical supply and ensure that your boiler is still plugged in. If it is, but you have no power, you should contact your electricity supplier. If there has been a power cut recently it is possible the boiler's clock has reset and lost your preferred settings.
You should be able to reset and run a little experiment; ask it to kick into action in 10 minutes time and wait to see that it obeys accordingly!
Is Your Water Supply Working?
Check that your water supply is still turned on.
If you find a problem, contact your water provider. What about your pilot light … is it still on?
A boiler's pilot light can go out for a variety of reasons, particularly on older boilers, and the majority do not warrant calling out a boiler engineer. First, try to ignite the pilot light yourself. Instructions for igniting your boiler can be found in your boiler's manual or sometimes on the inside door of the boiler.
If your boiler's pilot light won't ignite, you either have a gas supply problem or you'll need to call in a Gas Safe Register approved engineer for a repair.
---
---
Could It Be The Thermostat and Programmer?
Make sure your central heating programmer is in the 'on' position and your thermostats are turned up above room temperature. If the system works based on a timer it may be that the clock has gone forward or backward and just needs a tweak.
What About Your Boiler Pressure?
Check your central heating pressure. The typical range for modern boilers is 1.0 – 1.5 bar.
If your boiler is below this, follow your manufacturer's instructions to refill and restart your system. If your boiler pressure is at the correct level either you have a gas supply problem or you will need a Gas Safe Registered engineer.
What About Frozen Pipes?
In very cold weather the condensate pipe that carries the condensation outside could freeze. This blockage causes the water to fill up the boiler and triggers automatic shutdown.
This is best solved by an engineer but you may want to try and resolve this by pouring hot (NOT boiling) water onto the end of the pipe, applying a hot water bottle or wrapping it in a heat wrap and switching the boiler on and off again.
Still Having Problems?
If the advice we've given so far shows little or no results, then it's definitely time to get quotes from a registered heating engineer.
You may also want to take a look at our article that lists the Top 10 Most Common Boiler Problems as you may find a simple solution there.
How To Prevent Boiler Breakdown
Clichéd but true, prevention is better than cure and it's far too easy to take central heating and hot water for granted until it's too late. Rather than taking the 'hope for the best' approach, why not follow some of these simple suggestions and keep your boiler healthier for longer?
---
---
When Should I Service My Boiler?
You should service your boiler annually, that's every single year. A well serviced boiler can last you 20+ years. We MOT and service our car, update our technology and even take ourselves into the doctor for a check-up now and then; why ignore your boiler?
Annual servicing by a qualified engineer will catch issues in the bud which should make them easier and therefore cheaper to fix. They can also perform something called a Powerflush which is essentially a deep clean for your radiators and pipes that gets rid of any built up rubbish.
Getting Cold, Colder, Coldest
British winters can often lead to frozen boiler pipes. Before things get that far it's a very good idea to pick up some pipe insulation (also called lagging) and duct tape from a DIY shop and make sure your condensate pipes are nice and cosy.
This will prevent the water freezing, blocking the system and shutting the boiler down. Better insulation should also mean that your system doesn't lose as much heat to the great outdoors making it more energy efficient.
Behind every good heating system…
…is a good team of radiators. Trapped air in just one radiator can affect the whole system's performance and lead to longer term damage so regular bleeding is key.
Boilers Need a Break Every Now and then Too
After a busy autumn, winter and spring, Summer is the perfect time to let your boiler put its feet up and avoid unnecessary wear and tear.
But it's important to remember the next point…
Keep your heating system 'warmed up' and 'in the game' ! We're at risk of torturing the metaphor, but don't leave your heating 'on the bench'! Pipes left to their own devices will clog up during the summer or freeze during the winter.
Turning the heating on just once a month for as little as 15 minutes will keep things flowing nicely. If you're away from home during the winter it's also a good plan to programme the heating to switch on once a day to stop things freezing.
Learn to Speak 'Boiler'
There's a good chance that your boiler will try to tell you something from time to time, usually by displaying an incomprehensible fault code.
This could be telling you something is wrong and you need an engineer, but occasionally it could be something you can take care of on your own like adjusting the water pressure.
Learning to recognise some of these quick-fix issues could save you time and money on unnecessary call outs. Remember — we do not recommend attempting to fix your boiler yourself.
If in any doubt, call a Gas Safe registered engineer. We can put you in touch with up to 3 working in your area; get quotes today.
Common Fault Codes
Listed below are the common fault codes for some of the more well-known boiler manufacturers:
---
---
Never Ignore a Broken Boiler: the dangers of Carbon Monoxide
A broken boiler that leaks Carbon Monoxide (CO) in your home could be deadly!
Depending on the severity of the leak, the consequences of CO poisoning can take place in small amounts over a period of time or could have a severe impact within minutes.
CO is the most common cause of death by poisoning in Britain. According to the NHS, around 200 people attend A&E as a result of CO poisoning every year, with approximately 50 of these cases resulting in death.
Symptoms may be flu-like including headaches, dizziness, nausea, shortness of breath or confusion. Mild cases can be treated by a GP but high exposure requires an immediate visit to A&E and may leave long term damage.
Make sure you're in the know by learning more about the dangers of Carbon Monoxide from our article library:
If you and other members of your household (or workplace) are experiencing possible symptoms that are worse when you are at home, when the heating is on, or lessen after time away from home, CO poisoning may be the cause.
More information is available from the NHS website but if you suspect there is a leak in your home you should:
Turn off all appliances
Open doors and windows for ventilation
Evacuate (and don't go back inside until advised it is safe to do so by a professional)
Call the Gas Emergency Services: 0800 111 999 in England, Scotland and Wales or 0800 002 001 in Northern Ireland
Seek immediate medical advice, even if you are not presenting symptoms
Coping When Boiler Breakdown Strikes
So your boiler is down (but possibly not out) and you need to get by until it can be resolved.
We don't need to tell you how to keep warm, but there are a few bits and pieces of information that might help you live a little more comfortably.
---
---
A Temporary Solution: Electric or Gas Heaters – which is cheapest to run?
One unit of electricity costs about 3-4 times more than a unit of gas so if you have access to a gas fire (or even better, a log burner) this will cost you much less to run. The advantage of electric heaters is that they're generally cheaper to buy and usually don't need to be fitted.
You may even be able to borrow one from friends or family for a short time.
What Type of Electric Heaters Are Available?
If you do go for an electric heater it's important to know a little about the different types:
Fan heaters provide quick, short blasts of heat but don't leave much heat behind once turned off
Convection heaters heat up slowly but will heat a whole room and can have thermostats so you can keep a steady temperature. Great for evenings in the lounge with the whole family
Oil-filled radiators will slowly heat a whole room and tend to keep a room warm for longer after they've been turned off
Halogen heaters are only really effective at warming you up if you're right next to it, so if it's just you and an armchair it might be perfect!
Alternatives to Electric Heaters
Gas fires are cheaper to run than electric and will heat a whole room and keep it warm for longer. However, beware of the glowing, fake coal fires (very expensive to rely on) and portable gas heaters are also discouraged as they can emit dangerous gases if faulty or old.
Log or coal stoves are a cheap option but usually only heat the room it is in. Open fires, however, are even less efficient than electric heaters.
If All Else Fails…
Whatever your choice you will want to keep its use to a minimum to save your money so:
Draught proof your house (tape windows, block the bottoms of doors)
Keep curtains closed
Take a hot water bottle or electric blanket to bed
Only heat the areas of the house you absolutely need to. If that means everyone has to gather in the lounge in the evening rather than hibernating in separate rooms, an energetic game of charades is another great way to keep warm!
Wrap up! Adding a stylish jumper, coat, hat and gloves is often the cheapest way to stay cosy
What About Heating Water?
Luckily for some, electric showers and front loading washing machines/dishwashers will all continue to operate as usual.
For other small jobs like washing up (or even washing yourself!) there's nothing wrong with boiling a kettle or even a saucepan of water on the hob.
Depending on your heating system, you might have a hot water cylinder with an electric immersion heater. If there is a black cable attached to the cylinder then you should be able heat water electrically. Look for a nearby switch (should have a red light on) and turn it on to heat up water.
It will take some time and you'll need to remember to turn it off again as it uses a lot of energy.
Need Help With Your Broken Boiler?
A broken boiler is a nightmare all round. Not only can it mean no heating or hot water, but the solution usually involves a bulky upfront cost that many of us just can't afford.
Boiler Guide can put you in touch with up to 3 Gas Safe Registered installers working in your area; get quotes today.
Check out our guide on how much a new boiler costs for more information on pricing.
---
---