Buying a New Boiler? Here's Why You Shouldn't DIY!
This article was updated in November 2018
If you're considering buying and fitting your own boiler without a professional, make sure you read on…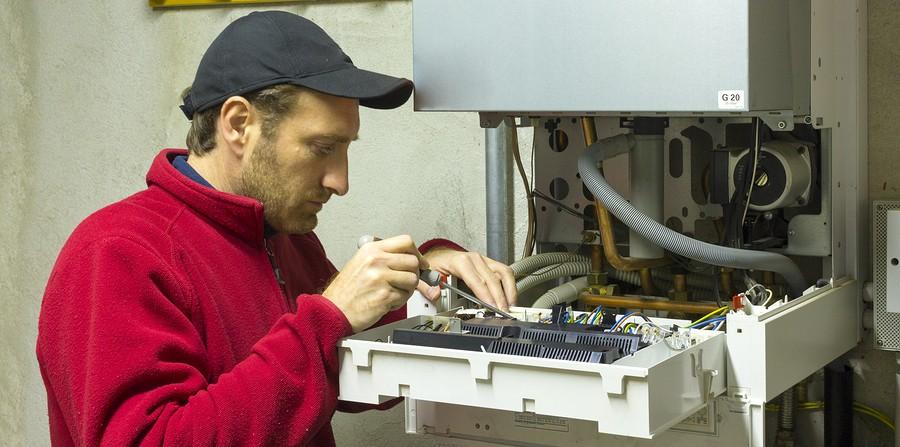 Firstly, let's begin by saying that we completely get it. The upfront cost of buying and installing a new boiler can be a lot to swallow. Some people might be tempted to try and cut out a lot of the cost, source their own boiler and bypass the professional installer completely. How difficult could it be, right?
The truth, however, is that there are far more issues to consider than simply if it can be done. Should it be done? No, and here's why.
---
Get Boiler Quotes
Don't DIY! Use our free service to find Gas Safe engineers and
get quotes now
---
You must be qualified
It's not technically illegal to carry out DIY gas work in your own home* as long as you are 'competent' to do so, but the consequences of doing so without the necessary skills are hugely dangerous. Working with gas is a complex and dangerous task that requires extensive training, knowledge and experience. And, if the worst should happen and your work results in something like an explosion or gas leak, you could face criminal charges.
*It is illegal for someone to carry out gas work and be paid for their services if they are not a Gas Safe registered engineer.
What is 'gas work'?
The Gas Safe Register define 'gas work' – which only competent people are allowed to carry out – as:
Maintaining, servicing, permanently adjusting, disconnecting, repairing, altering or renewing the fitting or purging it of gas or air.
Where the fitting is not fully movable, changing its position.
Removing the fitting.
These actions should only be undertaken by Gas Safe registered engineers. It's important to note that this list is not exhaustive and other things may also be classed as 'gas work'.
What 'gas work' can you do yourself?
You can carry out any of the tasks set out in the manufacturer's guide such as adjusting the pressure or temperature of the system with the user controls. You should not do anything which disturbs the gas supply, related components or anything which could affect the combustion process.
Some other tradespersons such as plumbers or electricians may be competent to carry out some tasks on your heating system such as working with radiators or water circulation pumps, but any element which involves the gas supply can only be worked on by a Gas Safe registered engineer.
Who is competent to work with gas?
According to the Approved Code of Practice HSE Safety Regulations in the installation and use of gas systems and appliances (1998) gas work should only be undertaken:
(a) by a person who has successfully completed an industry recognised training course followed by assessment of competence. Training that leads to assessment of competence in
safe gas work should be recognised by the industry's standards setting body; or
(b) in the case of a currently or previously registered person, where
they have proved competence through a certification scheme; or
(c) for those working at premises that fall outside the scope of the Regulations (see regulation 2(4) and associated guidance), by a person who has successfully completed an appropriate full training course followed by assessment of competence.
The regulations go on to state that:
Training should be of a standard to enable a gas engineer to achieve competence in the safe installation, purging, commissioning, testing, servicing, maintenance, repair, disconnection, modification and dismantling of the gas systems, fittings and appliances with which they
are working. This should include an adequate knowledge of:
(a) relevant associated services such as water and electricity;
(b) the potential for exposure to asbestos;
(c) the dangers these may give rise to;
(d) the precautions to take.
Anyone who does work on a gas fitting or gas storage vessel must be competent to do so (whether or not they are required to be a member of an approved class of persons).
Therefore, do-it-yourself gas engineers and those performing favours for friends and relatives all need to have the required competence. The level and range of competence should match the full extent of work done, but needs only to be sufficient for and relevant to that work.
Note: In the case of retired gas engineers, it's important to note that heating technology and / or industry regulations may have moved on since they completed their training and they may no longer be classed as 'competent'.
---
Get Boiler Quotes
If it's time to replace your current boiler, use our free service to
get quotes now
---
Potential dangers of working with gas?
An incorrectly fitted gas appliance can be life threatening for several reasons. The most commonly known is the risk of causing an explosion via a gas leak which, although rare, still occurs every year with devastating results.
Another potential danger you need to be aware of at all times (even with professionally installed boilers) is carbon monoxide poisoning. If a boiler isn't operating correctly it can produce the colourless, odourless and deadly gas, carbon monoxide. Carbon monoxide poisoning affects over 200 people every year in the UK, leading to around 50 deaths each year. When it comes to the safety of your family vs. saving a few £s, it's just not worth the risk. You can find out more about Carbon monoxide poisoning and recognising the symptoms.
If you smell gas or suspect that there might be a gas leak, call 0800 111 999. This is the free 24-hour national gas emergency line. If you suspect that someone is an illegal fitter or are worried about work that has been carried out in your home, please contact the Gas Safe Register.
An incorrectly fitted gas boiler is more than just a safety hazard: it can be life threatening when it results is gas leaks in your home. affects over 200 people every year in the UK, leading to around 50 deaths each year. When it comes to the safety of your family, it's just not worth the risk.
Building regulations
It's a legal requirement that a new boiler installation meets building regulations. So even if you do carry out the work yourself you will need to have the work approved by your local authority. You can avoid this extra stage in the process by getting the work carried out by a Gas Safe registered installer who can self-certify their own work. If the boiler is not installed in accordance with building regulations you could face a fine and then have to spend even more money getting things put right.
---
Get Boiler Quotes
Don't DIY! Use our free service to find Gas Safe engineers and
get quotes now
---
You could lose your warranty
Most boiler manufacturers include a clause in their warranty that insists your boiler is installed by a qualified engineer. Some will even stipulate that the engineer must have passed a specific manufacturer training course. By installing the boiler yourself, you may be invalidating any warranty or guarantee that was included. Down the road that could open up a huge can of worms.
Don't forget the extra benefits
By purchasing a boiler as part of an installation package, you are getting more for your money than just a practical installation. Experienced boiler engineers will be able to work with you before the installation to ensure the boiler you've chosen is the right type and size for your home. They'll also be able to perform a check of your whole central heating system to identify there are issues with the piping or radiators. It's highly recommended that a professional Powerflush of your central heating system is carried out before a new boiler is installed. This ensures that any sludge or debris in the system doesn't contaminate the new boiler. A clean start, if you will.
In addition, many installers will offer an annual service as part of their package which means they will return every year to carry out routine maintenance. This should prevent small issues developing into breakdowns and extend the life of your boiler.
Time to recap
As you may have guessed by now we strongly advise you to purchase your boiler through a professional installation package.
Aside from the safety considerations, the ongoing benefits of opting for a professional installation package are significant. A competent installation will ensure that your boiler performs at maximum performance and efficiency levels, meaning your energy bills will be kept as low as possible. Advice from experienced installers will ensure that you end up with the right boiler for your home and one that actually keep up with the hot water and heating demands of your home. An ongoing service plan will keep your boiler running safely and efficiently for longer.
In conclusion, the argument for DIY installation simply doesn't stand up when you put it against the risks you're taking.
Boiler Guide can provide you with up to 3 free quotes from Gas Safe registered installers in your area. Simply complete our enquiry form – it only takes a minute – and we'll be in touch in a matter of hours to confirm your details and get your quotes. There's no obligation to take any of the quotes any further and no fee for using this service.
---
Get Boiler Quotes
If it's time to replace your current boiler, use our free service to
get quotes now
---