Central Heating Boiler Types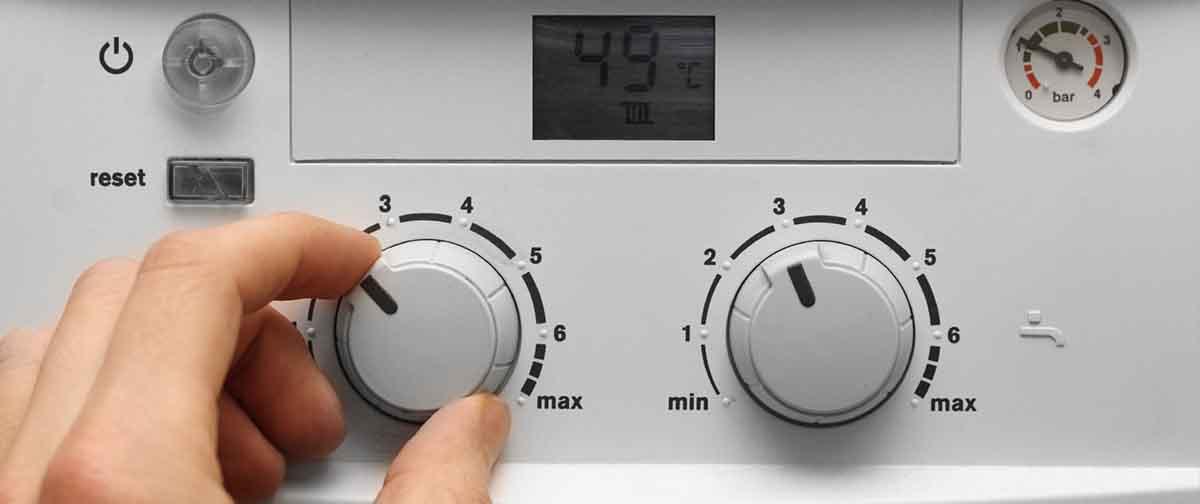 There are 3 different types of central heating boilers available: Combi (Combination), Regular (Conventional, Heat Only) and System.
The type of boiler you need ultimately comes down to the size of your home and your demand for central heating. Each of the types of central heating boilers available have their own pros and cons, some vastly different, while others only seem to only change aesthetically.
---
---
Condensing Central Heating Boilers
It is now law that all central heating boilers installed across the UK have to be condensing. Condensing boilers have a larger heat exchanger and generate heat from excess fuel which would otherwise be wasted, making them much more efficient than non-condensing boilers.
One of the issues often mentioned with condensing boilers is the pluming effect it creates from the flue terminal, which is often mistaken for steam. The pluming is due to droplets of water that are held in suspension throughout the boilers flue, and is not a danger, although is considered a nuisance and will occur for all the time that the boiler is running. Because of this, the placement of a condensing boiler can be more difficult.
With a minimum of efficency of 92%, no matter whether you install a Combi, Regular or System boiler, a condensing boiler will help to reduce your impact on the environment and could also see your energy bills drop. To give this efficiency rating some context, for every £1 you spend on heating your home, only 8p is wasted. When you compare this to non-condensing boilers that can have an efficiency rating around the 70% mark, this is quite a saving on your energy bills.
What Boiler Type Should I Get?
Rather than thinking considering the number of bedrooms in your home to find the most suitable central heating boiler, you should add up the total number of the following:
Radiators
Bathrooms
People in the home
To help you get the right size boiler for your home, use our boiler size guide or boiler size calculator tool.
The boiler type you should get is dependent on your size, cost, output, storage and efficiency requirements. Whatever your needs, it's imperative that you get professional advice and at least 3 quotes from Gas Safe engineers before you proceed.
Combi Boilers
The most popular boiler type on the market today, Combi boilers (short for Combination) account for more than half of boilers sold within the UK.
This is mainly due to its convenience, as most central heating systems will heat a copper cylinder located in an airing cupboard using a boiler to provide hot water, but a Combi boiler will heat the water needed around the house for taps and such from within its unit, and is combined with a central heating system.
A combi system will not require a cold water tank or separate water cylinder to supply it, which means that the costs of hot water will be a little lower than with a boiler that holds water in a cylinder.
Benefits of a Combi boiler:
Compact size – able to fit in a cupboard
Simple installation
Hot water on demand
No need for any tanks or cylinders
Highly efficient
Mains water pressure
One of the few downsides to a Combi boiler is that hot water can only be sent to one tap at a time, whereas System and Regular boilers store the hot water in a cylinder ready to be sent to as many taps as required, until the cylinder needs filling up again.
Finding the right Combi boiler for your home
In general, Combi boilers aren't recommended for larger homes with any more than 2 bathrooms as they can't supply hot water to multiple taps or showers at once, unlike Regular and System boilers.
| Number of Bedrooms | Number of Bathrooms | Number of Radiators | Recommended Output |
| --- | --- | --- | --- |
| 1-2 | 1 | Up to 10 | 24 – 27kW |
| 2-3 | 2-3 | Up to 15 | 28 – 34kW |
---
---
System Boilers
The way a System boiler operates is somewhere between Combi and Regular boilers, as the majority of components are built into the unit but but a cylinder or tank is still required to store hot water. Like Combi boilers, System boilers take their water supply directly from the mains whereas a Regular boiler has a cold water tank in the loft. They heat the water directly from the mains, which is then stored in a hot water cylinder, ready for use when a hot water tap is turned or the central heating is switched on.
Some of the benefits of a System boiler include:
Quicker installation than a Regular boiler – no need for a cold water feed tank to be installed in the loft
Can meet a high demand for hot water
Stronger water pressure than a Regular boiler
Quick response when required
In terms of things you should consider before installing a System boiler, it's worth nothing that the hot water isn't instant, like with a Combi boiler, and the amount of hot water available to your home will be determined by the size of the hot water tank. In addition to this, the hot water tank will be well insulated to reduce heat loss – less heat loss means that less energy is wasted.
Finding the right System boiler for your home
Depending on the size of your home, the number of bathrooms and the number of radiators, the System boiler will need to be a certain output – which determines how powerful it isn't. You shouldn't simply look to have the most powerful System boiler installed as this will drive your energy bills up, while a boiler with an output that's too low won't be able to meet the heating and hot water demands of your home.
| Number of Bedrooms | Number of Bathrooms | Number of Radiators | Recommended Output |
| --- | --- | --- | --- |
| 1-2 | 1 | 10 | 27kW |
| 3 | 2-3 | Up to 15 | 32kW |
| 4 | 3+ | Up to 20 | 36 – 40kW |
Regular Boilers
Regular boilers are the oldest type of central heating boiler around but don't let that put you off installing one, if you live in a suitable home, because they've really advanced over the years to be more efficient than ever.
While the latest addition to the types of central heating boilers, the Combi boiler, has everything wrapped up into one unit, Regular boilers require several parts, including:
Boiler
Heating controls
Hot water cylinder
Cold water storage tank in the loft
Feed and expansion cistern
The cold water storage tank fills with water from the mains, which then travels down to the hot water cylinder, where it is heated up and stored, ready to circulate to taps, showers – several at the same time if necessary.
When it comes to the central heating, cold water from the same tank in the loft goes to the boiler, where a heat exchanger warms up the water which is then pumped to the hot water storage tank, circulating around the radiators when the thermostat is turned up.
Benefits of installing a Regular boiler include:
Meet high demand for heating and hot water
Increased in efficiency over time
An immersion heater can be fitted to the hot water tank as an alternative way to heat water
Fully compatible with solar thermal panels
On the other hand, Regular boilers can take up a lot of space so aren't suitable for properties lacking in space, the hot water isn't instant as it's stored in a cylinder, if the cylinder isn't insulated the water could be susceptible to heat loss and the installation could be a long and expensive process.
Regular boilers are best suited to large homes, with a high demand for heating and hot water, that already has the pipework for a Regular central heating boiler. If you live in a property with 2 or fewer bathrooms, you'd be better off considering a Combi or System boiler.
| Number of Bedrooms | Number of Bathrooms | Number of Radiators | Recommended Output |
| --- | --- | --- | --- |
| 1-2 | 1 | 10 | 27kW |
| 3 | 2-3 | Up to 15 | 32kW |
| 4 | 3+ | Up to 20 | 36 – 40kW |
---
---
Where to Install a Central Heating Boiler
Boilers can be installed pretty much anywhere around a property, it's even safe to have one installed in a bedroom. The most common places to have the boiler unit installed, however, is a kitchen or utility room.
Due to the compact nature of many modern boilers, they can be installed inside a cupboard, to be kept out of sight and mind. When looking for a new boiler, you'll find that some are to be installed on wall, while others have to stand on the floor.
Wall Mounted Boilers
Most boilers produced today are made to be wall mounted, with more compact and lighter heat exchangers created with materials including lightweight cast iron, stainless steel, copper or aluminium.
Wall mounted boilers come in many versions, such as with a Fanned Flue or Room Sealed. As with most new boilers, the wall mounted type of boiler is required to have fitted a "system by-pass", which is required to filter water throughout the boiler appliance to prevent the often loud noise that boilers are known to create, called "kettling".
Free Standing Boilers
Usually created to be narrow enough to fit snugly between fitted kitchen units as other appliances would, these floor standing boilers can be installed in other suitable locations also. Free standing boilers were a popular choice in the 70's and 80's but are still a great option for homeowners who may not have the wall space for a wall mounted boiler now.
Back Boilers
Old back boilers located in fireplace areas in homes must be replaced due to new building regulations, and these are usually replaced by a high efficiency or a condensing boiler.
Back boilers should not be sold in many cases because of the open flued model, unless it is much too complex or pricey to install a new boiler replacement.
Often people will choose to fill the space a back boiler leaves with a gas fire and install a new condensing Combi boiler elsewhere in the property.
Central Heating Boiler Add-ons
In addition to the boiler itself, it's recommended that an installer performs a powerflush on your heating system and that a Magnetic Filter is fitted when replacing the boiler.
Powerflush
A Powerflush clears the sludge and debris that can build up in the heating system over time, which if left can cause the system to lose efficiency and possibly even break down. The Powerflush itself involves a pump being attached to the central heating system, sending chemicals through the pipes, boiler and radiators to clear any build-up.
Magnetic Filter
While a Powerflush clears the heating system of debris once it's built up, a Magnetic Filter prevents it from building up in the first place. With a Magnetic Filter attached to the system, any debris in the system will be collected, helping to prevent blockages and increase the life of the boiler.
New Central Heating Boiler Costs
All central heating boilers have their own price tag and tends to be in the region of £600- £2,500. You will then need to consider the cost of installation, which will add to the price of the boiler itself. There are several factors that will determine the total cost of installing a new boiler:
Type of boiler (Combi, Regular or System)
Boiler manufacturer and model
Whether it's a like-for-like boiler replacement (Combi for a Combi, for example)
If the boiler is being installed in a new location
In addition to the above, the cost of installation will ultimately be determined by the heating engineer carrying out the boiler installation. To find the best possible deal on a new central heating boiler installation, we highly recommend comparing quotes from multiple installers.
Get Free Central Heating Boiler Quotes
Whether you've found the right central heating boiler for your home or aren't sure, you can get free installation quotes from boiler installers near you with Boiler Guide.
Complete our simple online form, letting us know the type of work you need and we'll match your requirements with local heating engineers.
If you're not sure which type of boiler is suitable for your home, then a professional heating engineer will be able to carry out a survey of your home and advise.
---
---