Electric Heating: What are Your Options in the UK in 2022?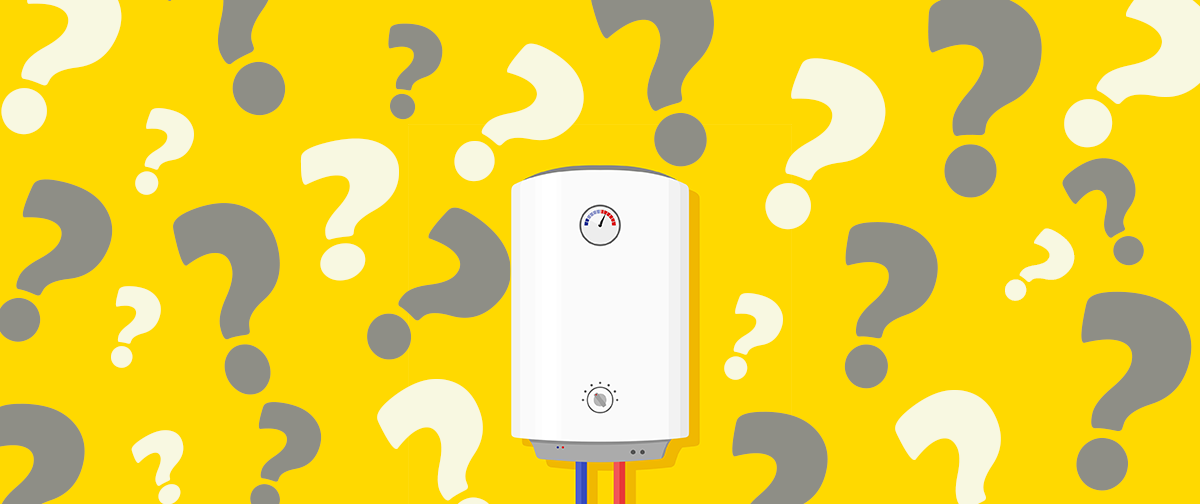 The electric heating options available to homeowners offer an efficient and effective heating alternative to gas.
While gas has been a staple of UK heating systems, the impact burning it has on the environment is a growing concern. Electric heating, on the other hand, is possible to generate from renewable sources. Around 40% of the UK's power generation is made up of renewables and this is only set to grow, so check with your electricity provider if they supply green energy.
If your electricity is coming from a renewable source, such as solar, this will greatly reduce the carbon footprint of your property.
With there being so many electric heating options for homes, we're going to look at the pros, cons and potential costs of each to help narrow down your options.
What is an electric heating system?
An electric heating system is any system that uses electricity as an energy source to provide heat and potentially hot water for a home. Conventional heating systems, on the other hand, burn gas or oil instead of electricity to generate central heating and hot water. There are many different types of electric heating systems for homes which we will cover in the next section.
Electric heating systems are becoming increasingly popular. This is partially due to the fact that resources of gas and oil are expected to run out within the next 40 years, meaning electricity could be the best solution for home heating. Other reasons why people are opting for an electric system include:
Nearly all homes in the UK have access to the electricity grid
They are highly efficient with some systems reaching efficiency levels of 400%
Renewable electricity options are becoming more widely available
Types of electric heating systems
There's no shortage of electric heating options for you to choose between but each work in different ways so some could be better suited to your home than others:
Plus, new electric heating systems are being developed all the time, such as the ZEB (Zero Emission Boiler), so you don't want to miss out!
Electric Boilers
Electric central heating boilers work much like any other type of boiler but don't need to go through the process of burning a fuel such as gas or oil, therefore reducing your home's carbon footprint.
Some models are even compatible with solar panels, which means your electric boiler could achieve an almost zero emissions performance.
They're the ideal solution if your home is not connected to the gas network or if you own a smaller home, flat, or bungalow, with a lower demand for heating and hot water.

Infrared panels
Rather than heating the air in a room, as conventional radiators do, infrared panels directly heat objects and people. This process gives a quicker response when the heating is turned on and doesn't circulate dust around the room as conventional radiators do.
Infrared heat is a form of light and is the same heat that the sun emits but minus the harmful UV light. There are often concerns about its safety but infrared heating panels can actually benefit your health. For example, the fact that less dust is circulating around the room reduces your risk of developing respiratory problems.

Electric storage heaters
Electric storage heaters, sometimes known as night storage heaters, use mains electricity to store heat during the night, which is then slowly released during the following day. While this does allow you to take advantage of cheaper night tariffs like Economy 7, the stored heat could have all been released before the evening when you're likely to need it the most.
With that being said, the latest models have improved significantly and are now well insulated. This means they're now much better at holding onto stored heat and can reduce your energy bills.

Electric underfloor heating systems
If you're looking for a heating system that creates space in your home then an electric underfloor heating system could be a great fit. Electric underfloor heating, also referred to as dry underfloor heating, can come in the form of either electric heating cables or electric heating mats which are attached to the subfloor of a room.
This type of system is generally recommended for smaller projects in existing homes, such as having it installed in your bathroom as opposed to the whole house.

Air source heat pumps
Air source heat pumps are a highly-efficient renewable heating system that are possibly the best all-round option for larger properties. Although you do need some outdoor space for the installation.
Air source heat pumps have a fan that rotates to bring in air, which passes over an exchanger coil containing a refrigerant fluid, this fluid then boils, evaporates and transforms into vapour. That vapour is then compressed at a high temperature to produce heat for central heating.
This renewable heating system is able to operate all year round, with some models able to take heat from the outside air even in temperatures as low as -25 °C.

Ground source heat pumps
Like air source heat pumps, ground source heat pumps are also an efficient renewable heating system. The difference being that rather than taking heat from the air outside, ground source heat pumps extract underground heat using a series of pipes. Around 2 metres underground, temperatures are constantly sat between 10-15 °C all year round, so ground source heat pumps can extract this heat for your central heating system.
A refrigerant fluid circulates around the pipes, absorbing the underground heat as it goes. The fluid then arrives back into the heat pump, passing over a heat exchanger as it goes which increases the heat that is then used for heating your property.
For both ground and air source heat pumps you can receive up to £6,000 through the Boiler Upgrade Scheme.

Hybrid heating systems
If you're looking for the most natural step forward in making your property more environmentally friendly, a hybrid heating system could well be the answer.
Hybrid heating systems combine a renewable heating system, such as a heat pump, with the familiarity of a conventional central heating boiler. The hybrid system will switch between the two depending on which will perform most efficiently at any given time.
Would an electric heating system suit your home?
As you can see, all electric heating options come with their own set of pros and cons that make them better suited to certain property types over others. The sections below will help to give you an idea of the most suitable electric heating system depending on the size of your home.
Electric boilers
If you live in a small flat, terrace or bungalow with no garden then it is important to find a heating system that is compact and will not take up too much space. An electric boiler is one of the ideal options in this case as they have no flue or waste gases meaning it is typically smaller compared to other boiler types.
They have the capacity to provide for smaller homes that have 1 bathroom.
Infrared panels
Infrared panels are versatile and can work with any size of home, whether you have a small flat or large detached house. They come in in various physical sizes as well as output ratings, and which ones you choose will depend on the size of the rooms you wish to use them in.
Electric storage heaters
Electric storage heaters are generally considered to be suitable for smaller homes as well as medium-sized homes (typically 2-3 bedrooms). Storage heaters come in a variety of sizes and which ones you choose will depend on the size of each room. For example, for a 5m² room you'll need a storage heater with an output of 500W and for a 15m² room you'll need an output of 1,500W.
Electric storage heaters aren't considered to be the most cost-effective option, hence why they are especially not recommended for larger homes. With this being said, modern storage heaters have improved in efficiency.
Electric underfloor heating systems
As mentioned before, electric underfloor heating is generally recommended if you want to renovate a smaller room, such as your bathroom. For larger projects and new builds, most people prefer to install wet underfloor heating systems.
Unlike bulky radiators, electric underfloor heating is great for saving space in your home. However, it is important to note that you will of course need to pair this with a boiler or heat pump, so make sure to receive support from a professional heating engineer when it comes to installation.
Air source heat pumps
Air source heat pumps can only be installed in homes with outdoor space available. How much space depends on the type and size of heat pump you get. There are monobloc pumps, which come in one large unit, and split pumps, which come with both an outdoor and an indoor unit.
An additional requirement you may also have to consider is a hot water storage tank. This is needed if you also want your heat pump to heat running water. Therefore, before installing a heat pump it is important to think through where you will place all of these elements.
As you can see, there are a lot of ins and outs when it comes to installing an air source heat pump. This is why it is of the utmost importance to get expert advice before having one installed. Speaking to an expert in the beginning could save you a lot of time and money later on.
All our trusted engineers are Gas Safe or OFTEC registered. This means they're in a qualified position to give you top advice in regards to your home and heating needs. By filling in our custom form, you will be contacted by up to 3 local heating engineers who would be happy to help you find the right heat pump for your home! Furthermore, you'll be offered no-obligation quotes so that you can not only find the best heat pump for you but also the best deal.
Compare Free Quotes from Qualified Heating Engineers
Ground source heat pumps
While air source and ground source heat pumps both need outdoor space, ground source heat pumps need much more. Not only in terms of how much space the underground pipes will take up but also in terms of the installation as digging machinery will need access.
Furthermore, before installing any type of heat pump, it is important to make sure your home is well insulated. This way your heat pump will work most efficiently and lower your running costs.
Hybrid heating systems
A hybrid heating system combines a traditional boiler with a renewable heating system, such as a heat pump or solar PV panels. Whether a hybrid system is suitable for your home or not depends on which hybrid system you decide to go with. However, generally they are a better fit for homes with more space as there are multiple elements you will need to place.
How much do electric heating systems cost?
| Electric Heating System | Potential Cost (without installation) |
| --- | --- |
| Electric boiler | £500 - £2,500+ |
| Infrared panels | £125 - £500+ (per panel) |
| Storage heater | £100 - £550+ |
| Electric underfloor heating | £50 - £85 per m² |
| Air source heat pump | £4,000 - £11,000 |
| Ground source heat pump | £8,000 - £18,000 |
Infrared panels and storage heaters are likely to be the most affordable electric heating options on the list, which begin at about £100 - £150 each. If you're looking to use them around the whole property though, you'll need one for each room.
As you can see from the table above, electric underfloor heating is approximately £50 - £85 per m². However, the overall cost will likely be far more expensive depending on how much space you want it to cover. This is partially why electric underfloor heating is only recommended for smaller projects.
Air source and ground source heat pumps are the most expensive and will also have the higher installation costs attached to them. However, you can receive financial support from the Boiler Upgrade Scheme so they are still definitely worth considering.
When it comes to electric boilers you'll just need the one, so you don't have to worry about trying to figure out the total cost! Furthermore, your boiler should last for 10-15 years making sure you get your money's worth.
As mentioned, the above prices do not include the installation costs. Whichever electric heating system you decide to go with, you'll need to take into account installation costs. How much this will cost could depend on factors such as whether you have an existing property or a new-build, what your current heating system is, and where you live.
Since the price points can differ from one heating engineer to another it's important to compare so you can have confidence that you are not being overcharged. To make the process of comparing prices easier, we can provide you with up to 3 free no-obligation quotes. This way you don't have to waste time searching for and contacting heating engineers individually!
Compare Free Quotes from Qualified Heating Engineers
Electric heating running costs
Unfortunately, electricity is well known for being an expensive fuel, especially when compared to other fuels used for home heating such as gas and oil. Below you can compare the different prices for different regions in the UK.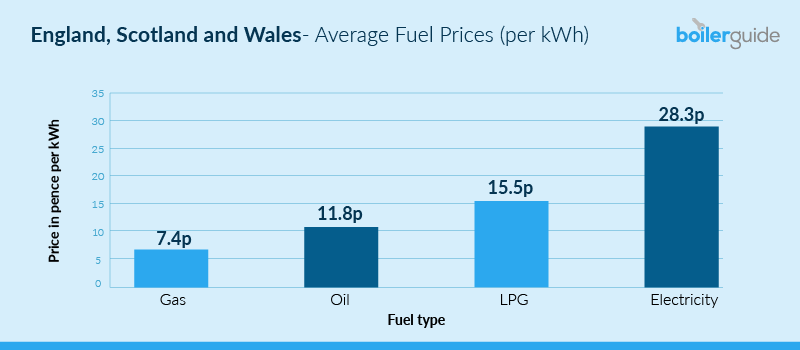 While the running costs are noticeably higher than the other fuels available for home heating, it has some significant advantages:
Power electric heating systems with free renewable solar energy by investing in solar panels
Electricity doesn't need to be stored like oil and LPG
Gives an option to homes that aren't connected to the gas network
Much less chance of a fault developing which will potentially save you on repair costs
An annual service of electric heating systems isn't essential, saving you money each year
Electric heating systems tend to respond to a call for central heating quicker than gas and oil
All energy is converted into heat, whereas gas and oil boilers waste some energy
FAQ
Is it expensive to run electric heating?
Electric heating systems are generally considered to be expensive to run compared to other fuel types, as the average price of electricity per kWh is 28.3p in England, Scotland, and Wales. However, using electricity during off-peak hours or from solar PV panels can help reduce these running costs.
What is the most efficient electric heating?
Many electric heating systems are 100% efficient. Furthermore, systems that use mainly radiant heat as opposed to convection heat, such as underfloor heating, take this a step further by directly heating the objects in the room. However, the most efficient appliances would be air and ground source heat pumps as they can reach 300-400% efficiency.
Is electric heating a good option?
Electric heating is a good option to consider (especially if you're not connected to the gas network) as many electric heating systems have a high efficiency and don't produce any emissions while operating. However, it's important to check with your supplier whether their electricity is from a green energy source or from burning fossil fuels.
What are the disadvantages of electric heating?
There are pros and cons to each type of electric heating system, however, the main disadvantage for all electric systems is that the running cost of electricity is expensive compared to other fuel types.
What is the cheapest way to heat your house with electricity?
Infrared panels and storage heaters are generally considered the most economical electric heating systems due to their relatively low price points.
Furthermore with night storage heaters you can make use of cheaper night-time tariffs to reduce your energy bills.