Electric Storage Heaters: Pros, Cons & Costs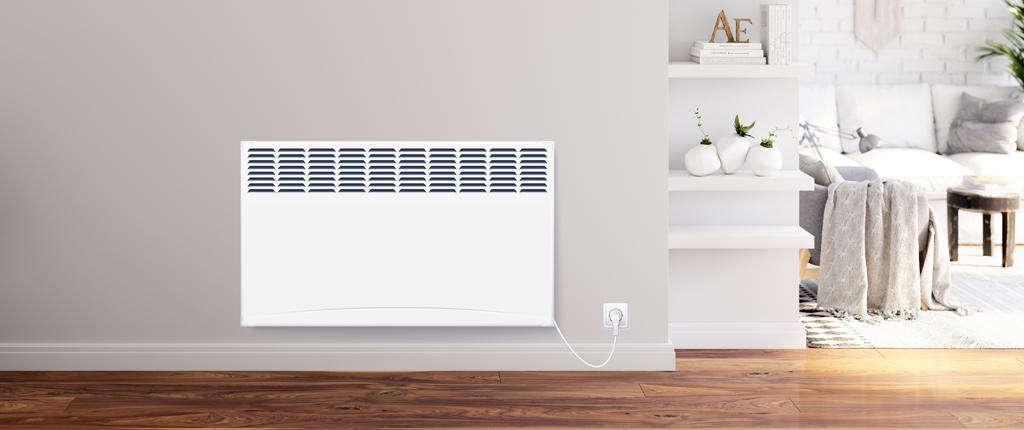 Electric storage heaters take advantage of cheaper night-time electricity tariffs.
Economy 7 tariffs give homeowners a cheaper rate for electricity through the night. And a storage heater uses the electricity at this time to 'charge up' with heat. Heat that's then released into the house during the day.
On the face of it, night storage heaters sound like a good idea. But even with cheaper night tariffs, they're still expensive to run.
What is an electric storage heater?
An electric storage heater (or night storage heater) stores heat through the night then releases it during the day.
Electricity rates are cheaper during the night so a storage heater allows you to make the most of them.
How do storage heaters work?
Most central heating systems have a boiler with radiators that are all connected. When the heating is turned on, the boiler fires up and heats up all of the radiators around the home (if they're on). Each storage heater, on the other hand, works on its own.
The heaters hold onto heat that's gradually released out into the room. Once the heat from that heater has all been used up you'll need to wait for it to 'charge' again overnight.
Storage heaters are made up of bricks that can hold onto heat. And during the day this heat is released into the room.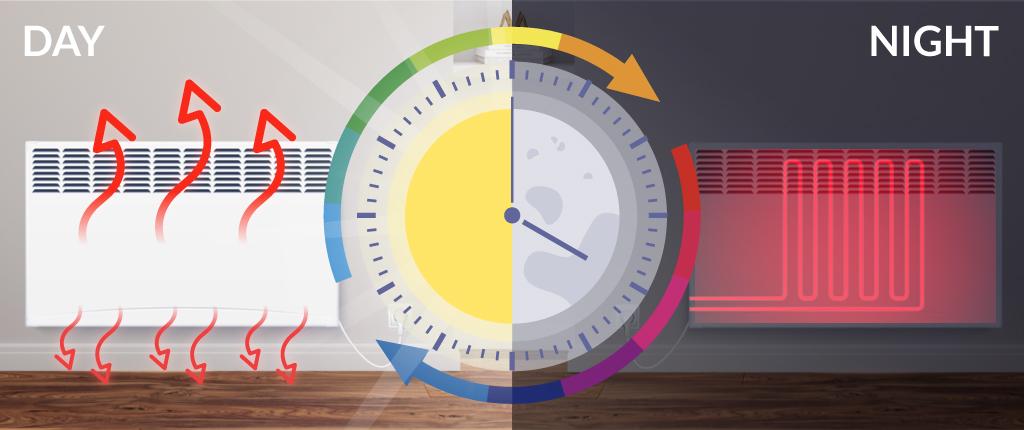 What are storage heater bricks made from?
Most storage heaters are made up of clay bricks. Others have a ceramic material or feolite brick.
There are concerns that the bricks in storage heaters contain asbestos. This was true from the 1970s and earlier but is no longer the case.
When the storage heater needs to be replaced (after 10-15 years) the bricks can often be recycled. Some homeowners have used storage heater bricks to make a pizza oven.
Costs of running an electric storage heater
If you're on an Economy 7 or Economy 10 tariff then you can get cheaper electricity through the night.
The cheaper Economy 7 tariffs run between midnight and 7am during the winter and 1am until 8am through the summer. It's a good idea to check GMT and BST timings with your supplier.
Economy 10 is the same as Economy 7 but runs for 10 hours rather than 7.
It's worth noting that Economy 7 and 10 tariffs do tend to be more expensive than standard rate tariffs during the day. And even with the cheaper rates offered through the night, they're still more expensive than gas, oil and LPG.
| Fuel | Average Rate in England, Scotland and Wales (pence/kWh) |
| --- | --- |
| Electricity (off-peak economy 7) | 20 |
| Electricity (on-peak economy 7) | 40.09 |
| Electricity (standard rate) | 34 |
| Gas | 10.3 |
| Oil | 9.2 |
| LPG | 12.1 |
Source: The Energy Saving Trust

For homeowners in Scotland, the closest tariff to Economy 7 is called white meter.

How to keep storage heater running costs down
Storage heaters have input and output controls. The input needs to be turned up when you want the heater to store heat (during the night). Then, during the day, turn the output up as and when you need heat. Keep the output to the lowest setting during the night to save energy.
If your home's feeling cold during the day, avoid using the 'boost' setting on the storage heater. This will only increase your running costs as it uses daytime electricity – which is more expensive. Instead, turn the output to the highest setting.
Are storage heaters as cost-effective as gas central heating?
To put it simply, no.
If your home is connected to the gas network then you're always best off installing a gas boiler. Gas is far less expensive than electricity (at night as well as during the day) and modern boilers are highly efficient.
You'll also have greater control over when to heat your home.
Can I still install storage heaters?
You can still buy electric storage heaters. The bigger question is whether you should.
Night storage heaters are only worth thinking about if you live off-grid and are on an Economy 7 energy tariff.
Even then there are more effective options with lower running costs. Such as oil and LPG boilers.
If you're set on sticking with storage heaters then the good news is that modern storage heaters are more efficient and give you greater control over the heating.
Benefits of modern storage heaters
Replacing your old storage heaters with modern models is a step in the right direction.
These are a few benefits you'll get:
The latest models are well insulated making them much better at holding onto stored heat – great news for your energy bills.
More controls allow you to set the heating to come on when you need it.
Some models connect to the internet so you can control them from your smartphone.
They're fitted with a fan that's able to send heat out into the room more effectively.
You'll be able to take back some space thanks to the smaller sizes of newer storage heaters.
Once all of the heat in an old storage heater was gone, you'd have to wait until the next day for more heat. Newer models have a 'boost' function which allows you to keep on heating your home. Be warned though, this is pretty much the most expensive way to heat your home. So avoid using it as much as possible.
What size storage heater do I need?
Storage heaters come in a range of sizes. And by size, we mean the amount of heat that can be stored (input) and sent out into the room (input).
It's likely you'll need storage heaters of different sizes all around the house.
Take a look at the table below to get an idea of the storage heater size that would suit rooms in your home.
| Room Size | Heating Output | Heating Input |
| --- | --- | --- |
| 5m² | 500W | 1,100W |
| 7m² | 700W | 1,560W |
| 10m² | 1,000W | 2,200W |
| 13m² | 1,250W | 2,760W |
| 12m² | 1,300W | 2,800W |
| 15m² | 1,500W | 3,300W |
How much do storage heaters cost?
Modern storage heaters typically cost around £500 – £600. Prices will vary depending on the make, model and output of the heater.
| Electric Storage Heater | Heating Output | Room Size | Potential Cost |
| --- | --- | --- | --- |
| Dimplex XLE Slimline | 500W | 5m² | £450 |
| Dimplex Quantum RF | 700W | 7m² | £590 |
| Stiebel Eltron SHS High Heat Retention | 1,000W | 10m² | £665 |
| Stiebel Eltron SHS High Heat Retention | 1,200W | 12m² | £710 |
| Creda TSRE | 1,500W | 15m² | £570 |
Will storage heaters be phased out?
Certain types of storage heaters have already been phased out.
Manual, automatic and combination storage heaters all stopped being manufactured in December 2017. This is mainly because they offered very limited control. Which, when it comes to heating, isn't very good for efficiency.
Modern storage heaters are far more effective and there's no sign of them being taken off the market any time soon.
The bigger question should be whether Economy 7 will be phased out. Without cheaper nighttime tariffs, storage heaters would be all but redundant.
The tariff is now pretty dated having been introduced in the 1970s. It was a way of encouraging certain homes to use energy when demand was low. Energy that was generated by coal power plants back then. But as our reliance on fossil fuels shrinks, the Economy 7 tariff will become less relevant.
So, should I install a storage heater?
There's no doubt that replacing old storage heaters with newer models will help to reduce your heating bills and make your home more comfortable. However, there are better options out there.
The most obvious replacement are electric radiators.
Electric radiators vs storage heaters
Electric radiators are the most similar heating system to storage heaters. And they have many more benefits.
The main advantage of storage heaters is that they use cheaper nighttime tariffs. But the running costs of electric radiators can still be lower.
You can also have far more control over when and how long to heat your home.
More alternatives to storage heaters
Searching through the alternatives to storage heaters is well worth your time.
Gas central heating is the most common heating system. And if your home is connected to the gas network a storage heater shouldn't come into your thinking.
Off-grid homes normally have an oil or LPG boiler. They heat the home like a gas boiler but the fuel is stored in a tank at the property. So they can take up a fair amount of space but the running costs are much lower than electric heating.
Now, there's a lot of talk around the future of heating and the move away from fossil fuels.
Renewable heating systems offer a low-carbon alternative to burning fossil fuels. Heat pumps can take heat from sustainable sources like the air or ground and use it to heat your home. Although your home will need to be well insulated and have some outdoor space for the heat pump to be installed.
However, the boiler isn't going away any time soon and you can still choose to have one installed.
If you're considering an alternative to storage heaters then a local heating engineer can let you know your best options. Get quotes from heating engineers near you by completing our online boiler quotes form.
---
Find a local heating engineer
---