The Best Heating Controls for the Visually Impaired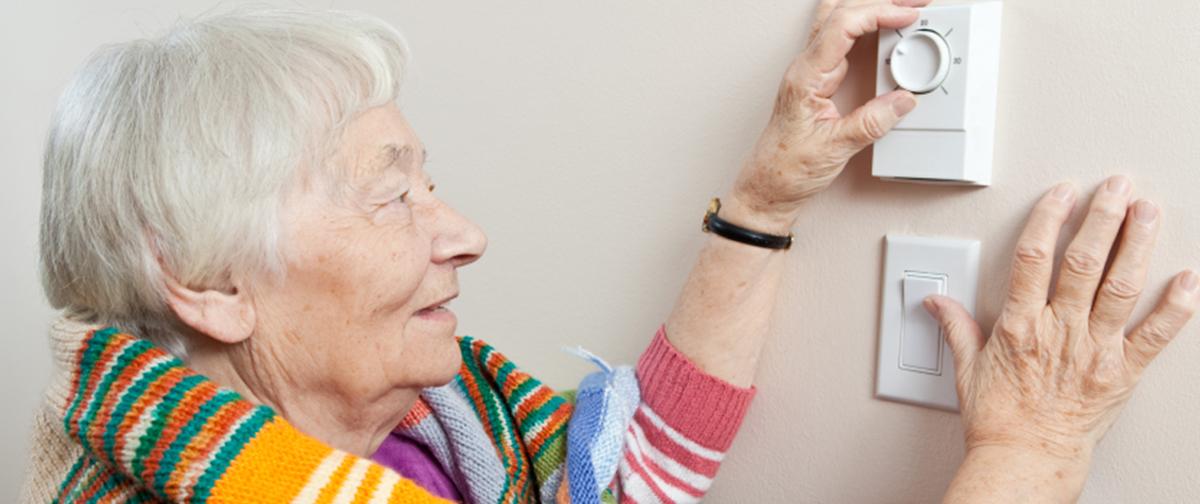 Modern heating controls give us greater control over our heating. And this can help to increase efficiency.
But there are now many different heating controls on the market. So, are any of them suitable for users with impaired vision?
Why are heating controls important
Heating controls are important for any homeowner.
In their simplest form, heating controls allow you to turn the heating on and off. They also give you the ability to set the temperature and programme your heating by time and day of the week.
You'll really see the benefit when it comes to setting different temperatures between rooms. Without heating controls you could be heating empty rooms – which isn't very efficient and will be costing you. So heating controls give you the control to keep the heating off in rooms that don't need warming up.
When it comes to usability, you'll need to think about how you'll be using the controls.
In terms of budget, heating controls in general can vary from £15 for Thermostatic Radiator Valves all the way up to £200+ for the latest smart thermostat.
Making the right choice
Fitting a new heating system or boiler is the perfect time to upgrade the heating controls.
However, it's also possible to change the controls but not the rest of the heating system. To do this, you need to ensure that the new controls are compatible.
A professional heating engineer can recommend the best models and will install them for you. The best professionals will also be able to recommend the best products based on your needs and lifestyle.
It's crucial that any new heating controls are right for the individual.
To make the best decision it needs to suit your lifestyle, budget and personal preferences in terms of usability. As well as offering features to benefit the visually impaired.
Generally speaking, the heating industry has been slow to make heating controls designed for those with visual impairment. So, the challenge remains in finding controls which can be easily suited to the user.
Things to look out for when doing your research include:
Are the buttons or switches easy to locate by touch? It's possible to add stickers or raised markers onto your buttons or dial to help.
When pressed / turned is there any audible feedback?
If there is a screen, is the information easy to read? Some displays may display information temporarily – is there enough time to read everything you need to?
The labels on buttons need to be clear, large and possibly tactile if appropriate.
Is the control portable so you can keep it with you or does it need mounting on a wall? If it needs installing somewhere permanently it needs to be located somewhere with easy access and adequate lighting.
Are the instructions available in an accessible format such as large print or Braille? You should be able to request this from the manufacturer if not.

---

 

---

Which heating controls?

There are two main types of heating controls: programmers or thermostats.

Programmers will turn your heating on and off at specified times and can be either mechanical or digital. Thermostats control the temperature of your heating and can either be manually adjusted or combined with a programmer to schedule your heating.

Thermostatic radiator valves

What is a thermostatic radiator valve?

A Thermostatic Radiator Valve (TRV) is fitted directly to a radiator. The valve senses the temperature of the air in the room and automatically adjusts to allow more or less hot water through the radiator, depending on which setting you've selected.

What's good about TRVs?

Every room that has a TRV attached to the radiator can be controlled independently. This means that your bedroom can be cooler than your lounge and you needn't waste energy heating empty rooms.

Things to think about

The majority of TRVs are manual dials which you turn to a numbered setting rather than a temperature. The valves can be stiff to move and will be low to the ground so may be poorly lit. If they have small or faintly marked settings they may not be suitable for people with impaired vision.

Many TRVs will 'click' with each turn of the dial so it's easy to recognise when the setting has been successfully changed. If a TRV moves through the settings smoothly it may be necessary to add tactile markings. The most modern TRVs have digital displays which, depending on the manufacturer, may be easier to read. Some also offer a remote control option which may be better suited to some. Popular TRV Manufacturers include Drayton, Pegler, Danfoss, Honeywell.

Room Thermostats

What is a Room Thermostat?
A room thermostat enables you to control the temperature of your home. You tell the thermostat what temperature you would like your home to be (using either a manual dial or buttons), the thermostat senses the temperature of the room it is in and, if it's too cold, it will turn your boiler on until the required temperature has been reached.

What's good about room thermostats?

A room thermostat makes it really easy to control the temperature of your whole home with either the turn of a dial or push of a button. If you are happy for the temperature of your home to stay at a constant temperature for most of the time you can simply set it once and leave it.

Things to think about

If you'd like the thermostat to automatically adjust the temperature of your home then you'll need a programmer too. Or, even better, a programmable thermostat.

Thermostats are either mechanical dials or digital screens operated by buttons or a dial. If you choose a dial you need to be sure that the markings are large and clear enough and / or that the dial or button makes a sound as the setting changes.

Large buttons or dials which are easy to locate by touch are ideal. You can also buy brightly coloured and embossed stickers which have been specifically designed as visual aids for thermostats. By placing them over the top of the existing controls you can significantly improve usability at very little cost.

Programmable thermostats

What is a programmable thermostat?
Many modern thermostats also include programmers. This means that the thermostat can communicate with the boiler to not only manage the temperature of your home but also when to turn on or off.

You can usually schedule a 7 day period so you can have different temperatures at different times of the the day or on different days of the week.

What's good about programmable thermostats?

A programmable thermostat gives you even greater control over your heating. You can programme the heating to follow a daily and weekly schedule so once it is set up you can leave it to manage itself.

Things to think about

A programmable thermostat usually has a digital screen. This will need to be large enough and the information clear enough.

Backlit screens are usually more suitable for people with impaired vision. As with standard thermostats the buttons or dial should be large and clearly marked with tactile markings ideally.

Smart thermostats

What is a smart thermostat?

Smart thermostat are the latest heating control. Simply put, they're a programmable thermostat that's connected to the internet. This means that you can control either via a website or a smartphone app.

What's good about a smart thermostat?

A smart thermostat programmes a heating schedule by time of day and day of the week. It will communicate with and control your boiler to maintain your desired temperature and also control your hot water.

The key benefit lies in their internet connectivity. This means you can control your heating from anywhere via an internet connected device. This removes the need for buttons or dials.

You can monitor both your heating and energy usage so you can see where you could be saving money on your energy bills. Some even include GPS and motion detectors which will automatically activate or deactivate your heating as you leave or arrive home. In some systems it's also possible to control different 'zones' in your home. So you can have different temperatures in different rooms.

Things to think about

To have a smart thermostat you will need a device with internet connectivity that you are comfortable using such as a computer, tablet or smartphone. If you rely on magnifiers or screen reader software you may have difficulty with compatibility. Also, not all smart thermostats have displays designed for people with sight loss.

Hive Active Heating from British Gas was the first smart thermostat app to be accredited by the RNIB as being fully accessible for people with sight loss. This is largely due to the quality of the voice control feature. Other popular smart thermostats include Nest and Honeywell Evohome.

---

 

---