Ideal Vogue Max vs Ideal Logic Plus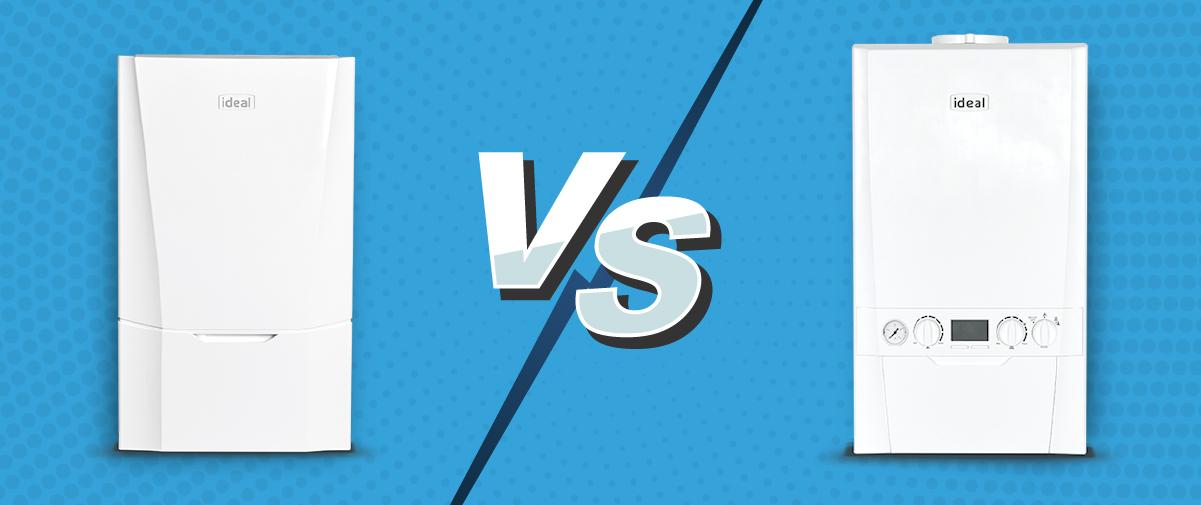 Ideal are one of the leading UK boiler manufacturers but with so many boiler ranges available, it can be hard to know which is best for your home.
We've put two of their leading ranges head-to-head to help you in your decision making: Ideal Vogue vs Logic Plus.
Ideal boilers
Ideal are one of the most well known boiler brands in the UK, trusted by homeowners and installers for their reliability, innovation and efficiency.
They manufacture gas-fired combi, regular and system boilers. Their Vogue Max and Logic Plus units earning great reviews for their efficiency, accountability and extensive warranties.
Ideal Vogue Max vs Logic Plus: Combi boilers
Combi boilers have become the most popular type of boiler and are commonly fitted as standard into new build homes. So, it's no surprise that Ideal have plenty of combis to choose from and many of them are within the Vogue or Logic Plus ranges.
In terms of efficiency, there isn't much between the two ranges as all of the units have an ErP A-rating for heating and hot water but you'll get more extensive coverage on a Vogue Max unit.
CH = Central Heating. DHW = Domestic Hot Water.
If space is at a premium in your home, then it's worth noting that the smaller units are found in the Logic Plus range. Logic Plus boilers are also a fair bit lighter, which will help to make installation easier for the installer and could reduce installation costs.
| Ideal Combi Range | Dimensions (HxWxD) | Weight (kg) |
| --- | --- | --- |
| Vogue Max | 740 x 445 x 330 mm | 32.4 – 35.4 |
| Logic Plus | 700 x 395 x 278 mm | 29.2 – 29.4 |
Ideal Vogue vs Logic Plus: Regular boilers
Ideal Vogue boilers are only available as combi or system boilers, meaning that if you're looking for a heat-only boiler, you'll have to turn to an alternative range.
The Logic Plus Heat range includes 5 different units that are all highly efficient and come with a lengthy warranty period of 7 years.
More Ideal heat-only boiler ranges include the Max Heat, Logic Heat and Mexico HE.
Ideal Vogue vs Logic Plus: System boilers
Like combi boilers, system boilers take water directly from the mains however a hot water cylinder needs to be installed to store water before it's circulated to the taps. This means that system boilers don't provide instant hot water on demand – you would have to wait for the hot water cylinder to fill up again.
Again, Vogue Max units come with a longer warranty period of up to 12 years but the seasonal space heating energy efficiency rating of the Logic Plus is slightly higher.
Like with their combi boilers, Logic Plus system boilers are a fair bit smaller than the Vogue Max units. This means they can fit within a kitchen cupboard.
| Ideal System Range | Dimensions (HxWxD) | Weight (kg) |
| --- | --- | --- |
| Vogue Max | 740 x 445 x 330 mm | 26.2 |
| Logic Plus | 700 x 395 x 278 mm | 26.2 |
Ideal Vogue vs Logic Plus: Key benefits
Before we round up this head-to-head and reveal the winning range, let's take a look at the key features of the boilers in each range.
Vogue Max
The Vogue Max range has built on all the best bits of the Vogue Gen2 range to deliver their most premium boilers. Vogue Max units come with an Ideal System filter which collects debris from the circulating water before it has a chance to build up and the faith Ideal have in this range is shown through the increased 12 year warranty.
Boasts a stainless steel heat exchanger
Lengthy warranty of up to 12 years
Frost protection
Modulation of up to 7:1
Simple installation thanks to a low lift weight
Large backlit LCD display
Premium components
Stainless steel heat exchanger
A pressure gauge that's simple to read
Logic Plus
With the ability to modulate down to 4.8 kW, Logic Plus boilers are able to perform at highly efficient levels. Plus, their compact size makes it simple to fit it into a standard cupboard.
Low lift weight
Compact in size for a cupboard fit
LPG conversion kit on the 30 kW unit
Frost protection
Wide range of flue options
Fully modulating – can go down as low as 4.8 kW
Endorsed by the Energy Saving Trust
Warranty comparison
It's possible to extend the warranty periods of Vogue Max combi boilers when installed by a Max Accredited installer but as standard they're covered for either 8 or 10 years. While the Logic+ comes with the shortest warranty, the heat exchanger is covered by its own 10 year warranty.
Find out more about Ideal Boiler Warranties.
Price Comparison
A Logic Plus boiler is more budget-friendly, with price tags sitting under £1,000 – this is unlike Vogue Max units which are more likely to go over that mark.
| Boiler Ramge | Potential Cost (Excluding Installation) |
| --- | --- |
| Logic Plus Combi | £740 – £995 |
| Logic Plus Heat | £775 – £925 |
| Logic Plus System | £815 – £920 |
| Vogue Max Combi | £1,015 – £1,248 |
| Vogue Max System | £995 – £1,135 |
Which is the best Ideal boiler?
For larger properties with a high demand for heating and hot water, your heating engineer might recommend having a heat-only (regular) boiler installed. And, if that's the case, the decision about which range to go with has been made for you as Vogue Max units are only available in combi and system form.
If you're looking for a compact boiler to fit into a standard kitchen cupboard then Logic PLus units are slightly smaller – which could also help you save money on the installation.
For the best recommendation when it comes to finding a replacement boiler, we highly recommend hiring a Gas Safe registered engineer. They will be able to make an informed recommendation based on the size of your property, available space, as well as the demand for heating and hot water.
Using Boiler Guide, you can get free quotes from local Gas Safe registered engineers in just a few moments. Comparing more than a single quote will give you a greater chance of finding the most competitive price for the boiler installation and we've made the process of finding those quotes easier than ever with our simple online form.