Ideal vs Vaillant: Which Boiler Offers the Best Warranty?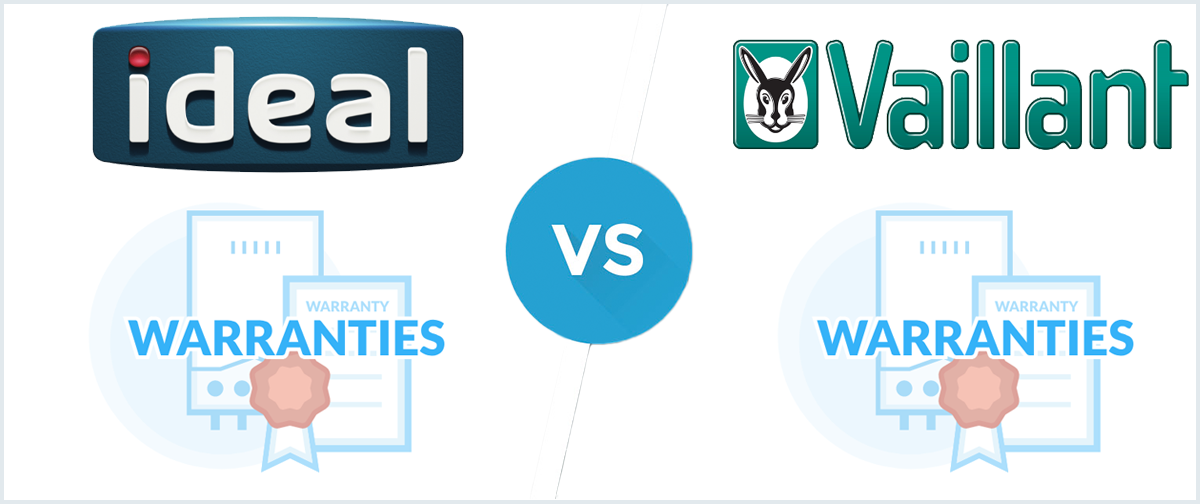 As two of the most popular boiler brands around, there's rarely much between the appliances manufactured by Ideal and Vaillant. That's why we've pitted their warranties against each other to see if we can separate them and crown a winner.
Meet Ideal and Vaillent
With over 100 years of experience in manufacturing boilers, it's no surprise that Ideal are one of the most innovative brands on the market. They manufacture a range of Combi and System boilers in different sizes and outputs to suit the heating and hot water demands of many homes.
Vaillant have been 'thinking ahead' for all of their 140 years, continually aiming to revolutionise the industry with their renewable technologies. With many Combi, Regular and System boilers available Vaillant can confidently supply a suitable unit for just about any home.
Now that we're familiar with the manufacturers, let's get to know their warranties.
---
---
Ideal vs Vaillant: Warranty Wars
One of the most important things to consider when purchasing a new boiler is the warranty. They give you the peace of mind that after your shiny new boiler has been installed, the manufacturer will be on hand to help should anything go wrong.
It's not often that manufacturers have the same warranty across all of their boilers, the length will tend to differ depending on the range and model you purchase. So we'll begin this head-to-head by looking at the length of warranties for the ranges manufactured by Ideal and Vaillant.
Ideal
Range
Standard Warranty
Vogue
10 years
Vogue Max
10 or 12 years (if installed by a Max Accredited installer)
Logic+
7 years
Logic Max
10 years
Mexico HE
2 years
Vaillant
Range
Standard Warranty
ecoTEC Plus Combi
5 years (7-10 with a Vaillant Advance installer)
ecoTEC Pro Combi
2 years (7-10 with a Vaillant Advance installer)
ecoFIT Pure Combi
2 years (7-10 with a Vaillant Advance installer)
ecoTEC Plus System
5 years (7-10 with a Vaillant Advance installer)
ecoFIT Pure System
2 years (7-10 with a Vaillant Advance installer)
ecoTEC Plus Regular
5 years (7-10 with a Vaillant Advance installer)
ecoFIT Pure Regular
2 years (7-10 with a Vaillant Advance installer)
Both brands offer the option to extend the warranty by having the installation carried out by certain installers but without that, Vaillant's warranties range from 2-5 while Ideal's start from 2 and go up to 10 years.
Taking everything into account, Ideal offer the longest warranty of 12 years on their Vogue Max range (which includes Combi and System boilers) showing just how much confidence Ideal have in this range. Not only does this warranty outstretch any offered by Vaillant, it's the longest you'll find anywhere on the market.
When considering warranties, it's important to not only look at the length but what they offer too. Ideal take this round but it's time to look a little further into both warranties.
How do you register your warranty?
Ideal and Vaillant both make it simple to register your warranty online on their respective websites. You'll need to do this within 30 days of the installation for the warranty to be activated.
Aftercare service
Vaillant engineers are expertly trained and will turn up with almost every single spare part a boiler could need in their van, so the likelihood of them being able to fix your boiler there and then is very high. It won't be too much of a surprise to hear that they have a 98% first time fix rate. Should you need an engineer, then Ideal's customer care phone lines are open 7 days a week, 364 days a year.
Ideal also promise to deliver a high level customer support with a call centre that's open 364 days a year too. When calling, you'll be speaking to someone who is highly trained, so you might not even require an engineer as they can talk you through problems that are safe to resolve over the phone.
Should an engineer be required, one will be sent out either the same or following day. The engineer who arrives will have a vast range of parts with them to give them the best chance of resolving the issue on the same day. Ideal aim to ensure that over 97% of boiler problems are completed on the same day.
---
---
How easy is it to find parts?
As we mentioned earlier, the engineers of both manufacturers are well equipped with spare parts should something go wrong.
In the case that you or an engineer need to source some parts for your boiler, there's a dedicated website for Ideal parts. There isn't such a specific website for Vaillant parts but they do provide a spare parts catalogue to make it simple to identify parts needed.
Important Terms and Conditions
There are a variety of terms and conditions that come with boiler warranties that have to be kept to otherwise the warranty could become invalid. Annual servicing of the boiler, for example, is a common one and is necessary for both Ideal and Vaillant warranties.
Also, both of these warranties require the Gas Safe registered engineer carrying out the installation to complete a Benchmark checklist commissioning sheet, which you must keep so that the manufacturer can see it upon request.
So all in all, there's not really any difference between Ideal and Vaillant when it comes to the terms of their warranties.
The Winner
There's not much between the warranties offered by Ideal and Vaillant so thanks to their 12 year warranty, Ideal have to take the crown. Even though this 12 year warranty is only available if a Max Accredited installer carries out the installation, standard Ideal warranties stretch to as far as 10 years, while Vaillant only go as far as 5.
Having the longest warranty on the market shows just how much faith Ideal have in their range of Vogue Max boilers and is enough to see them win this one.
Learn more about Ideal and Vaillant warranties
You can never be too sure when deciding on a boiler so it's good to read as much as you possibly can before making a final decision. That's why we've put together detailed warranty guides for both Ideal and Vaillant to help you find the warranty that's perfect for you.
---
---