How Likely Are You to Encounter an Unsafe Gas Appliance?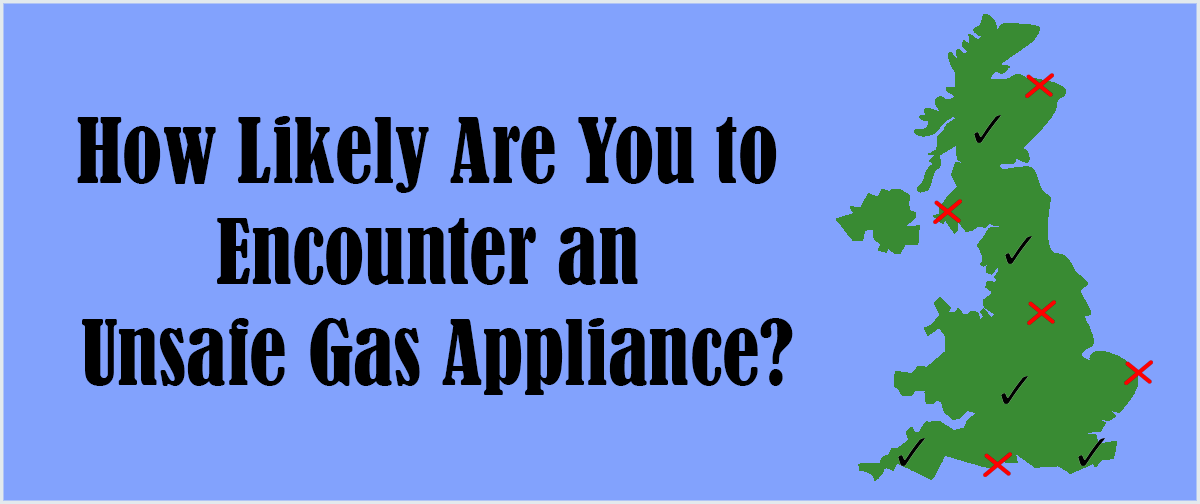 Homeowners could be risking carbon monoxide poisoning, gas fires and even explosions due to faults in their heating systems that have remained dormant over the summer.
As temperatures fall, more of us are switching on the heating in our homes, but according to data from the Gas Safe Register around 1 in 6 gas appliances in the UK is classified as unsafe.
We decided to take a deeper look at the Gas Safe data to find out which towns and cities have the highest proportion of unsafe appliances. To do this we used the official data from the Gas Safe Register which gives details of unsafe gas appliances found throughout the UK. We totalled up the number of unsafe gas appliances discovered in each of the major towns and cities of the UK and cross-referenced the figure with the population in the area. This gave us a representation of the proportion of unsafe gas appliances by UK area.
Here's what we found out.
Worst area for gas safety: Oxford
The data reveals that residents in Oxford are most likely to have an unsafe gas appliance in the home, with one in 43 people having a faulty device and over 3,570 faulty appliances in the city alone.
The data on unsafe appliances was taken from the Gas Safety Register and cross referenced with the population size in each area to show the amount of people at risk.
Reading (one in 44 people), Dundee (one in 47) and Cardiff (one in 48) followed closely behind suggesting residents in these areas need to take the greatest action to ensure their boilers, cookers and gas fires are inspected as soon as possible to ensure they don't pose a threat to your home.
Best area for gas safety: Cambridge
At the other end of the spectrum, residents in Cambridge were found to be the most on top of their gas safety checks with just one in 213 people having an unsafe appliance in their home (603 appliances in total). Residents in Newcastle (one in 160), Coventry (one in 132) and Sunderland also performed well in the rankings (one in 130).
---
Get a FREE Gas Boiler Service Quote
Get a FREE quote from a trusted engineer in your local area.
Get a quote now
.
---
How gas safe is your area?
Here are the complete figures for the rest of the UK ranked from the safest to the most dangerous in terms of the proportion of people living with unsafe gas appliances.
| Area | Population / Total No. of Unsafe Appliances |
| --- | --- |
| 1. Cambridge | 213 |
| 2. Newcastle | 160 |
| 3. Coventry | 132 |
| 4. Sunderland | 13 |
| 5. Portsmouth | 117 |
| 6. Derby | 115 |
| 7. Leeds | 113 |
| 8. Leicester | 104 |
| 9. Norwich | 104 |
| 10. Sheffield | 104 |
| 11. Exeter | 94 |
| 12. Bath | 92 |
| 13. Shrewsbury | 91 |
| 14. Southampton | 88 |
| 15. Hull | 88 |
| 16. Manchester | 86 |
| 17. Preston | 83 |
| 18. Birmingham | 83 |
| 19. York | 82 |
| 20. Brighton | 81 |
| 21. Liverpool | 78 |
| 22. Gloucester | 71 |
| 23. Milton Keynes | 70 |
| 24. Glasgow | 70 |
| 25. Aberdeen | 66 |
| 26. Edinburgh | 60 |
| 27. Nottingham | 55 |
| 28. Stoke | 53 |
| 29. Bristol | 52 |
| 30. Cardiff | 47 |
| 31. Dundee | 47 |
| 32. Reading | 44 |
| 33. Oxford | 43 |
If you want to find out about unsafe gas appliances discovered in your postcode you can do so at www.staygassafe.co.uk.
Why is gas safety so important?
Poorly maintained and broken gas cookers, heaters and boilers can cause fires, explosions and potentially lethal carbon monoxide poisoning, so getting your boiler and other gas appliances serviced and safety checked every year is essential.
Carbon monoxide (CO) is a colourless, odourless and tasteless gas that causes around 50 deaths in the UK every year. It is produced when gas appliances do not burn fuel correctly and it can kill quickly which is why it's strongly recommended that you install a carbon monoxide detector which will alert you when there is a leak.
Here at Boiler Guide we take gas safety very seriously. Every 24 hours we automatically check the qualifications of every engineer on our network against the official Gas Safe Register. This means that you can rest assured any quotes you receive through Boiler Guide are from Gas Safe registered engineers with up to date qualifications and training.
How to stay gas safe
In support of Gas Safety Week 2019 we created a Gas Safety Comic for children to teach them about gas safety in the home and how they can help to keep their families safe. We distributed it around some local primary schools and are offering it as a free download here.
Click to Download Free Gas Safety Guide for Kids
Keep your home gas safe
Book an annual service for all gas appliances with a Gas Safe registered engineer.
Check that the engineer you hire is on the Gas Safe Register online by visiting GasSafeRegister.co.uk or calling 0800 408 5500.
When they arrive at your property, ask to see the heating engineer's Gas Safe ID.
Install a carbon monoxide alarm near your boiler which will go off when a leak is detected.
Be aware of the signs of an unsafe gas appliance…
You can smell gas in the home. Turn off the gas supply, open windows and doors, evacuate the property and call the Gas Emergency Service on 0800 111 999. DO NOT switch plugs on or off, create sparks, naked flames, smoke cigarettes or use a mobile phone as you could cause an explosion.
The flame in the appliance in yellow or orange. If the flame is not bright blue the appliance is not burning the fuel away completely and may produce potentially lethal carbon monoxide (CO). We can't see or smell CO, but breathing it in can lead to permanent brain damage or even death.
You are experiencing symptoms of CO poisoning. Early symptoms of CO poisoning are very much like the flu, e.g. headaches, dizziness, nausea and vomiting, confusion, tiredness, pain in the stomach and/or difficulty breathing. If you or someone else may be experiencing symptoms of CO poisoning, evacuate the property and call 999.
There are black stains around or on the boiler. Black stains could also indicate a gas leak. Damaged, rusty, discoloured or corroded pipework should also be inspected by a Gas Safe engineer ASAP.
Having your gas appliances serviced once every 12 months by a Gas Safe registered engineer is a legal requirement that will keep your home safe. If your boiler hasn't been serviced, you can get a free gas boiler service quote from a Gas Safe registered engineer in your local area using Boiler Guide.
---
Get a FREE Gas Boiler Service Quote
Get a FREE quote from a trusted engineer in your local area.
Get a quote now
.
---