Nest vs Hive: Which is the Best Smart Thermostat?

Choosing the best smart thermostat will often come down to Nest vs Hive. The Nest thermostat by Google* has led the way for a long time but the latest version of Hive Active Heating by British Gas* has levelled the playing field considerably.
Read our review of living with Nest as experienced by two of the Boiler Guide team.
We've compared the key features and benefits of the Nest Learning 3rd Generation and Hive Active Heating thermostats.
Why install a smart thermostat?
There is one big reason to install a smart thermostat in your home: to reduce energy wastage. Through increased visibility of your energy usage and easy, intuitive controls it's easier than ever before to take control of your home's energy bills and lower your impact on the environment.
Note: If you have an older boiler model, it may not be compatible with a smart thermostat. In which case, you will need to upgrade to a new boiler. If you think you might need a new boiler that's compatible with Nest, you can get free quotes by clicking the link below.
---
---
To install a Hive compatible boiler, you need to contact British Gas.
Nest vs Hive: a quick comparison
A look at a number of smart thermostat features can help to quickly compare Nest vs Hive.
Learning
The ability to 'learn' the heating habits of your property and then automatically programme itself to match your routine.
Geolocation
Via the GPS location on a smartphone, a smart thermostat knows when the property is empty and when you return home. This helps to avoid heating an empty home.
Motion sensor
The smart thermostat will sense when somebody enters or leaves the property and will then set the heating accordingly.
Weather responsive
By monitoring the weather forecast and outdoor temperature the smart thermostat can set an appropriate temperature in the home. The main benefit of weather responsive technology is that it helps to prevent pipes from freezing during the winter months.
Compatible heating systems
It's important to check that the smart thermostat is compatible with your central heating system.
The Nest Learning Thermostat 3rd Generation is compatible with condensing combi, system and regular boilers as well as heat pumps. Meanwhile, the Hive Active Heating is compatible with gas, oil, LPG and some electric boilers.
Multi-zone controls
Turning rooms or areas of the home into 'zones' makes it easier to only heat the spaces which are being used. You can also heat rooms to different temperatures to reduce energy waste, e.g. so you can have a cooler temperature in the bedroom than in the living room.
Voice assistant compatibility
For anyone with a voice assistant (such as the Amazon Echo or Google Home) it's worth checking if the smart thermostat is compatible. By pairing a smart thermostat with a voice assistant, you'll be able to control the central heating with your voice.
All but one of these features can be found in the Nest Learning Thermostat 3rd Generation. In comparison, the Hive Active Heating smart thermostat only offers half of these features.
Brand/Manufacturer
Model
Learning
Geolocation
Motion sensor
Weather responsive
Multizone controls
Voice assistant compatibility
Nest by Google
Nest Learning Thermostat 3rd Generation*
✔
✔
✔
✔
✔
(Amazon Echo and Google Home)
Hive by British Gas
Hive Active Heating*
✔
✔
✔ (Amazon Echo and Google Home)
Nest vs Hive: Head-to-head
Features
As smart thermostats, there are many similarities between the Nest and Hive smart thermostats. A key similarity, shared by all of the best smart thermostats, is that they all give you greater control of the central heating.
Both the Nest and Hive thermostats allow you to control your energy usage via a smartphone, tablet or laptop. They will both control temperature, hot water and enable you to programme heating schedules including a 'holiday' mode. When the temperature in the system drops too low both have a 'frost protection' safety feature that will activate the heating to prevent pipes from freezing.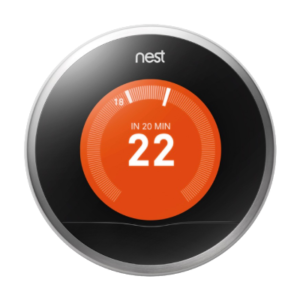 There is a GPS feature on both that will track and respond to your location. For example, when you leave or return to the house it will turn the heating on or off as needed. You can fix them on the wall or purchase a stand to display on a shelf or table.
For all of their similarities, it's the differences you need to look at in order to separate these smart thermostats.
The Nest Learning 3rd Generation Thermostat has the ability to 'learn' your home heating habits and adjust to them. Nest thermostats also have a built-in motion sensor which can detect when you're home and when you're not. This feature helps to reduce energy waste by never heating an empty home.
Compatibility with heating
Finding a winner when comparing Hive vs Nest could come down to which thermostat is compatible with your heating system. Both are compatible with most gas, oil, LPG and electric boilers – although it's worth confirming your boiler model with an installer. If you have a renewable heating system however, a Nest Learning 3rd Generation Thermostat is your only option.
| Heating System | Nest Learning 3rd Generation Thermostat Compatibility | Hive Active Heating Thermostat Compatibility |
| --- | --- | --- |
| Gas Boilers | ✔ | ✔ |
| Oil Boilers | ✔ | ✔ |
| LPG Boilers | ✔ | ✔ |
| Electric Boilers | ✔ | ✔ |
| Air Source Heat Pumps | ✔ | |
| Ground Source Heat Pumps | ✔ | |
| Biomass Boilers | ✔ | |
| Domestic Hot Water Tanks | ✔ (Hot water temperature control with OpenTherm technology only) | ✔(Only able to turn the domestic hot water on and off, no temperature control) |
Usability
One of the great benefits of smart thermostats is their usability. Standard thermostats can only be controlled by pressing buttons on the thermostat itself. Smart thermostats have revolutionised how homeowners can control the central heating.
Nest and Hive smart thermostats can both be controlled via an app and compatible voice controls.
 
The Nest Thermostat Nest Thermostat Mobile App and The Hive App are both available for smartphone and tablet on iOS and Android. This not only allows you to control the heating from the sofa but when you're not even at home. In addition to the apps, both the Nest Learning 3rd Generation and Hive Active Heating are compatible with Google Assistant and the Amazon Echo voice controls.
When comparing smart thermostats, you'll frequently come across the acronym 'IFTTT' which stands for 'if this, then that'. Using IFTTT, with either the Nest or Hive smart thermostat, allows you to set specific central heating temperatures based on certain conditions. So, for example, you could set the heating to turn on when you're almost home so that it's at a comfortable temperature when you arrive.
| Usability | Nest Learning 3rd Generation | Hive Active Heating |
| --- | --- | --- |
| Voice Control Compatibility | Amazon Echo, Google Assistant, Siri Shortcuts | Amazon Echo, Google Assistant, Siri Shortcuts |
| Multi-Zone Compatibility | Up to 20 zones in up to 2 properties | Up to 3 zones with Hive Multizone or control individual rooms with Hive Radiator Valves |
As well as flexible controls, you can use the thermostat itself to control your central heating.
The Nest Learning Thermostat lights up when you walk into the room. This feature is called Farsight and gives you a quick look at the temperature, time or the weather conditions. A unique circular design boasts a touch screen display and movable dial around the screen. Using the touch screen display and ring you have an effortless way to adjust settings, view energy usage history and set the temperature.
Unlike the Nest thermostat, Hive Active Heating thermostats don't have a touch screen display. Instead, there's a dial for scrolling through menus and 3 clickable buttons: step back, menu and confirm.
While the Nest thermostat arguably boasts the most intuitive and simplest usability, it must be plugged into the mains. However, if there's a power outage it will continue to work for 1-2 hours thanks to a battery back-up. The Hive Active Heating thermostat is powered by 4 AA batteries allowing you to carry it around your property.
Design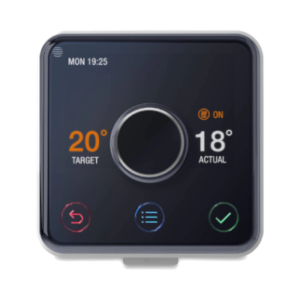 These thermostats have been designed to look as sleek and modern as possible. So, if design is a deciding factor, it will come down to personal preference. The Nest has a circular shape with a large and clear display that can sense when you enter the room and display the temperature. Hive, on the other hand, is a square with a smaller display which requires you to physically press the screen to view the temperature.
Nest is available in a choice of four colours so you can choose the best fit for your decor: stainless steel, copper, black and white. Hive only comes in a dark grey but it is possible to purchase a coloured frame (12 colours available).
Google also offers the Nest Thermostat E
, a simplified and lower cost version of the Nest 3rd Generation.
Nest vs Hive: Costs, warranty and value for money
Price is bound to be a key consideration when comparing smart thermostats. And there isn't too much between the Nest Learning Thermostat and Hive Active Heating. The average starting price is around the same mark but you could end up paying more for the Hive thermostat.
On top of the cost of the smart thermostat itself, there's also the price of installation which, for the Nest, sits at £80 while the Hive is slightly cheaper at £70.
Installation
Some smart thermostats must be installed by a professional while others give the option of DIY installation.
The Nest Learning Thermostat and Hive Active Heating can both be installed yourself but professional installation is highly recommended.
Nest Installation
The Nest Learning Thermostat 3rd Generation can either be installed yourself or by a trained professional. While it's recommended that the Nest Learning Thermostat 3rd Generation is installed by a Nest Pro installer, many installations are simple enough to do yourself. In terms of location, the Nest thermostat can either directly replace an existing wall-mounted thermostat or be placed on a movable stand to give you more flexibility.
You can compare Nest thermostat installation costs by getting free comparison quotes below.
---
---
Hive Installation
Again, the Hive Active Heating can be installed without the need for a professional installer. However, Hive recommends installation by a Gas Safe registered engineer and as they're part of British Gas they can arrange for one of their own engineers to safely carry out the installation. Both thermostats can be placed onto a stand.
You can get installation quotes from a local British Gas engineer below.
---
---
Energy Savings
Essentially, smart thermostats automate and give a greater level of control over your heating system so you avoid using too much energy. They have a number of features to help them achieve this:
Monitoring and learning how you heat your home and programming themselves accordingly
Detecting when you are at home via your smartphone's GPS and/or motion sensor
Automatically adjusting to the weather conditions so you avoid overheating on warm days and frozen pipes in winter
Responding to website and smartphone controls so you can control your heating wherever you are
Enabling you to heat individual rooms or 'zones' in your home separately, so you only heat the areas you need to.
Over the years, the average annual energy savings made by homes since installing a Nest Learning Thermostat are between £100 to £110 (converted from dollars). Hive states that the Hive Active Heating could potentially save you a little more each year (£130).
 
However, neither model will save you more money than the other. While both of these smart thermostats are great tools that will make saving energy easier to achieve, ultimately, reducing the energy usage is in your own hands. And if you're looking to reduce your energy bills by as much as possible, an effective heating system within a well-insulated property will go a long way.
More ways to reduce your energy costs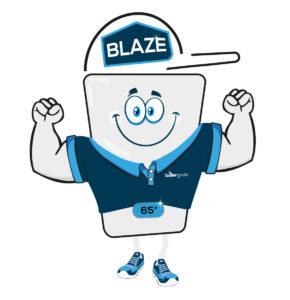 While a smart thermostat is a great tool for increased control over the central heating, insulation and an efficient heating system will reduce your energy costs further.
An efficient central heating system can only help your energy costs go down if your home is well insulated. Cavity wall insulation, loft insulation and floor insulation all help to prevent heat from escaping. Without insulation, the heat generated by your central heating system will escape the property, meaning that the heating system will only have to work harder.
Double glazing, or even triple glazing, are also effective forms of insulation as additional panes of glass keep cold air out.
Before having a smart thermostat installed, it's worth considering whether it's time for a boiler replacement. Modern boilers perform to highly efficient levels which means they use less fuel to deliver the same amount of heat as an inefficient boiler – helping to lower your energy costs.
If your boiler was installed more than 8 years ago, keeps breaking down or simply doesn't get the job done any more then these are all signs you need a boiler replacement.
You can get free quotes for the installation of a new boiler using Boiler Guide. All you have to do is take a few moments to complete our simple online form. Once finished, you'll be contacted by up to 3 local heating engineers who will each provide free quotes for the work. Sourcing multiple quotes is the best way to ensure that you're getting the most competitive price for the installation of your new boiler.
Which one should you get?
Thanks to having more features designed to suit your home heating habits and a longer list of compatible heating systems, the Nest 3rd Generation Learning Thermostat comes out on top.
 
In several areas the Nest Learning 3rd Generation Thermostat has the upper hand. Specifically, the inclusion of a motion sensor, more heating zone capability and the ability to adapt to your heating habits.
While these additional features are all great – if you make use of them – they aren't essential to help lower your energy costs. The key functionality you need to save money on your energy bills is present in both smart thermostats.
A major downside to the Hive Active Heating thermostat is the limited list of compatible heating systems. While most boiler types will be compatible, renewable heating systems are not. So if you have a renewable heating system installed or are considering one, then a Nest Learning 3rd Generation Thermostat has to be the winner.
In the case that your decision comes down to price, there's very little difference between these smart thermostats. The Hive Active Heating could potentially cost more but starting prices both begin from around £140.
If you're still unsure, the best next step to take is to contact a professional heating engineer. A heating engineer will be able to evaluate your central heating system, assess the areas where energy usage could be lowered and recommend a suitable smart thermostat.
We have a network of heating engineers right across the UK and you can connect with those local to you by completing our simple online form.
*We have an affiliate partnership with these products and may earn commission from your purchase.