Noisy Central Heating Pump (& Other Problems) Explained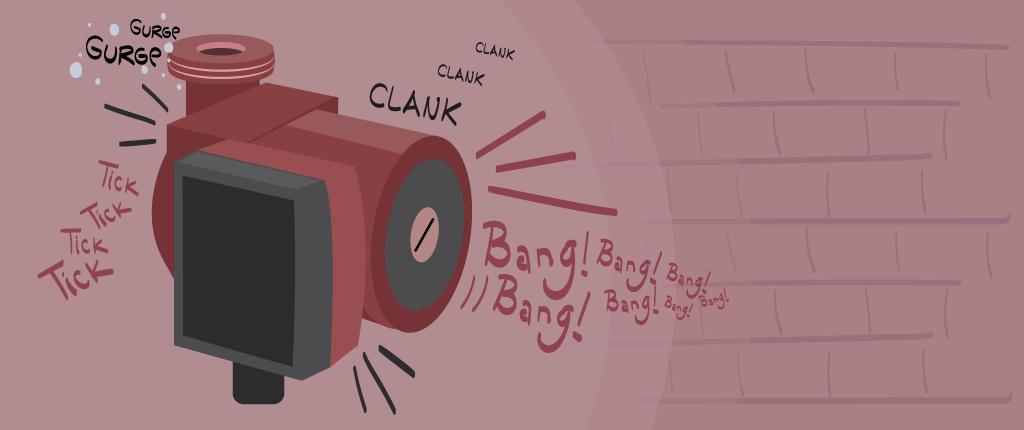 A noisy central heating pump can not only be a frustration it could also be the sign of a fault that needs the attention of a heating engineer.
These common central heating pump problems will help you to identify the cause and get your central heating up and running again. Free from any banging, clunking or gurgling noises.
What is a central heating pump?
When you turn the central heating on, the hot water needs to circulate around to the radiators and that's the job of the central heating pump.
Despite its relatively small size, the central heating pump has a big role to play in keeping your home warm. An effective central heating pump will efficiently pump hot water to the radiators then back to the boiler.
In most cases, the central heating pump can be found pretty close to the boiler. This is so that it can pump the water as soon as the boiler has heated it up. Otherwise, you're likely to find it in the airing cupboard or under the stairs.
Possible causes of a noisy central heating pump
As well as loud noises, an issue with the central heating pump can result in cold radiators and even leaking.
The best thing to do if you notice issues with your central heating system is to contact a professional heating engineer. These common central heating pump problems will help you to identify the possible problem.
Airlock
Central heating pump humming noises are most commonly caused by an airlock. This is when air builds up in the pump and causes a blockage.
To stop the humming and release the air, many central heating pumps have a bleed screw which can be simply turned to rid the pump of excess air.
Pump shaft incorrectly installed
A poorly installed pump will lead to a world of problems. Which is one of the many reasons why you should always hire a Gas Safe registered engineer.
The pump should be fitted in a precise horizontal position. Even being the slightest bit off could impact the performance of the pump. If this is the case then time is of the essence as an incorrectly installed pump will wear out much sooner.
Dirt blockage
As water circulates around the central heating system, it can pick up bits of sludge, rust and other debris. Over time, this can build-up and cause blockages in the system - including within the central heating pump.
You'll be able to tell if your central heating pump is blocked as the radiators will heat up very slowly or fail to come on at all.
Fortunately, the fix is relatively simple. A small clean should be enough to clear a blockage from the pump. However, it's important to take measures to prevent the pump from becoming blocked again in the future.
To keep the pump, and the central heating system, protected, a heating engineer will need to perform a power flush. This involves chemicals being sent around the system to clear it out.
It's also highly recommended to have a magnetic filter installed. A magnetic filter fitted to your central heating system which collects various types of debris before it has a chance to form a blockage.
Speed set too high
Modern central heating pumps come with speed settings which adjust the flow rate. They often have 3 settings, the lowest will set a slow flow rate while the highest sets a faster flow rate. It's important that the setting suits your central heating system.
If set too fast then you'll have a noisy central heating pump. However, before turning it down, you might want to contact a professional as it could be in that setting for a reason.
Fan hitting other parts
Central heating pumps have a fan to keep them from overheating. If you're hearing a metal clanking noise as the pump operates, a fault with the fan, such as a loose blade, is likely to be the cause.
Seized internal parts
Seized parts within the pump can cause a humming or vibration. A light tap could be enough to get the pump going again but it's more likely to be the result of a poor installation or the build-up of dirt. Both of which will need more attention.
Pump overheating
As the central heating pump operates, it will warm up a little but if it becomes too hot to touch there's likely to be a fault. More often than not, that problem lies with the motor.
If your central heating hasn't been on for a long period of time - maybe during the summer - the pump can overheat when it's turned back on. Most of the time, the motor over heating comes down to a part getting stuck and a light tap could be enough to free it. However, if this is happening over and over again then it's probably time to have your central heating pump replaced.
How to fix a noisy central heating pump
As you can see, there's a long list of potential issues which can lead to a noisy central heating pump. Narrowing down the cause can be a challenge which is why your best option is to contact a qualified heating engineer.
A heating engineer will be able to diagnose the problem and get it sorted so that your home can heat up again without any humming, vibrating or banging noises.
Get free quotes to fix a noisy central heating pump today.
How much does a central heating pump cost?
The price of a new central heating pump can be anywhere between £80 - £200. It's important not to just go for the cheapest one you find as it's unlikely to last as long as the premium products. So you could be paying for a replacement again much sooner.
Grundfos central heating products are widely considered the best on the market and can cost £100 - £250 depending on the model.
Other causes of noisy central heating

A noisy central heating system – whether it's banging, clanking, dripping or humming – could be the result of many issues.
Dripping
There could be a leak somewhere around the heating system. Turn the mains water supply off and look for signs of leaking near pipes, radiators and the boiler. If you spot a leak, no matter how small, contact a heating engineer.
Banging
Limescale and other debris may have built-up to form a blockage and needs to be cleared. This could also be a sign of a loose or broken component.
Gurgling
A gurgling sound from the radiators suggests that there's too much air within them and they need to be bled.
Whistling
If you're hearing a whistling sound that resembles a traditional kettle then that's a strong indication that limescale has built-up on the heat exchanger. You'll need a heating engineer to perform a power flush to fix this one.
Find out more in Noisy Central Heating Problems.
Having central heating problems? Find an engineer today
Rather than dealing with a noisy central heating pump yourself – which would be unsafe and could invalidate the boiler warranty – you should contact a heating engineer. Fortunately, you're in the right place!
We have a network of heating engineers right across the UK and you can connect with those in your area in a few clicks. Simply complete our online form, letting us know there's a problem with your heating, and you'll get free no-obligation quotes from up to 3 heating engineers.
---
Find a local heating engineer.
Get a FREE quote from a trusted engineer in your local area.
Get a quote now
.
---