Radiator Size Calculator: Get the Best Radiators for Your Home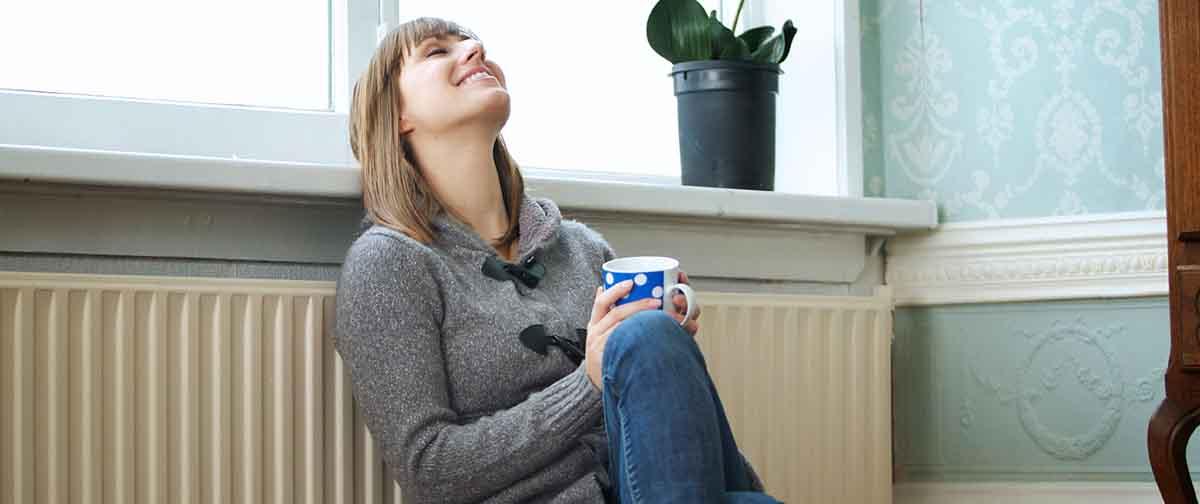 Replacing radiators can help to reduce your heating bills.
But finding the right radiators for your home can be tough. There are so many types, sizes and styles of radiator which can make it all a bit confusing. So use this radiator sizing guide to to get the best radiators for your home.
When to replace radiators
It's a good idea to think about new radiators when they're 15-20 years old.
The older your radiators get, the more wear and tear they go through. So as they age they become less reliable and lose their efficiency. Meaning that your home won't feel as comfortable as it did during your radiators' younger years.
Working out radiator size
When replacing or adding radiators to your home it's crucial that each room gets the right size radiator. A radiator that is not powerful enough will not be able to heat the room adequately, but a radiator that is too big will not only overheat the room but will cost you unnecessary money to run. A radiator's size (or power) is measured in BTUs.
What is a BTU?
BTU stands for British Thermal Unit(s).
This tells you how much heat a radiator can put out. A BTU is how much energy is needed to heat around a pint of water by one degree (farenheit). The higher the number of BTUs the quicker the radiator will be able to heat the space around it. Central heating radiator sizes tend to have a BTU output between 600 – 10,000.
To get the best radiators for your home there are a few important things to consider:
How big is the room?
It's really important to know the dimensions of the room the radiator needs to heat. You'll need this information in square metres.
How many windows?
All windows represent a potential draught so you'll need to account for them in your calculations.
How many radiators?
It's possible that a particularly large room won't be adequately heated by one large radiator and actually 2 or even 3 smaller radiators would deliver more consistent and better comfort levels.
What is above, below or on the other side of the wall?
Radiators on solid floors, against solid walls or under well insulated ceilings won't need to work as hard as those placed above cellars or against cavity walls.
Radiator size calculator
With the information above, you can work out what size radiator(s) your home needs.
Based on the average room size in the UK* we've put together some estimates to give you a starting point in your research.
| Room | Size (m²) | Average radiator size (BTUs) |
| --- | --- | --- |
| Living room | 17.0 | 5700 – 6825 |
| Kitchen | 13.4 | 3575 – 4300 |
| Master bedroom | 13.4 | 3550 – 4275 |
| Bathroom | 3.7 | 1225 – 1475 |
*Research conducted by LABC Warranty using open data from property sites Rightmove and Zoopla. The study looked at 10,000 houses built in the 1930s, 1940s, 1950s, 1960s, 1970s, 1980s, 1990s, 2000s and the current decade. All statistics are calculated on average. Calculations based on a standard ceiling height of 2.4m² with double-glazed windows.
Costs of replacing a radiator
A like-for-like radiator replacement is the simplest job for a heating engineer. And most likely the cheapest.
Labour costs will vary based on many things. One reason being your location as heating engineers in London tend to charge more than those in the north of the UK. The complexity of the job will also play a part but you're looking at average costs of £100 – £300 including labour.
Like-for-like replacement: £100 – £200
Relocating an existing radiator: £100 – £150
Installing an additional radiator: £150 – £300.
Quotes will include the price of the radiator, any additional pipework and radiator valves. As well as the labour involved such as draining and removing the old radiator, opening valves, adding new pipework, mounting, filling and bleeding the new radiator etc.
Comparing quotes from at least 3 companies will help you land a competitive price. For example, you may find that some independent engineers offer cheaper prices if the business' turnover is less than the VAT threshold as they aren't legally required to pay VAT.
---
---
Adding a radiator
If you're adding a radiator to your home you need to be sure that your boiler will be able to cope with the extra demand for heating. If you are only adding 1 or 2 it's likely your current boiler will be fine. But any more than that (or if you're in any doubt) and you should get a professional engineer to assess your heating system.
Which type of radiator is best?
Electric or plumbed?
Radiators can be either electrically powered or plumbed to the central heating system.
Electric radiators are controlled individually and simply require a mains electricity supply to work. They may be simple plug in models but some will need to be installed by a professional electrician.
Plumbed radiators are connected to your hot water system via pipework. In most homes a boiler will heat water from the mains supply; this hot water then travels around the pipes and radiators in your home These radiators need to be installed by a plumber or heating engineer.
Steel panel radiators
Steel panel radiators are a very popular option as they are the most energy efficient and often the cheapest. They have corrugated or wavy panels which increase the radiator's surface area enabling it to emit more heat. Steel panel radiators are available in a range of sizes to suit most rooms and as single, double or triple panel models. The more panels a radiator has the more heat it will emit.
Steel panel radiators are usually white in colour which can be a drawback for some. If you want the efficiency of a steel panel radiator but are concerned about how it will fit in with the room's decor you can always purchase a radiator cover or cabinet to keep it safely and discreetly out of site. They're available in a wide range of styles and colours and are easy to install.
Column radiators
A column radiator is made of vertical pipes and is an option for more traditional or period homes. They look like original radiators from the Victorian era but deliver moden heating efficiency. You can purchase column radiators in a range of sizes and with 2, 3 or 4 columns; the more columns the radiator has the more heat it will emit.
Column radiators take up more space than modern radiators and, as they tend to trap dust between the columns, need regular brushing to keep them at their most efficient.
Designer radiators
There is now a wide range of electric and plumbed designer radiators on the market as they are becoming more and more popular with homeowners looking to both save space and integrate their radiators into their home decor. In fact, some designer radiators are intended to attract attention as a focal feature; some designer radiators can double up as heated towel rails, mirrors and magnetic memo boards. As well as a variety of sizes and profiles you can also select colours and finishes such as black, chrome, stainless steel or even wood veneer.
Take control with radiator valves
Every plumbed radiator in your home will need a pair of radiator valves which enable you to control how much heat a radiator is giving out. You can choose from manual which are like simple taps you control yourself or thermostatic radiator valves which self-regulate. TRVs can sense the temperature of the room; when your required temperature has been reached the TRV switches the radiator off. This means you can have different temperatures for different rooms in your home so you are not wasting energy by heating rooms which are often empty or rooms which you prefer to be cooler.
TRVs are available from as little as £5 but can rise to £30 or more for smart TRVs which can be controlled via an app on your smart device. Find out more in Radiator Valves Explained.
---
---
Where to put your radiators
Give some thought to where you are installing new radiators as this may affect the type and size of radiator you buy.
Walls and brickwork
Brickwork, blockwork or solid masonry walls will accommodate most types of radiators as long as they are attached using the right fixings. There shouldn't be any restriction as to where the radiator is hung.
A studwork or drywall with a hollow space behind it is a little more tricky. The radiator will need to be attached to the studs which are vertical and horizontal pieces of timber which the plasterboard is attached to. This may restrict the size and type of radiator you can install.
Radiators should always be mounted onto walls in good condition so cracks or crumbling plaster should be attended to before the installation. And if you're redecorating the wall it's much easier to do this before the radiator goes up!
Existing plumbing
You'll also need to take a look at the pipework in the room. The simplest scenario is pipework which runs along the wall as you should be able to fit a radiator of the same width or wider with minimal pipework cutting. If the new radiator is smaller a little extra pipework may be needed to bridge the gap. Pipework which runs up from the floor can be a little more complex if you're changing the size or style of radiator and floorboards may need to be lifted during installation.
How to look after a radiator
Bleeding radiators
Radiators should be bled annually to keep them working effectively and keep your energy costs to a minimum. Over time air bubbles can build up which means the hot water can't fill the radiator; with less surface area for the heat to emit from the radiator won't heat the room as well. You may find you have to leave the boiler running for longer to achieve the right temperature and this means higher fuel bills.
Bleeding radiators simply means allowing this air to escape and can either be performed by you or an engineer if you're not feeling confident. The cost of bleeding radiators generally falls between £75 – £150.
Balancing radiators
Balancing radiators is something you or an engineer can do after the radiators have been bled. If some of your radiators take a long time to heat up it may be that you need adjust something called a 'lockshield valve'.
Flushing radiators
Flushing radiators is something only a professional should carry out; it involves adding chemicals to your heating system to flush out debris, rust or sludge that has build up naturally over time. A magnetic filter can be installed to prevent or reduce this build up. Occasionally the procedure can show up leaks in the system or highlight the need for a new radiator but it will ensure your heating works as efficiently as possible. The process is sometimes referred to as a Powerflush and costs £300 – £600 on average.
Alternatives to radiators
Radiators aren't your only option. And the alternative 'hidden' heating systems can help to free up space in your home.
Underfloor heating
The most popular alternative to radiators is underfloor heating.
This is a heating system that, sure you've already guessed, goes under the floor. So you can wave goodbye to worrying about blocking radiators with furniture.
As you might expect, fitting underfloor heating is a much bigger job than fitting radiators. And it's best done during a renovation or adding into an extension.
Skirting board heating
Skirting board heating is another heating system that doesn't need too much explaining. They're a heating system fitted within the skirting boards around a room.
---
---