Radiator Valves Explained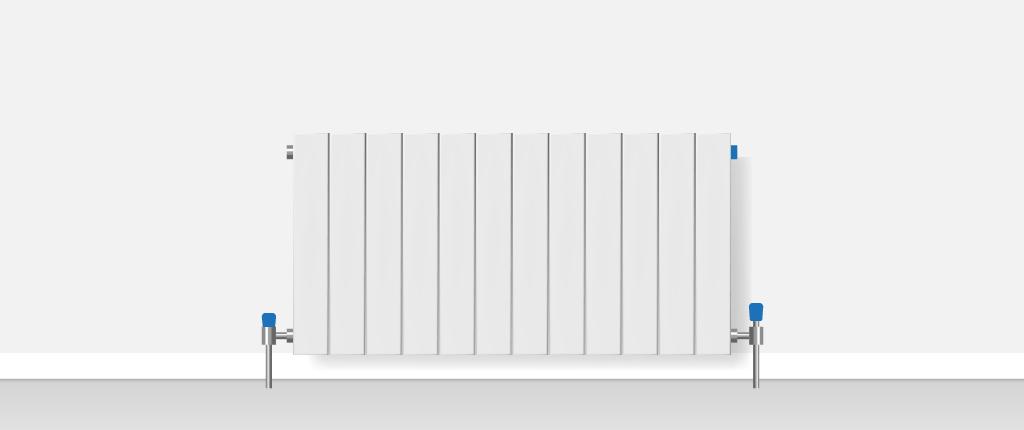 There was a time when radiators were on or off with no in between. But radiator valves have changed the game and the way we think about home heating.
Radiator valves give you far more control over the heating. And more control means more comfort.
Finding the right radiator valves for your home isn't as simple as you might think. So, in this guide, we take you through all types, sizes and styles of radiator valve. This is Radiator Valves Explained.
What does a radiator valve do?
When you turn the central heating up, your boiler fires into action. It heats water which is then sent to the radiators around your home. The job of the radiator valves is to allow a certain amount of hot water into each radiator.
So you could turn the radiator valves all the way down in rooms you're not using so that the radiators don't heat up. Not only is this an easy way to your bit for the planet, you'll also be saving money on your heating bills.
Each radiator in your home needs a pair of radiator valves. One of the valves controls the amount of hot water entering the radiator and the other (known as the lockshield valve) balances the system by controlling how much heat the radiator emits.
more on lockshied valves…
The lockshield valve tends to be covered with a plastic cap. It controls how much water stays in or flows out of the radiator and back into the pipework and is usually fixed so that it can't be easily turned. The heating engineer will have set it up to ensure an even distribution of water evenly around the property, so your radiators will heat up at similar speeds. This is called balancing your radiators.
Are you planning to update your central heating system? Find out how to get the best radiators in our Radiator Sizing Guide.
Types of radiator valve
There are three main types of radiator valve: manual, thermostatic and smart.
Let's look at them in a bit more detail:
Manual radiator valves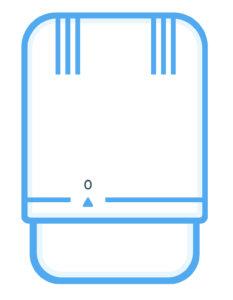 A manual radiator valve is the most common. Turning the valve adjusts the amount of hot water flowing through the radiator and, therefore, how much heat is emitted. You turn them either up, down or off depending on whether you want the room to be colder or warmer.
Manual valves are the simplest to operate and tend to be smaller than thermostatic valves. One drawback with these valves is that you have to actively monitor them and remember to turn them off. By keeping them on all the time, you'll be wasting energy and money.
Thermostatic radiator valves
Thermostatic radiator valves (TRVs) can give you greater control over the temperature of your home than manual valves. This is because you set the valve to your desired room temperature.
The TRV includes wax, or liquid, which can 'sense' the temperature in the room. When your desired temperature has been reached the TRV will shut off the flow of hot water and stop the radiator getting any hotter. This means the radiators can manage themselves most of the time so you won't be spending unnecessary money on heating you don't need.
A few things to consider...
Shouldn't be installed in rooms with a wall mounted thermostat (both will be compete to control the temperature in the room);
Not recommended in bathrooms or shower rooms (the TRV will be confused by the extra heat from the shower or bath);
While TRVs can self-regulate most of the time they still need to be checked (around once a year) to ensure they're still working; and
For the best chance to do their job, and keep your heating system working effectively, you should check that your heating system is balanced. This means ensuring the flow of hot water is evenly distributed around your home so radiators heat up at the same rate.
Smart radiator valves
A smart thermostat is connected to WiFi which enables you to control your heating via an app from a smart device. If the smart thermostat is compatible with smart TRVs, you can control each TRV in your home from your app from wherever you are in the world.
Whether you opt for manual, thermostatic or smart radiator valves, before you buy you need to know if you need straight, angled, corner or H-block valves.
Leading smart radiator valve manufacturers include Tado, Honeywell and Netatmo.
---
Need new radiators or valves?
---
What the numbers on radiator valves mean
Radiator valves have numbers or symbols to represent how much heat the radiator is putting out.
Normally, these numbers range from 1 – 6. Turning the valve to 3 should give you a room temperature around 20°C. Each number above or below then represents a single degree. So a 2 is around 16°C while a 4 is approximately 24°C.
This numbered system is used, rather than exact temperatures, as an exaact room temperature can't be guaranteed. This will be affected by the level of insulation, if the radiator is by a window and how well your boiler is performing.
It's a good idea to pay attention to your radiator valve settings as you may not need maximum heat in all your rooms (you may prefer a cooler bedroom but a warmer bathroom). In addition, heating rooms which are rarely used is a waste of energy. And when it comes to keeping heating bills low, remember that for each degree below 20°C, you can save as much as 6% in energy use.
Straight, angled, corner or H-Block?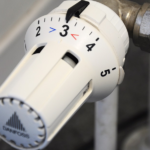 Your radiator valves need to be compatible with the position of the inlets on your radiators and easily connect with the hot water pipes. Some pipes will come out of the floor while others may come out of a wall.
In many cases, it can be easy to find the inlets on your radiators but ask a professional if you're not sure.
Most UK radiators (such as a single or double panel convector or compact radiators) have bottom opposite end (BOE) connections. This means they come out either side of the radiator at the bottom horizontally. As pipework tends to come out of the wall, this usually means angled valves are needed to join the pipework to the radiator.
Modern radiators may have middle connection valves (in the centre, at the bottom). This means you don't have valves and pipework sticking out at the side so can be a great space saver. If a radiator needs to be connected to pipework coming up out of the floor and the radiator has inlets at the back (not the sides) straight valves may be a better choice.
Straight radiator valves
These valves have no bends. This allows the water to flow straight along either a wall or up from the floor.
Angled radiator valves
Angled valves have a 90° bend. This means it can connect the pipework with the radiator at an angle. They are the most common radiator valve in the UK and are a good choice for homes with pipework coming out of the wall or up from the floor.
Corner radiator valves
Corner valves are similar to angled valves but don't stick out from the bottom of a radiator so much. They're sometimes favoured in homes where space is limited. However, they are installed facing inwards, parallel to the wall and so can be more fiddly to adjust.
H-Block radiator valves
Ideal for radiators with middle connections rather than bottom opposite end. By installing a radiator with a connection in the middle, rather than at both sides, you're saving space. These valves can also be easier to install and replace.
Here are some general guidelines to help you make the right choice:
| Radiator | Wall pipes | Floor pipes | Exposed wall pipes |
| --- | --- | --- | --- |
| Inlets on the side | Angled / corner | Angled | Straight |
| Inlets underneath | Angled / corner | Straight | Angled |
---
Need new radiators or valves?
---
Get radiator sizing right
By radiator valve size, we mean the connection and pipework rather than their physical size. 15mm pipes are the most common and most valves are manufactured to fit this size. But you may come across pipework between 8mm – 28mm.
If you do have smaller or bigger pipework than 15mm, and are struggling to find the valves need, you can buy an adapter.
Radiator valve styles
Once you've chosen the right type and size of valve for your home the last thing to consider is the look and style. There is a wide variety of styles available from simple, minimalist and contemporary to more traditional, elegant and classic options for period homes.
How much do radiator valves cost?
| Radiator valve | Average cost |
| --- | --- |
| Manual | £5 – £35 |
| Thermostatic | £5 – £120 |
| Smart | £50 – £200+ (excluding cost of smart thermostat) |
You then need to consider the cost of installation. You'll need a heating engineer to fit the new radiator valves as they will need to drain the radiator before the valve is fitted, ensure the valve and connectors are all safely secured and balance the heating system to ensure all radiators are heating at the the same rate.
The cost of this labour will vary but you're looking at around half a day's work for one radiator. A full day is needed for a complete system including around 10 radiators. On average, costs range from £100 – £350 but you'll need to compare quotes to make sure you're getting the best deal.
Get the right radiator valves
The right radiator valves for you will be influenced by the existing pipework and radiators. But the radiator style is down to your preference.
To make sure you get the best radiators and valves, contact a professional heating engineer. They'll assess your home and lifestyle and make a recommendation. You can get quotes from heating engineers near you today right here.