Salus RT500RF Thermostat: Pros, Cons & Cost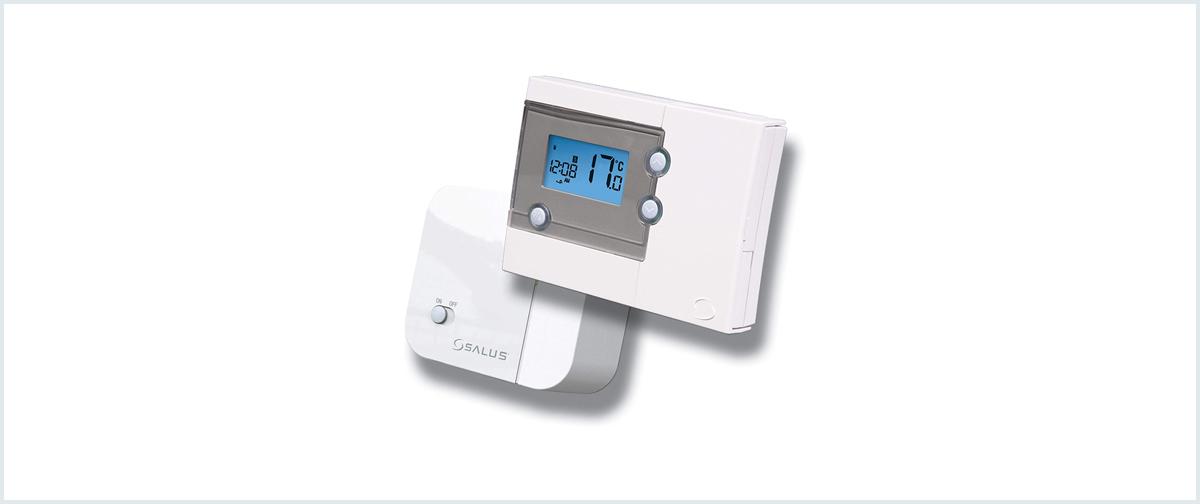 The Salus RT500RF is a programmable room thermostat that you can set to suit your lifestyle. While it might not be able to boast all the features of a smart thermostat it has a price tag that means you might want to consider it before investing in a Hive, Nest or Honeywell.
---
---
Who are Salus?
Salus provide heating control solutions and have been doing so since 1974. Part of the Computime Group Ltd, based in Hong Kong, they distribute a wide range of heating control products to Europe, Asia and North America, including:
Digital thermostats
App Controlled thermostats
Programmers
Smart home products
Underfloor heating
In this article, we're going to be looking at their RT500RF programmable radio thermostat to help you decide if it's the right thermostat for your home.
The latest model in the RT range of Salus thermostats is the Salus RT520RF. If your decision making comes down to the RT500 or RT520, we would recommend investing in the RT520 as it's much more intuitive and boasts a range of efficiency functions.
What is a programmable room thermostat?
Before we go into detail about the Salus RT500RF thermostat, we should find out exactly how a programmable room thermostat works.
Programmable room thermostats act as a programmer and a room thermostat, here's the difference between the two:
Programmer
Allows you to choose the times that you want the heating to automatically switch on as well as the temperature you'd like the room to reach. You'll be able to select different temperatures for different times and days of the week to suit your habits.
Room thermostat
Senses the air temperature in the room and switches the heating on when the temperature drops below the thermostat setting. Once that temperature has been reached, the heating will turn off.
So, as a programmable room thermostat, the Salus RT500RF is a programmer and room thermostat wrapped into one.
Salus RT500RF
The Salus RT500 thermostat comes as a wireless or wired model, with the wireless model being able to simply sit straight onto the wall. A rather large 30 metre transmitter range gives you lots of flexibility when it comes to finding a place to install the thermostat. When planning the installation of a Salus thermostat, the factors following will have be taken into account:
It needs to be fitted to an indoor wall
Should be positioned around 1.5 metres above the floor;
It cannot be mounted above a radiator;
It's best to install in a reasonably lit area away from extreme temperatures, direct sunlight or draughts;
You should also avoid interference with the radio frequency by installing away from TVs, radios and computers.
If you're the slightest bit unsure about the installation then don't hesitate to contact a qualified engineer who will be able to carry out the work for you.
---
---
Salus RT500RF features
The features of the Salus RT500RF help make it a reliable part of any heating system as you can programme it to suit your routine and it will also help to protect your boiler.
5/2 and 7 Day Programming
If you work a 5 day week then your home heating requirements will differ from weekdays to weekends; with this Salus thermostat you can choose the 5/2 programming which allows you to set different requirements.
There's also 7 day programming if you'd like your heating system to automatically operate in the same way every day.
Frost Protection
The cold winter months are when your boiler is at its most vulnerable. Cold temperatures can lead to pipes freezing (condensate pipes are at most risk), which can lead to your boiler breaking down and a potentially hefty repair bill.
Thanks to the Salus RT500RF featuring frost protection, you won't have to worry about the pipes freezing as when it's activated your boiler will be kept to 5 degrees when the heating isn't in use. This is just enough to prevent freezing and won't have a huge affect on your heating bills.
LCD Display
A blue backlit LCD display makes the large text on the display even easier to read.
Pros and Cons of the Salus RT500RF
The RT500RF is full of features that will benefit your home but it's important to consider the potential downsides too before investing.
| Pros | Cons |
| --- | --- |
| The 5/2 and 7 day programming allow you to set the thermostat to your lifestyle. | Runs on batteries (2x AA) which can be frustrating should they run out of power in the depths of winter and you don't have any spare. |
| Frost protection helps to protect your heating system when the outside temperature begins to drop. | You won't have the same level of control as having a smart thermostat. |
One of the biggest pros that the Salus RT500RF has over other thermostats on the market is the price.
How much does the Salus RT500RF cost?
The Salus RT500RF is one of the cheaper thermostats available on the market, especially when compared to the likes of Nest, Hive and Honeywell.
Now that the RT500RF has since been replaced by newer models, it's harder to come across a retailer stocking it but will be available at a relatively cheap price. The latest models: RT510RF and RT520RF are slightly more expensive options but are more advanced than the RT500RF and come with a longer warranty period, making the extra investment well worthwhile.
| SALUS Thermostat Model | Potential Cost | Warranty Period |
| --- | --- | --- |
| Salus RT500RF | £20 | 2 years |
| Salus RT510RF | £40 – £55 | 5 years |
| Salus RT520RF | £45 – £56 | 5 years |
Should you get a Salus RT500RF?
The Salus RT500RF is a reliable thermostat that will be able to meet you want your heating system to come on as you get back from work or before you get out of bed in the morning.
Consider a smart thermostat
If you're looking for even more control over your heating system then a smart thermostat is probably the best choice for your home. They may come at a slightly higher cost but you can control them from your smart device, adapt to your lifestyle and help you to save money on your heating bills.
Find the best smart thermostat with our comparison article, which puts some of the most popular models, such as the Nest E, Honeywell Evohome and Hive Active Heating Kit up against each other.
Compare the Best Smart Thermostats.
---
---