System Boiler vs Combi Boiler: Pros and Cons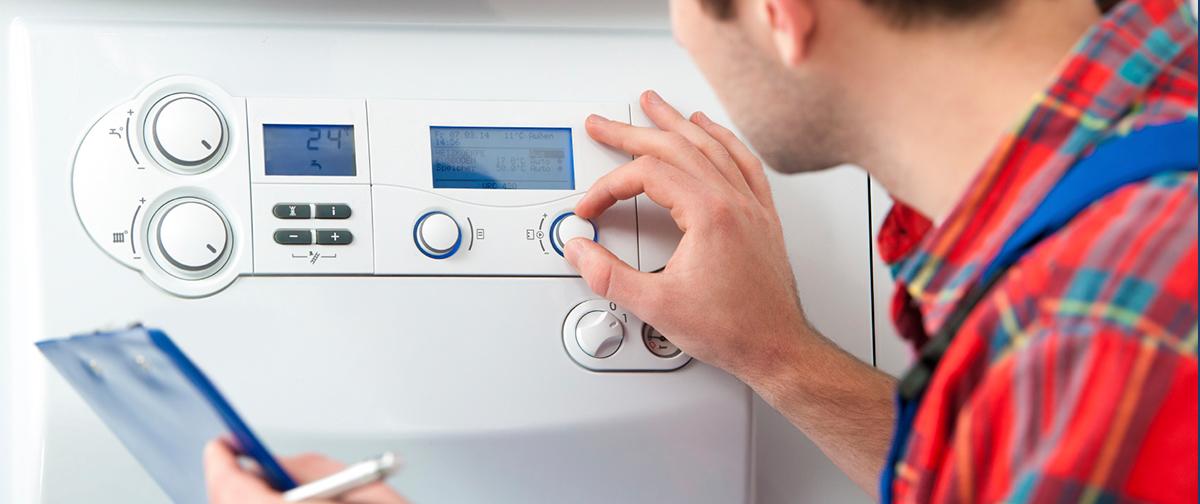 Your demand for hot water will decide whether you need a system or combi boiler.
If you need lots of hot water – and we're talking about homes with two or more bathrooms – then a system boiler is your best bet. One bathroom and you should turn to the combi boiler.
The main reason for this lies in the fact that system boilers store hot water in a cylinder so can meet higher demand. Combi boilers, on the other hand, heat water on demand and send it straight to the hot water outlet when you need it. Both have their benefits but one is likely to be better suited to your home than the other.
So, let's compare them.
---
---
What is a system boiler?
All system boilers are fitted alongside an unvented hot water cylinder.
The cylinder is where domestic hot water is stored until you need it. And by storing hot water they can meet higher demand in homes with 2+ bathrooms. The downside is that once the water in the cylinder has been used up, you'll need to wait for it to fill up again before you can take that bath.
What is a combi boiler?
Combi boilers are the most modern boiler type. They take up the least amount of space too.
Everything a combi needs to provide your home with heating and hot water is within the unit itself. They heat water directly from the mains as and when you need it so you'll have instant hot water delivered at a strong pressure. Plus, there's no need for a cylinder.
Why get a system boiler?
Let's take a look at some of the ways a system boiler could benefit your home.
Simpler installation than regular boilers
Regular boilers are the oldest type of boiler. Unlike system and combi boilers, they're not connected to the mains so need water tanks in the loft. They also need a pretty extensive pipe network too.
As system boilers don't need as many external parts as conventional boilers, they won't take as long to install, helping to save you time and money.
Quick response to hot water demand
With the addition of a pump, system boilers are able to respond quickly to heating and hot water demand.
Don't need a cold water tank
No need for a cold water or feed and expansion tank in the loft (needed when fitting a regular boiler). This means that system boilers take up much less space.
Solar thermal compatibility
Should you have solar thermal, or are considering it, then the hot water tank or cylinder can be adapted to heat the water using solar energy.
Why get a combi?
From reducing the carbon footprint of your home to saving space around your home, when compared to other boiler types, there are many benefits you'll be able to enjoy when installing a combi boiler.
Highly efficient
Combi boilers are designed to meet an efficiency rating of at least 92%. This helps to lower your carbon footprint as well as your heating bills.
Compact
As you only need the boiler (no tanks or cylinders), they don't take up much space. And they can comfortably fit within a kitchen cupboard – making them easier to hide.
Quick and simple installation
With no need for the installer to fit any tanks or cylinders, installation will be much quicker compared to system or conventional boilers. Saving you time and money.
Instant hot water
The cylinder that comes with a system boiler needs a lot of energy and will sometimes leave you waiting for it to refill before you can get access to hot water. Combi boilers, on the other hand, take their water supply directly from the mains, so you'll have hot water on demand.
Mains water pressure
Combi boilers heat water from the mains so you should get a strong flow of water from taps. But this depends on the strength of the mains water supply in your home.
System and combi considerations
Before you commit to a system or combi boiler, there are a few things to think about.
System boiler cons
Take up more space than a combi
As well as the boiler you'll also be needing room for the cylinder.
Hot water cylinder insulation
If the cylinder isn't well insulated then the water will cool down quickly. And this means more energy will be needed to heat it back up again – driving your heating bills up. So keep insulation in mind.
Size of the cylinder
The size of the tank will determine how much hot water is available to your home before it needs refilling. This should match the demand of your home.
Hot water isn't supplied instantly
When the hot water tank does run out of hot water, you'll need to wait for it to fill up before having access to hot water again.
Combi boiler cons
Can't meet high demand for hot water
Heating water on demand is great unless two different showers are being used at the same time. The water pressure will drop and you'll soon regret not going for the cylinder.
So homes with 2 or more bathrooms should consider a system boiler.
Unsuitable for properties with weak mains pressure
Make sure your home has strong mains water pressure because if it's weak or inconsistent so will the water out of the taps.
May not be compatible with old pipes
Older heating systems were designed for a weaker supply of water so might not be able to cope with the higher mains pressure.
System or combi boiler?
Finding a winner between system and combi boilers comes down to the hot water demands of your home.
For smaller homes with 1 bathroom, there's no better choice than a combi boiler. You'll be supplied with instant access to hot water from a highly efficient unit that should help you to save money on your energy bills.
As beneficial as combi boilers are, they're unable to supply a strong supply of water to more than one tap, bath or shower at a time. So, for that reason, if you have two or more bathrooms then you should install a system boiler.
Find the best boiler for your home based on the size of the property:
---
---
Should I consider a regular boiler?
The third type of boiler is the regular boiler. You may also hear it known as the conventional, heat-only or open-vent boiler too.
Regular boilers have been around a fair bit longer than combi and system boilers. But don't let that put you off. Modern versions are reliable and highly efficient.
They're more like system boilers than combi boilers as they store hot water in a cylinder. However, they don't take water from the mains so a cold water tank is needed in the loft. This is why regular boilers are now considered pretty dated. You should only be thinking about a regular boiler if your home already has one. Otherwise, the installer will need to reroute pipework and fit tanks in the loft which will take a few days and add to the costs.
System and combi installation
Before fitting a new boiler, the heating engineer should perform a powerflush. This will clear any debris, limescale and sludge from the heating system to make it more efficient.
Replacing a system boiler with a combi
Switching from a system boiler to a combi is a great way to free up some space.
Your installer will take out the cylinder and convert the pipework so that the hot water can get straight to the taps. This will take up to 2 days to finish.
Find out more about combi boiler installation.
Replacing a combi boiler with a system
If your combi isn't meeting demand then a system boiler is a good idea. However, it may be that your combi doesn't have enough power so make sure it has the right output rating.
Replacing the units is a fairly simple process. Especially if you're planning to have the system boiler installed in the same place. Swapping the boiler can be done in a day but you'll also need a cylinder and new pipework.
It's important to make sure there's space available for the hot water cylinder, as well as the hot and cold water piping, in a cupboard or loft area.
Get free boiler quotes
Getting multiple quotes before hiring an installation to replace your current boiler will give you the greatest chance of finding the best deal. At Boiler Guide, we've made this quick and simple to do.
Simply complete our online form, which shouldn't take too long, letting us know about the work you need, and we'll match you with up to 3 Gas Safe registered engineers based in your local area.
Each heating engineer will give you a free quote for the work which you can then compare.