Is Underfloor Heating Worth It? Pros, Cons & Costs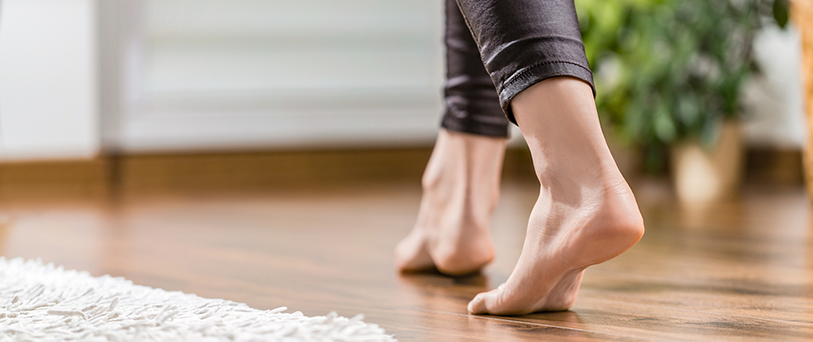 Keep your heating system out of sight with underfloor heating.
More homeowners are moving towards 'hidden' heating systems. Not only to free up space – if replacing radiators – but to add a sense of luxury.
Let's find out if underfloor heating is right for your home.
How does underfloor heating work?
You won't be surprised to hear that underfloor heating systems are fitted under the floor.
By heating every inch of the floor at a low temperature the heat is spread evenly around the room. And don't worry, it's more than comfortable to walk on.
There are two different types of underfloor heating available: electric and water.
Electric
Electric or 'dry' underfloor heating uses a series of wires or electric heating sheets to heat the room. These are either fitted below or within the flooring.
Water
A 'wet' underfloor heating system is connected to your central heating system. The boiler, heat pump or solar water heating system will heat the water before it travels through the underfloor pipes to heat the room.
To stop heat escaping downwards into the ground, underfloor heating is fitted on top of a layer of insulation. This makes sure all of the heat travels up into the room you need warming up.
Pros & cons of underfloor heating
Underfloor heating benefits
Underfloor heating can offer many benefits over other heating systems. Let's take a look at a few.
Evenly heat the whole room
Underfloor heating isn't only a treat for your feet. Heat travels upwards from floor to ceiling. So the whole room will feel the heat.
Systems of a certain size can even heat a larger area than radiators.
Free up some space
Removing radiators frees up a surprising amount of space. After switching to underfloor heating, you'll be able to push sofas, drawers or bookshelves right up against the wall.
A wet system could reduce your heating bills
Radiators need to be really warm to heat up a room. So, by running at a lower temperature, you could see a saving on your heating bills by installing a 'wet' system. Dry systems run on electricity which is an expensive fuel for heating.
Maintenance free
Unlike radiators, which may need bleeding every now and then, underfloor heating is virtually maintenance free.
Wet systems will need servicing from time to time but electric systems can be left alone to do their job.
Works with different types of flooring
Underfloor heating can be fitted under many different types of flooring, including:
Stone
Tile
Laminate
Vinyl
Carpet and rug
There will be differences between these materials in terms of how quickly and efficiently the heat makes its way to the surface. You'll get the best results from a surface that has good conductivity such as tile or stone. But there will be a compatible system for almost any flooring.
Better for your health
Radiators encourage dust to move around the room. Not good news for anyone who suffers with allergies or asthma. Underfloor heating doesn't do this making them a much cleaner heating system.
Increase the value of your home
Underfloor heating is seen as a modern and highly advanced way of heating a home. This can give your home a sense of luxury to potential buyers.
Underfloor heating disadvantages
There's no doubt that underfloor heating has its benefits. However, it's always worth considering the potential downsides.
Cost to install
The system itself comes with a reasonable price tag but the installation costs can soon add up. Unless you're having work done on your floors at the time of installation then it could prove costly. Also, if you're having an extension fitted or are moving into a new build, then it can be fitted immediately.
Longer time to heat a room
As underfloor heating operates at a low temperature, it will take longer to heat the room from the bottom to the top.
Restrictions on where some furniture can go
With electric systems, furniture that's flat across the bottom can't be cover an area of floor where the heating mat or cable is located. Doing so, can restrict airflow and cause thermal blocking. The same goes for items that have a tog value over 2.5 such as rugs or bean bags.
Electric systems can be expensive to run
Electricity is an expensive fuel – far higher than a 'wet' system. In addition, you'll also need to pay for an electrician to hook the system up to your electricity supply.
Pairing underfloor heating with a heat pump
Underfloor heating is the perfect partner for a heat pump.
Air source and ground source heat pumps heat water to a lower temperature than boilers. This means they'll be able to heat a room more efficiently with large radiators or underfloor heating as they cover a larger surface area.
Which rooms are suited to underfloor heating?
Underfloor heating can be installed on both ground and upper floors. With the most most popular room being the bathroom. You're not limited to just the bathroom though, as you can have underfloor heating installed all around the home from the kitchen to the living room.
If you don't want to completely part with radiators then you can have underfloor heating in some rooms and radiators in others.
The cost of underfloor heating
Electric systems can cost roughly £75 per square metre for underfloor heating mats. Meanwhile, cables could amount to £100 a metre. The material and installation costs of a water-based system will be higher but electricity costs more to run in the long term.
As well as the type of system you have fitted, there are also many other factors that can have an impact on the cost of underfloor heating installation:
Whether you're installing a water or electric system
Number of rooms and their size
Removal of any radiators
If you're having work done on the floors at the time of installation
Due to all of the different factors that could have an effect on the cost, we highly recommend getting quotes from at least 3 installers to give you the best chance of getting the perfect deal. You can get free quotes from trusted engineers in your area by using Boiler Guide and there's no obligation whatsoever.
If you like the idea of a heating system that doesn't take up much space but don't want the heat directly under your feet there are some alternatives:
Skirting board heating
Wall panel heating
How does skirting board heating work?
The idea of skirting board heating was met with a cold response when pitched by the inventor on Dragons' Den, but has since become a hot investment. Like underfloor heating, the heat comes from a low point in the room but as it's not heating an entire floor it will achieve an even heat distribution around the room in less time, which means less energy required and lower energy bills.
To give you an idea of cost, installing skirting board heating all around a 2 bedroom semi-detached home could cost up to £6,000.
How does wall panel heating work?
Installing wall panels around your home gives you the opportunity to heat just a small area of wall or an entire room depending on the needs of your home. They can be fitted into walls, sloping ceilings and many more walls of a complex nature. One great benefit is that they help to prevent mould as they leave your walls warm and dry. Prices tend to start from around £70 per square metre.
Is underfloor heating worth it?
If you have a heat pump – or are planning to have on fitted – then underfloor heating is a must. You could also look to larger radiators but underfloor heating offers many more benefits.
Even for homes without a heat pump, underfloor heating is worth thinking about. Especially if you're planning to move into a new-build or extend your current home.
If you want to take your interest in underfloor heating to the next step, we can help. You can get free quotes from heating engineers in your area today by completing our simple online form.
---
Find a local heating engineer
Get FREE underfloor heating installation quotes from trusted engineers in your area.
Get quotes now.
.
---