Worcester Bosch 30i vs Vaillant ecoTEC Plus 832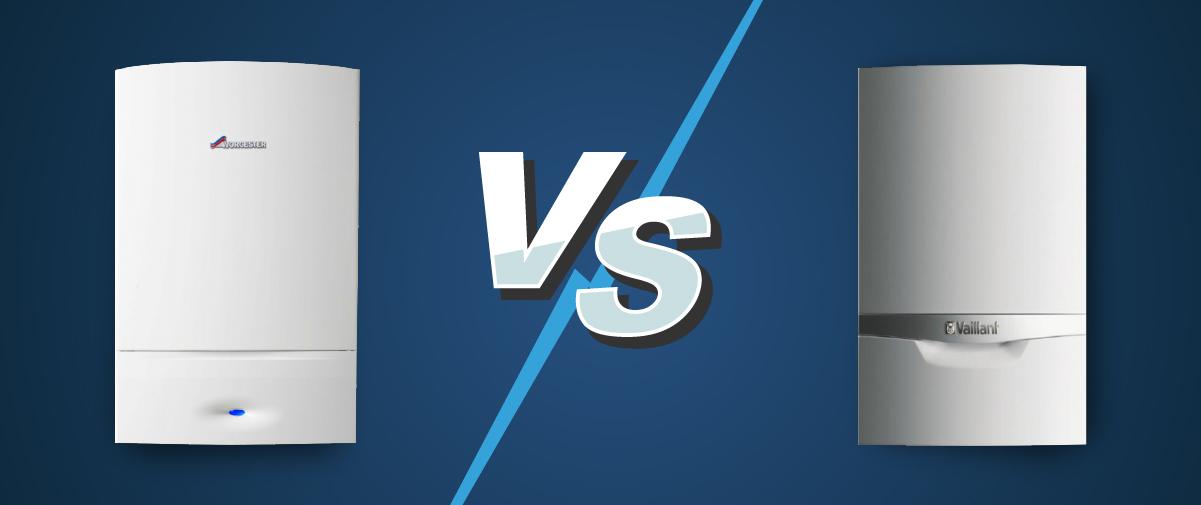 The Worcester Greenstar 30i and Vaillant ecoTEC Plus 832 combi boilers are both great options for a 3 bed house.
We've put them head-to-head to find out which is the better combi boiler: Worcester Bosch 30i vs Vaillant ecoTEC Plus 832.
Is a combi right for my home?
Combi boilers provide heating and hot water on demand. This removes the need for a hot water cylinder which is essential if you have a system boiler or regular boiler.
Having hot water on demand is great if you have 1-2 bathrooms but it won't work out if you have any more than that. This is because the water pressure will drop if two outlets are being used at the same time. Which is why a heating system with a cylinder is needed.
Find the right boiler for your home based on the size of your home:
Worcester Bosch Greenstar 30i review
The Worcester 30i is part of the Greenstar range of combi boilers which also includes the 25i. That's another combi boiler both with a lower output rating for domestic hot water (25 kW) and slightly weaker flow rate (10.2 l/min).
Can fill a standard kitchen sink with hot water in only 45 seconds
A Condensate Siphon reduces risk of the condensate pipe freezing in temperatures as low as -15°C
Option to have a Greenstar System Filter installed to protect the central heating system from contamination – helping to extend its life and keep efficiency as high as possible.
Available with a wide choice of heating controls
Vaillant ecoTEC Plus 832 review
The ecoTEC boiler range includes a wide range of outputs from 25 kW up to 38 kW with the ecoTEC Plus 832 being the best option for 3 bedroom homes.
Hot water within 5 seconds
LPG model also available for properties off the gas network
Quiet Mark accreditation
Stainless steel heat exchanger aids heat transfer
Has the ability to use 16% of its maximum power, saving you fuel and money
Worcester Bosch 30i vs Vaillant ecoTEC Plus 832
Now we know a little more about these market-leading boiler manufacturers, let's begin our comparison of their combi boilers that are both ideal for a 3 bedroom house.
The table below shows the key specifications of the 30i and ecoTEC Plus 832 side-by-side.
| Model | Worcester Bosch 30i | Vaillant ecoTEC Plus 832 |
| --- | --- | --- |
| Central heating output rating | 7.2 – 24 kW | 5.2 – 24.4 kW |
| Domestic hot water output | 30 kW | 31.8 kW |
| Efficiency Rating | 94% | 94% |
| ErP Rating | A | A |
| Flow Rate | 12.3 l/min | 13 l/min |
| Heat exchanger material | Aluminium | Stainless steel |
| Dimensions (HxWxD) | 710 x 400 x 330mm | 720 x 440 x 338mm |
| Weight (kg) | 31.7 | 37 |
| Maximum Warranty | Up to 7 years | Up to 10 years |
| Potential Cost | £1,075 | £1,125 |
Compare combi boilers in these ranges with lower outputs in Worcester Greenstar 25i vs Vaillant ecoTEC Plus 825.
Output rating
A boiler's output rating shows the level of demand for central heating and hot water the unit is able to meet.
Both models have a number in their name and this is representative of the hot water output – the Worcester 30i has a 30 kW output, while the ecoTEC Plus 832 output rating is 32 kW.
In terms of central heating, there isn't much between the 24 kW output of the Worcester 30i and 24.4 kW of the ecoTEC Plus 832.
Efficiency
Boiler efficiency shows how much of the energy used by the unit goes towards heating your home and hot water.
When it comes to natural gas boilers, some heat is always wasted. So you'll never find a 100% efficient gas boiler.
All modern gas boilers are condensing which means that very little heat is lost compared to old non-condensing boilers. So replacing an old non-condensing boiler with any condensing combi boiler can reduce your heating bills. You'll also find that the efficiency of all modern boilers is about the same. As is the case with these two boilers which both are both 94% efficient. To put that into context, for every £1 you spend on heating your home, only 6p will go towards heat that's made but doesn't go towards heating your home.
Heat exchanger
The heat exchanger is an important part of a boiler as it transfers heat from the fuel, natural gas in the case of these boilers, to the water that will circulate around the central heating system.
When comparing combi boilers, it's recommended to look for a stainless steel heat exchanger, like in the Vaillant boiler, as they have a number of benefits:
Extend the life of the boiler
Self-cleaning
Reduces the need for maintenance
The alternative to stainless steel is an aluminium heat exchanger, found in the Worcester 30i, which don't last as long as stainless steel and needs an annual inspection by a heating engineer otherwise damage could be caused to the system.
Arranging an annual gas boiler service by a Gas Safe registered engineer is essential whether you have an aluminium or stainless steel heat exchanger. An annual service will not only help maintain the safe and efficient running of the boiler, they're also essential to keep the warranty valid.
---
---
Warranty
Both the Greenstar 30i and ecoTEC Plus 832 come with a 5 year warranty as standard to see that you're well covered in the unlikely event of a fault.
There's an option to extend the warranty attached to both boilers when installed by an accredited installer:
Greenstar 30i: 7 year warranty when installed by a Worcester Bosch Accredited installer.
ecoTEC Plus 832: 7-10 years when installed by a Vaillant Advance installer.
Potential cost
When you're comparing boilers, in the end, the deciding factor may well come down to which option is within your budget. There isn't much to separate the Greenstar 30i and ecoTEC Plus 832 with the potential costs only sitting £50 apart:
Worcester Bosch Greenstar 30i: £1,075
Vaillant ecoTEC Plus 832: £1,125
Installation
On top of the cost of the unit itself, you'll also need to consider the installation. The price of a boiler installation can vary greatly depending on a number of factors:
Where you live
Time of year
The installer carrying out the work
Where the unit is being installed
Type of boiler being installed and replaced
Size and weight of the boiler
The smaller size and lower lift-weight of the 30i could well see you save money on the installation over the 832 as this can make for an easier installation.
Fortunately, combi boilers are often the simplest type of boiler to install as there's no need for any external tanks as cylinders that are needed for regular and system boilers.
While this is good news, prices can still differ greatly from installer to installer so we highly recommend comparing multiple quotes.
You can get free quotes from up to 3 Gas Safe registered engineers based in your local area by completing our simple online form. Once you have the quotes you can compare them to ensure you're getting the most competitive price possible for your new boiler installation.
Which is the best boiler?
Price can often be the deciding factor when it comes to making such a big investment in your home but these units have a very similar price tag – not enough to make it a deciding factor.
In terms of efficiency, the 94% efficiency of the Worcester 30i is higher than the ecoTEC Plus 832. But both are highly efficient so you could save money with either boiler.
We're going to crown the Vaillant ecoTEC Plus 832 as the winner in this head-to-head. They snatch victory thanks to a longer warranty and stainless steel heat exchanger.
More combi boilers
The Worcester Greenstar 30i and Vaillant ecoTEC Plus 832 aren't the only options available for 3 bed homes. Baxi, Ideal and Viessmann all have suitable combi boilers too.
Use our Boiler Comparison tool to compare the best gas combi boilers and find the right one for your home.
Where to find a combi boiler installer?
You'll need a Gas Safe registered engineer to fit your new gas combi boiler.
We recommend comparing quotes from more than one installer as this will help you to find the best person for the job. You could also save a fair bit of money.
Rather than hunting for boiler installers yourself, get free quotes from up to 3 in your area today.