Biomass Boilers: The Complete Guide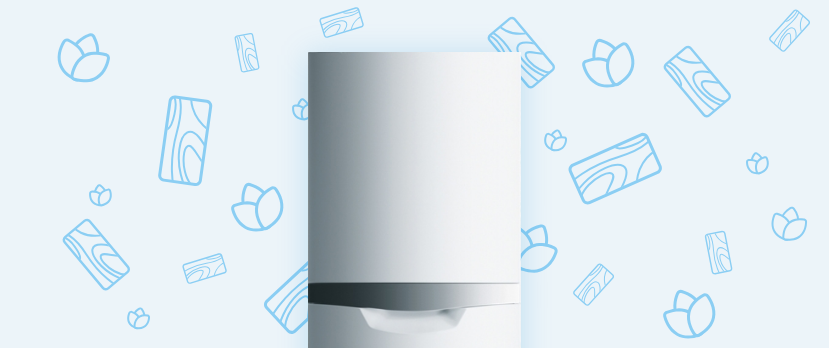 Biomass boilers burn a highly sustainable, carbon neutral and renewable fuel in the form of wood. This may feel like a fairly historic way of generating heat but it's one of the most reliable. So if you're looking for a renewable alternative to fossil fuels then a biomass boiler could be a suitable option.
What is a biomass boiler?

A biomass boiler does the very same job as gas and oil boilers – burning a fuel to provide central heating and domestic hot water. Biomass fuel typically includes wooden pellets, chips or logs but can also include biological material from plant-based organisms too.
There are 3 forms of biomass boiler with each being designed for the different types of fuel.
Wood chips
Biomass boilers that burn wood chips need checking more routinely than other fuel types and are trickier to store than pellets. And while they are more affordable than pellets, they're less efficient.
Wood logs
As the largest type of fuel used by biomass boilers, wood logs must be manually fed into the boiler. And while you could potentially have a free supply of wood logs if you live near a wooded area, this will add to your workload.
Wood pellets
Wood pellets are compressed sawdust and shavings of wood. A biomass boiler with a hopper will automatically feed wood pellets from where they're stored into the boiler.
With a wood pellet biomass boiler, it's important to be aware of the shape, size and moisture content suitable for the boiler.
Pros of biomass boilers
As a renewable heating system, biomass boilers hold many advantages over conventional boilers.
Biomass boilers are carbon neutral, highly efficient, entitle the owner to government payments and can potentially be fuelled for free.
Carbon neutral
Lowering carbon emissions is essential if we're to achieve net-zero carbon emissions by 2050. And biomass boilers could be one of the solutions.
The only carbon released into the atmosphere is the carbon absorbed by the plant during its lifetime. If it wasn't burnt for fuel, the plant would release this carbon into the atmosphere at the end of its life anyway.
This isn't the whole story though. More on this in the disadvantages…
Efficiency of over 90%
The efficiency of a boiler relates to how much of the fuel is converted into usable energy. And biomass boilers are capable of delivering efficiencies of over 90% – a similar level to modern condensing gas and oil boilers.
Fuel is inexpensive
Wood chips and pellets are a relatively inexpensive way to heat your home. Plus, if you live near a wooded area then you could potentially heat your home for free.
Receive payments through the Renewable Heat Incentive
By investing in a renewable heating system you could be eligible to receive payments through the Renewable Heat Incentive (RHI). These are quarterly payments that continue for a period of 7 years.
Cons of biomass boilers
Now we've been through the benefits of biomass boilers but are there any considerations to make?
More expensive than gas boilers
While the running costs of a biomass boiler can be low, the initial costs are high. Depending on the model, biomass boiler installation can fall between £4,000 and £21,000.
They can take up a lot of space
Biomass boilers aren't small and additional space is needed to store the fuel. So if you're considering a biomass boiler then you'll need to ensure that you have plenty of space available.
May not be good for the planet…
Biomass boilers are sold as carbon neutral heating systems. The only carbon released into the atmosphere, was stored by the tree.
But in order to get the fuel, trees must be cut down. And we need trees to absorb carbon from the atmosphere.
So for a biomass boiler to be carbon neutral, trees will need to be planted to replace those cut down for fuel. But trees take many years to grow so we're better off leaving them.
Plus, burning wood emits fine particle pollution and other contaminants which are all bad news for the planet. As well as our health.
Find out more in Biomass Boilers: Advantages & Disadvantages.
Best biomass boilers
If a biomass boiler would make a suitable heating system for your home then there are multiple biomass boiler manufacturers worth comparing.
The best biomass boilers are manufactured by Viessmann, Froling, Windhager and Grant.
| Biomass Boiler Manufacturer | Best Biomass Boiler | Biomass Fuel Type | Efficiency |
| --- | --- | --- | --- |
| Viessmann | Vitoligno 300-C | Pellets | Up to 95% |
| Froling | T4 | Pellets & Chips | Up to 95% |
| Windhager | LogWIN Premium | Logs | Up to 92% |
| Grant | Spira | Pellets | Up to 97% |
As you can see from the table above, biomass boilers are highly efficient. Modern gas boilers are typically around 94% efficient so on the whole, biomass boilers are more efficient.
Find out more about the Best Biomass Boiler Manufacturers.
Cost of biomass boilers
At first sight, the costs of a biomass boiler can feel daunting. With prices ranging from £4,000 up to as high as £21,000. Ultimately, how much the unit costs will come down to the type of biomass boiler being installed and the complexity of the installation.
Biomass boiler costs can range from £4,000 to £10,000 for a manually-fed unit while an automatically-fed boiler will cost more at between £9,000 and £21,000.
Manually-fed biomass boilers are the most affordable option with prices of around £4,000 to £10,000. While these are cheaper than automatically-fed units, you will have to top the boiler up with fuel yourself. The price of automatically-fed biomass boilers can go up to £21,000 but will save you from having to put fuel into the boiler.
These prices can seem very high, especially when you consider that a gas boiler can be installed for around £2,000. However, the upfront costs don't tell the whole story. This is because once installed, a biomass boiler can be cheaper to run than gas, oil and electricity. You could also receive payments through the Renewable Heat Incentive.
Biomass boiler running costs and maintenance
While there are various fuels that can be used by a biomass boiler, the 3 main fuels are wood pellets, wood chips and wood logs. All of these fuel sources could potentially save you money over oil, electricity and even gas.
Wood logs are the ideal fuel for anyone with access to a wooded area. That's because you could potentially gather them up for free – you just need to know where to look.
| Fuel | Average Cost (pence per kWh) |
| --- | --- |
| Wood Chips | 2.90 |
| Wood Pellets | 5.99 |
| Gas | 4.17 |
| Oil | 4.81 |
| LPG | 7.19 |
| Electricity (Standard Rate) | 16.36 |
Source: The Energy Saving Trust
The fluctuations in price that affect how much gas costs isn't something that you need to concern yourself with when it comes to biomass fuels. On average, gas prices are rising by around 10% annually.
Unlike gas and electricity, biomass fuel must be purchased in bulk and stored at your home. As a fuel that needs to be purchased in bulk, it's important to look at the potential cost per tonne. Wood chips are likely to be the most affordable while pellets come at the higher price.
| Biomass Fuel | Potential Cost (Per Tonne) |
| --- | --- |
| Wood Chips | £59 |
| Wood Logs | £99 (free if you have access to a wooded area) |
| Wood Pellets | £245 |
Renewable Heat Incentive for biomass boilers
As a reward for heating your home with renewable energy, you can receive payments through the Renewable Heat Incentive (RHI). The RHI is a government backed scheme which entitles eligible homeowners to quarterly payments over 7 years. Other renewable heating systems eligible for the RHI scheme include:
The RHI tariff is paid on a pence per kilowatt-hour (kWh) of renewable heat produced by the system. These prices are reviewed on a quarterly basis. Of these 4 renewable heating systems, biomass boilers currently receive the lowest tariff.
| Renewable Heating System | Tariff based on applications submitted between 1 July 2020 and 30 September 2020 (p/kWh) |
| --- | --- |
| Air Source Heat Pump | 10.85 |
| Biomass Boiler | 6.97 |
| Ground Source Heat Pump | 21.16 |
| Solar Thermal | 21.36 |
The Domestic RHI will only be open to new applications until 2022 when the scheme will be replaced by the Clean Heat Grant. You can find out more in Clean Heat Grants to Replace the Renewable Heat Incentive.
Biomass boiler installation
A biomass boiler needs space. And plenty of it. This is because in addition to the biomass boiler itself, a biomass boiler installation must also include:
Buffer tank (accumulation tank)
Stores hot water and performs the role of a 'heat storage battery'. Unlike gas and oil boilers, which can fire on and off without any problem, it's more complicated for biomass boilers so the buffer tank
Fuel storage
As a physical fuel it must be stored within a container and depending on the type of biomass boiler it will either be automatically-fed into the boiler or you will have to do it manually.
Flue pipe
Waste gases are released out of the property through a flue pipe which can be fitted into a chimney depending on where the biomass boiler will be installed.
Expansion vessel
Contains air and water to maintain the correct level of pressure within the heating system.
Hot water cylinder
The domestic hot water needs to be stored within a hot water storage cylinder.
Due to all of the space required, a biomass boiler would be most suitable for installation in a garage or purpose-built outhouse. Bear in mind that if the boiler is installed externally to the property it will be heating then pipework will need to travel to the home – which will add to the installation costs.
Is a biomass boiler right for your home?
Biomass boilers are one of several renewable heating systems that will play a big role in helping to reduce carbon emissions. And if a biomass is suitable for your home then you will stand to benefit in a number of ways.
Burning wood to provide heat may seem a bit dated but it's an effective, efficient and low-carbon alternative to natural gas.
 
Before being able to commit to having a biomass boiler installed, there are some important considerations to make:
The need for a larger heat delivery system (underfloor or bigger radiators) due to the lower temperature of water than gas boilers
Sufficient cavity wall, floor and loft insulation to ensure the heat remains within your property
A hot water storage cylinder will be needed to store the domestic hot water
As a result of burning wood, biomass boilers produce ash which will need to be disposed off on a regular basis (an automatic biomass boiler will take care of this for you)
For properties connected to the gas network, a central heating system that includes a gas boiler makes complete sense. It's a relatively inexpensive fuel that's delivered to your property on demand. However, with supplies beginning to run low, the price of natural gas is rising by around 10% each year.
And if you've accounted for the considerations above then a biomass boiler could be an effective alternative. By burning plant-based organisms, there's no risk of us running out of fuel for biomass boilers – more can always be planted. On top of that wood is a very inexpensive fuel for heating your home and can even be free. And as well as lower fuel costs, you could be eligible to receive payments through the Renewable Heat Incentive. So, if the higher upfront price of a biomass boiler, compared to gas boilers, has put you off consider the long term costs involved.
If you have the space for a biomass boiler alongside somewhere to store the fuel then they're well worth considering. And you can get free quotes for the installation from installers in your area. Simply complete our online form and up to 3 fully-qualified installers will be in touch to provide their free quote. Sourcing at least 3 quotes will give you the confidence that you're getting the most competitive price.
---
Interested in a biomass boiler?
---