Firebird Boiler Service & Maintenance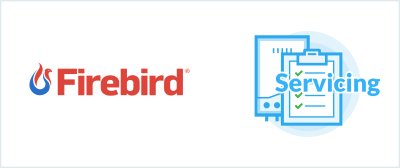 An oil boiler by Firebird could last for up to 15 years, but only if it gets the right amount of maintenance.
Firebird boilers are incredibly efficient with seasonal efficiencies of up to 97.4% in the Blue Supreme range making it the most efficient domestic oil-fired boiler in Europe. However, these kind of efficiencies are only possible if you ensure the boiler is serviced by a professional on an annual basis.
---
---
What is a boiler service?
An oil boiler service involves a qualified heating engineer carrying out efficiency and safety tests on your boiler every year. The engineer will be able to spot signs of potential problems or wear and tear which could lead to costly breakdowns or reduce the efficiency of the system. If a boiler is working inefficiently it will also be making your energy bills higher.
Oil boilers should be inspected and each component cleaned and replaced as needed. While cleaning the engineer can also look at the combustion chamber and heat exchanger for signs of rust. As oil is burned deposits build up which will harden if left for too long causing significant damage to the internal components.
Only a qualified engineer should carry out a boiler service, meaning that gas boilers can only be serviced by a Gas Safe registered engineer and oil boilers by an OFTEC engineer. As Firebird boilers are oil-fired you'll need to hire an OFTEC engineer for the boiler service.
Oil boiler service checklist
Here are some of the key things an OFTEC engineer will be checking during an oil boiler service:
Too much smoke or partially burnt fuel can lead to a build up of soot on the heat exchanger which restricts how much heat is passed to water. A clean heat exchanger means a more efficient boiler.
The oil nozzle controls how much oil passes through the burner. Nozzles wear out as the boiler ages which will affect both efficiency as too much fuel may be passing through the boiler and can also affect the boiler's ability to operate as too much oil can cause a build up of soot on the heat exchanger.
Photocells are a safety feature in oil boilers which detect when the boiler is lit. Photocells can become dirty over time and won't be able to tell if the boiler is lit or not. If an oil boiler is turning itself on and off for no reason this may be the cause.
Electrodes are the components which produce the spark which ignites the oil. Electrodes will age and attract soot meaning that the boiler may not light.
In addition to the boiler, your oil storage tank also need to be checked for signs of water contamination, oil leaks or filter elements which may need cleaning or replacing.
---
---
Why it's important to service your Firebird boiler?
Safety
A boiler which isn't working properly can be more than an inconvenience; it can be a serious safety hazard. For example, an oil boiler which isn't burning its fuel completely may emit carbon monoxide which is a colourless and odourless gas which replaces oxygen in the bloodstream when inhaled. Exposure to it can cause illness, brain damage or even death.
Keep heating bills low
An annual boiler service is key to keeping your heating bills as cheap as possible. As a boiler ages it will become less efficient and may cost you more to run, but a regularly serviced boiler will stay in top condition for as long as possible so you can save money and keep its carbon emissions to a minimum.
Prevent breakdowns
A boiler service is an OFTEC engineer's opportunity to identify small problems with the boiler's operation or parts which are wearing out, before they cause damage or a breakdown. If you don't get your boiler looked at by a professional until a problem has already arisen, you're repair bill is likely to be much higher than the cost of a service.
Warranty
Firebird oil-fired boilers are covered by a standard 2-year warranty but extended warranties of up to 10 years available on some ranges. To keep your Firebird warranty valid, the unit must be serviced by an OFTEC engineer once every 12 months; if you don't have the boiler serviced annually you'll be responsible for any repairs or new parts needed.
Firebird boiler service costs
The cost of an oil boiler service may vary depending on which engineer you hire but generally speaking they cost between £60 – £120. The cost will be impacted by where you are in the country, the make of boiler and how old it is. Of course if repairs or new parts are needed as part of the service this will increase the cost.
You could save yourself some money on the boiler service by arranging it during the summer months when heating engineers are likely to have more time for work. That way, you might not only be saving money but also have the confidence that your boiler is ready for the winter ahead.
NEVER attempt to service a boiler yourself. ALWAYS contact an OFTEC registered boiler engineer.
---
---
Boiler service plans
If your Firebird boiler is over 8 years old and no longer protected by a warranty it may be worth considering a boiler service plan. These plans enable you to spread the cost of the service over 12 monthly payments so you can avoid a large upfront cost. In many cases these plans also cover the cost of any repairs needed during the service too.
It's worth noting, however, that by the end of the plan it's likely that you will have paid out over £100, so if you can afford to do so paying for a boiler service in one go is the better financial option.
Boiler maintenance
In addition to the annual service there are some simple checks that you can make yourself to ensure the boiler is working at its best.
Insulate Your Pipes
As cold winter temperatures set in, pipes become susceptible to freezing and if they do, your boiler could stop working. Prevent this happening by getting your pipes well insulated before winter.
Monitor the pressure
Most modern boilers tend to have a built-in pressure gauge, with a needle that shows the pressure. This should read somewhere between 1 and 2. If the pressure is too high or too low it could lead to your boiler not working if spotted too late.
Insulate
A poorly insulated home will mean your boiler has to work harder to keep you warm. This means more fuel is used so your heating bills will be higher and more wear and tear on the boiler itself which could lead to breakdowns. At the very least you should be making sure your windows are closed and any potential heat loss areas like letterboxes, open chimneys or gaps in window frames are sealed.
Annual service
At Boiler Guide, we want to help you get the best price possible for a Firebird boiler service. Complete one of our simple online forms and you'll get a free oil boiler service quote.