Common Vaillant Boiler Problems & Repair Advice
We've put this guide together to highlight some common Vaillant boiler problems and how to resolve them. Some faults will always need an engineer, and if in doubt always contact an engineer, you can get a free boiler repair quote using Boiler Guide.
Common Vaillant boiler problems
Low water pressure
Vaillant boilers constantly monitor the water pressure and should it drop below a certain point, the F22 error code will appear on the digital display.
All boilers will gradually lose pressure over time but if there's been a sudden drop, it's a sign that there's an issue with the unit that needs to be fixed.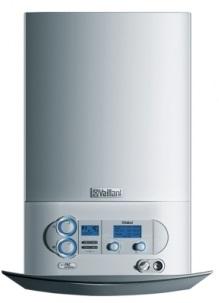 How to fix low water pressure
Low boiler pressure is something you can resolve yourself, in fact, we have a guide to increasing low boiler pressure on Boiler Guide. However, you should hire a Gas Safe registered engineer to inspect the boiler and check for any faults.
A common reason for seeing the F22 error code is a leak somewhere in the system. If you suspect a leak, turn off the water supply to prevent damage. Don't attempt to fix the leak yourself, always contact a professional. As well as a leak, other issues could include a faulty pump, broken pump lead or defective pressure sensor.
Ignition problems
When your Vaillant boiler fails to ignite, it will leave your home without heating and hot water. When you turn on the central heating or a hot water tap, water passes through a pipe that goes over a flame, which heats the water up. Without that flame the water can't heat up.
To let you know there's an issue, your boiler will display the F28 fault code.
How to get your Vaillant boiler to ignite
There are many reasons why a Vaillant boiler might fail to ignite:
No gas supply: Test other gas appliances around your property to see if they're working. If not, check your gas meter and contact your supplier if necessary.
A frozen condensate pipe: The condensate pipe leads acidic waste water away from the boiler, outside and down a drain. Being outside increases its chances of freezing during the winter months and if it does, the boiler will lockout until the frozen blockage has thawed out.
Defective electrode or ignition leads: Should there be a supply of gas and no blockages in the system, there could be an issue with generating the spark to create the flame. Over time, the electrode and ignition leads could wear out, eventually stopping altogether. A Gas Safe registered engineer is the only person who should diagnose and fix this issue.
Fault with pump or pressure sensor
F75 is a very common fault code on Vaillant ecoTEC boilers and appears when the boiler is unable to detect sufficient pressure as the pump is in operation.
Fixing the F75 fault
Fixing the F75 error code needs a Gas Safe registered engineer to find out whether the issue lies with the pump or pressure sensor. The most likely cause is the pump, as Vaillant ecoTEC boilers were previously fitted with Wilo pumps which have a high failure rate but now come with the much more reliable Grundfos pump.
Frozen condensate pipe
We mentioned frozen condensate pipe earlier in the list of Vaillant boiler problems – during the winter it can be a real problem, especially if the pipe isn't well insulated.
How to defrost a frozen condensate pipe
Thawing a frozen condensate pipe is something that you can either to yourself or hire a Gas Safe registered engineer to take care of. You can follow the steps to thawing out a frozen condensate pipe with our guide but if you feel the slightest bit unsure then you shouldn't hesitate to hire a professional.
Poor flow rate from taps
Flow rate describes the rate at which water comes out of taps or shower heads, and a poor flow rate means that the flow of water is slow.
How to increase flow rate
If this is happening then you may need to change your open-vent heating system, raise the height of the tanks in your loft, or force water to specific outlets by fitting a pump.
Incorrect flame detection
Your Vaillant boiler will display the F27 error code when the boiler has sensed that the gas supply and ignition aren't safe. As a result, your boiler will lockout until it's safe to operate again.
Fix incorrect flame detection
To find the cause of incorrect flame detection and resolve the F27 error, you will need to hire a Gas Safe registered engineer as they will need to look within the unit, which is something only a qualified professional should do. They will check if the fault is being caused by moisture interfering with electrical parts, whether the ignition leads are worn out and that the printed circuit board (PCB), which is effectively the 'brain' of the boiler is operating normally.
Faulty gas valve
The gas valve opens up to allow gas through when a flame is needed to heat the water for central heating or domestic hot water. Once the heating or hot water has been turned off, the gas valve should close. Unfortunately, gas valves can sometimes get stuck, allowing gas through even when it's not needed, which can be very dangerous. When there's an issue with the gas valve, your Vaillant boiler will lockout and display the F62 error code.
How to fix a faulty gas valve
You should never attempt to fix a gas valve yourself, a qualified Gas Safe registered engineer is the only person allowed to work on a gas boiler by law. They might be able to repair the gas valve but it could need replacing, which can cost around £300. Get free gas valve repair quotes using Boiler Guide.
---
---
Which Vaillant boiler problems need a heating engineer?
We've put together a list of the most common boiler symptoms, to give you an idea of what they might mean and whether you'll be able to fix it yourself or need an engineer.
| Problem | Possible cause | Do you need an engineer? |
| --- | --- | --- |
| No heat or hot water | Broken diaphragms and airlocks, failure of motorised valves, issues with the thermostat or low water levels | Yes |
| Leaking and dripping | Most common cause is a broken internal component but it will depend where the water is leaking from | Yes |
| Banging, whistling or gurgling noises | A common cause is air in the system, alternatively it could be that the water pressure is too low or it's kettling | Yes |
| Pilot light goes out | Could be a broken thermocouple which is stopping the gas supply | Yes |
| Losing pressure | Could be a water leak in the system, the pressure relief valve needs replacing or due to recently bleeding radiators | Only if there's a leak |
| Frozen condensate pipe | Your boiler will often display a fault code or warning notification | Yes |
| Thermostat issues | Thermostat may be turned off or not set to the correct settings (time etc.) | Consider replacing |
| Kettling | Limescale or sludge building up on your boiler's heat exchanger | Yes |
| Radiators not getting hot | Sludge or air build up in the system or an unequal distribution of heat | You will need to bleed the radiators which doesn't require an engineer unless you don't feel like carrying out the task yourself. |
| Boiler keeps switching itself off | Could be low water pressure, a problem with the thermostat or a lack of water flow due to a closed valve, air or the pump not circulating the water in the system properly | Yes |
Vaillant boiler warranty
Vaillant boilers come with between 2-5 years of parts and labour warranty as standard but many models can go beyond this when installed by a Vaillant advance installer. To help you find out even more, we've put together a complete guide to Vaillant warranties.
To keep the warranty valid for the entire duration, you will need to arrange an annual Vaillant boiler service which will also help to keep your boiler running safely and efficiently for as long as possible.
Boiler insurance and ongoing cover
Boiler insurance is well worth considering if your warranty period has come to an end. Boiler insurance can be taken out with your energy supplier but you're under absolutely no obligation to do so. When comparing insurance, the best ones will include an annual service and safety inspection, so keep an eye out for them.
Is it time to replace your Vaillant boiler?
If you've had your vaillant boiler for some period of time then it's worth considering a new one as you could be saving up to £300* a year in a detached home. Find out how much you could be saving depending on your current boiler rating and property with the table below.
| House Type | G (less than 70%) | F (70-74%) | E (74-78%) | D (78-82%) |
| --- | --- | --- | --- | --- |
| Semi-detached | £195 | £140 | £125 | £110 |
| Detached | £300 | £210 | £165 | £135 |
| Detached bungalow | £155 | £110 | £100 | £90 |
| Mid-terrace | £170 | £120 | £105 | £95 |
| Mid-floor flat | £80 | £55 | £50 | £45 |
How to find the best person to replace a Vaillant boiler?
If you think a new boiler is the right way to go then the next big decision is choosing who to replace it. The easy part is knowing that no matter who you get to replace a boiler they must be Gas Safe registered. Now that we've got that part out of the way, your choice ultimately comes down to a local engineer or a national company.
Local engineers can offer a very competitive rate and as they tend to be just one man and his van, you'll get a very personal service from the same person throughout your communications. It's always a good idea to get a quote from more than 1 engineer to make sure you're getting the best deal, we recommend getting up to 3.
If you need an engineer to take a look at you Vaillant boiler, then send us an enquiry to get free quotes from trusted engineers near you.
*According to the latest figures from the Energy Saving Trust
---
Get Vaillant Boiler Quotes
---