Common Worcester Bosch Boiler Problems & Repair Advice
If you have a Worcester Bosch boiler, this complete guide to the most common problems they experience will help you through any period of boiler trouble. Should you need an engineer, and always consult one if in doubt, you can get a free boiler repair quote with Boiler Guide.
Common Worcester boiler problems
---
---
Low boiler pressure
If the pressure gauge is showing less that 1bar then your boiler has low water pressure.
Worcester Bosch boilers will gradually lose pressure over the years but this will be very slowly. A boiler with low water pressure won't be able to function properly and could end up causing damage to the system, which is why the unit will lockout, preventing it from working.
How to increase boiler pressure
Checking the boiler pressure couldn't be easier, simply take a look at the pressure gauge and if it shows anything below 1 bar then you may have an issue. Follow our guide to increasing low boiler pressure to get your boiler working again.
If there's been a sudden drop in pressure, there's likely to be a leak somewhere in the system. If this is the case, don't attempt to increase the water pressure; turn off the water supply and contact a professional heating engineer who will be able to locate and repair the leak.
No hot water
There are several possible causes when you're experiencing no hot water, this can be broken diaphragms and airlocks, issues with the thermostat, low water levels or failure of motorised valves.
How to get the hot water back on
The best thing to do when your Worcester Bosch boiler isn't producing any hot water is to contact a Gas Safe registered engineer.
Boiler is leaking (A281 or EA338)
The longer a leaking boiler is left before being repaired, the higher the chance of damage being caused to other components, especially electrical parts.
Fixing a leak
Leaking is most commonly caused by a broken internal component but it really depends on where the leak is coming from so will need to be looked at by an engineer. If you find or suspect a leak, the best thing you can do is to turn the water supply off and contact a Gas Safe registered engineer – don't attempt to fix a leaking Worcester Bosch boiler yourself.
Boiler keeps making banging noises (A41)
Hearing banging sounds from your boiler is an indication of kettling, which is generally caused by limescale buildup, a faulty thermostat or inadequate water pressure. This can cause ongoing problems with the central heating system.
How to get rid of banging noises from the boiler
Once debris has built-up within the system, it's time to hire a heating engineer. They will be able to perform a powerflush, removing any and all limescale and sludge from the system so that the water can flow freely around the heating system again and put a stop to those loud banging noises.
To prevent debris from building up in your heating system in the first place, we recommend having a magnetic filter, such as a MagnaClean installed. This compoent can be fiteted to the pipework and will attract any rust, sludge or debris before it has chance to build up and cause a blockage.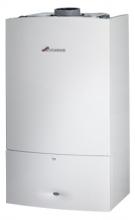 Boiler keeps locking out (EA227)
When there's a fault with your Worcester Bosch boiler, the unit will lockout for safety reasons until it has been fixed, which will prevent it from operating but also save it from further damage. There are many possible reasons why a boiler might lockout: flame sensor detector issue, blocked flue or condensate pipe, no or insufficient fuel supply, high or low boiler pressure.
These are only a handful of possibilities but in most cases your Worcester Bosch boiler should display an error code to help you determine the cause.
Fixing a Worcester boiler lockout
To fire your boiler back into operation, you need to know the issue that's preventing it from working. To help, Worcester Bosch boilers display an error code on the digital display – if you're seeing one then visit our comprehensive list of Worcester Bosch error codes to find out what it means.
Condensate pipe blocked (EA225 or D5)
All condensing boilers have a condensate pipe, which acts as a safe route for harmful gases produced during boiler operation to leave the boiler and your property. Should a blockage prevent these gases from escaping through the condensate pipe, your Worcester Bosch boiler will lockout.
Fixing a blocked condensate pipe
Cold weather is the most common reason for a blockage in the condensate pipe as they're susceptible to freezing during low temperatures. This is because they're located outside.
You can thaw a frozen condensate pipe yourself, by pouring warm (not boiling) water from the kettle over the blocked area of the condensate pipe. However, you shouldn't hesitate to contact a Gas Safe registered engineer if you'd prefer.
Boiler overheating
Many potential faults can cause your Worcester Bosch boiler to overheat:
Issue with the fan
Faulty pump
Frozen/blocked condensate pipe
Build-up of limescale on the heat exchanger
How to fix an overheating boiler
Unless the condensate pipe is frozen, which is a boiler problem you can resolve yourself if you wish, you should always hire a Gas Safe registered enegineer if you're seeing an error code that refers to an overheating boiler.
Should limescale, sludge and other debris have built-up within the system, then the heating engineer will be able to perform a powerflush to clear the system. It's recommended that a magnetic filter is fitted as part of the system, which will catch any loose debris before it has chance to create a blockage.
Once the issue has been fixed, and only when the issue has been fixed, a simple reset of the boiler should get it working again.
---
---
Which Worcester boiler problems need a heating engineer?
Use the table below to see the most common boiler problems, find out the potential cause and know if you'll be able to tackle the fault yourself.
| Problem | Possible cause | Do you need an engineer? |
| --- | --- | --- |
| No heat or hot water | Broken diaphragms and airlocks, failure of motorised valves, issues with the thermostat or low water levels | Yes |
| Leaking and dripping | Most common cause is a broken internal component but it will depend where the water is leaking from | Yes |
| Banging, whistling or gurgling noises | A common cause is air in the system, alternatively it could be that the water pressure is too low or it's kettling | Yes |
| Pilot light goes out | Could be a broken thermocouple which is stopping the gas supply | Yes |
| Losing pressure | There could be a water leak in the system, the pressure relief valve needs replacing or the radiators have been bled recently | No, unless there's a leak |
| Frozen condensate pipe | Your boiler should display a fault code or warning notification | Yes |
| Thermostat issues | Thermostat may be turned off or not set to the correct settings (time etc.) | Consider replacing |
| Kettling | Limescale or sludge building up on the boiler's heat exchanger | Yes |
| Radiators not getting hot | Sludge or air build up in the system or an unequal distribution of heat | You will need to bleed the radiators which doesn't require an engineer unless you don't feel like carrying out the task yourself. |
| Boiler keeps switching itself off | Could be low water pressure, a problem with the thermostat or a lack of water flow due to a closed valve, air in the system or the pump not circulating the water in the system correctly | Yes |
Worcester Bosch boiler warranty
The majority of Worcester Bosch boilers come with 2 years of warranty of standard, although with some models this extends a bit further to 5 years. Use our complete guide to Worcester Bosch warranties for more information.
Keeping your warranty valid for its entire length will require you to arrange an annual service of your Worcester Bosch boiler, which involves a Gas Safe engineer testing your boiler to make sure that the unit is running safely and efficiently.
Send us an enquiry today to receive free quotes for a new boiler and find trusted engineers near you with our free service.
*According to the latest figures from the Energy Saving Trust
Boiler insurance and ongoing cover
Once your boiler warranty has expired, it could be well worth considering boiler insurance. You may want to do this through your energy supplier, but there's absolutely no obligation to do so. When comparing boiler insurance, keep an eye out for ones that offer annual service and safety inspections.
Is it time to replace your Worcester Bosch boiler?
If your Worcester Bosch boiler has been heating your home for a long period of time then it could be worth considering a new one. With a new boiler, you could be saving up to £300* a year in a detached home. Take a look at the table below to see how much you could be saving depending on your current boiler rating and property.
| House Type | G (less than 70%) | F (70-74%) | E (74-78%) | D (78-82%) |
| --- | --- | --- | --- | --- |
| Semi-detached | £195 | £140 | £125 | £110 |
| Detached | £300 | £210 | £165 | £135 |
| Detached bungalow | £155 | £110 | £100 | £90 |
| Mid-terrace | £170 | £120 | £105 | £95 |
| Mid-floor flat | £80 | £55 | £50 | £45 |
Who should replace a Worcester Bosch boiler?
Making the decision to replace your current boiler means deciding who you'll be hiring to do the work, a local engineer or a national company.
While branded manufacturers may cost a slightly more than a local engineer, you'll be covered by big brand protection, which is a great benefit. They could provide extra services, such as ongoing boiler cover.
Likely to offer very competitive rates, local engineers will also deliver a personal service from the same person throughout your communications. When considering engineers, don't go with the first quote you receive, we recommend getting up to 3.