Tado Smart Thermostat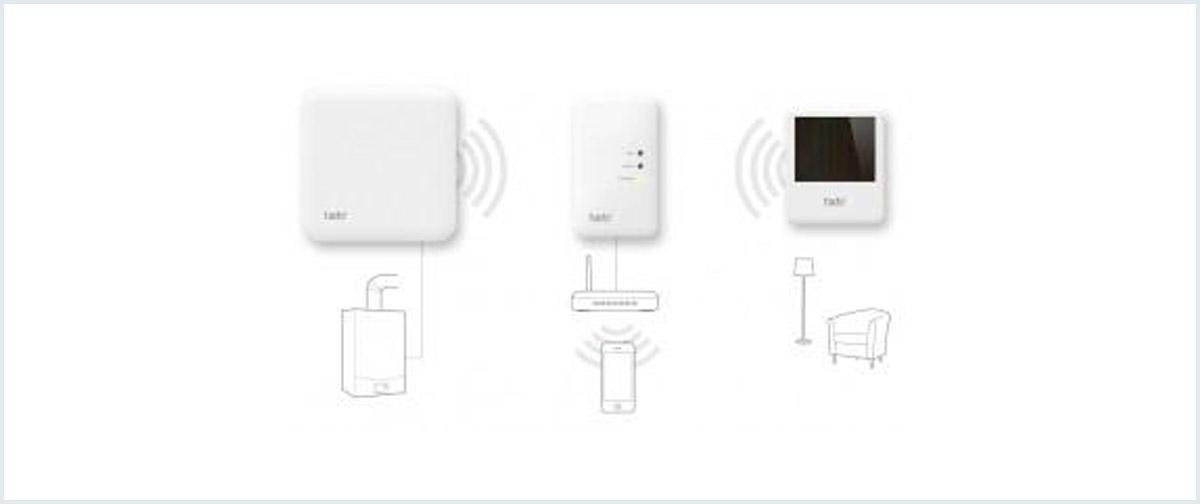 Tado is a popular smart thermostat that connects to the Internet. Utilising intelligent controls via geolocation and weather forecasts, the German manufacturer claims Tado is capable of cutting household heating bills by 26% on average. In short, it's a more intelligent way to control your heating. 
We need more efficient ways to heat our homes to help us save money on heating bills. In the UK central heating consumes about 60% of all the energy we use. If we want to reduce our energy bills we must learn how to become more energy efficient.
Time to get smart about energy management, we say. And with more and more nifty pieces of kit making their presence felt on the energy management market this year, soon enough there's going to be a smart thermostat out there to suit every home and budget.
Compatible with the majority of boilers – although for peace of mind it's always best to check beforehand – Tado is designed to be retrofit to your home's existing heating system.  By replacing your old manual thermostat with a modern wi-fi enabled version, you'll be able to remotely monitor and adjust your heating via your smartphone. And unlike similar technology on the market, Tado also allows you to take control of your water tank, too.
---
---
What is it?
Tado is a solution to whole house heating. Think of it as a kind of personal assistant, it automatically adjusts your heating depending on whether you're at home or away from the house by learning your schedule to raise or lower the temperature automatically. In that respect it's similar to its rival the Nest Learning Thermostat. Compatible with oil and gas central heating systems and heat pumps, Tado will work with both radiators and underfloor heating. It doesn't matter either, how old your heating system is. Although, a modern A-rated energy saving condensing boiler teamed with a smart thermostat like Tado will deliver maximum efficiency and savings.
You won't be able to control how you heat individual rooms and there's no display or dials to manually control temperature settings, which could be a challenge if you're technophobic. Plus, it's not the cheapest energy management system on the market either; it costs £199 to buy, plus an additional £50 on top if you want Tado to install it. However, there is a rental option, which costs £6.99 a month with no minimum contract period.
How Does it Work?
Tado will heat up your home in the most efficient way to save you money. The Tado kit comprises of the Tado box, which is the thermostat, a portable temperature gauge known as the Tado temperature sensor, and the Tado gateway, a small box that plugs into your router. Once installed – you will need to login to the web-based interface to complete the set up – Tado will detect when you leave home and when you're on the way back, thanks to location data on your smartphone. A signal is sent to tell the heating system when to turn the temperature up or down. Once you've downloaded the Tado app to your iPhone or Android phone you can adjust your heating settings and check what the temperature is in the house.
Installation can apparently be rather tricky and intimidating, unless you're a skilled DIYer or heating professional. You'll need to connect the gateway to the router, remove your existing thermostat, rewire the Tado box and pair the Tado temperature sensor. It's important to make sure your smart thermostat is set up correctly; Tado charge a standard fitting fee of £50.
Tado Benefits
With a Tado Smart Thermostat you can be assured of a whole host of benefits:
Save on average 26% on heating bills and up to 31%
Make adjustments to the temperature via smartphone, tablet or web browser
Probably the most hands off of all smart heating systems
Trains itself to heat your home in the most efficient way
Supports gas and oil central heating systems
Compatible with heat pumps
Works with radiators and underfloor heating
Changes temperature based on behaviour and daily routine
---
---