Tado Smart Thermostat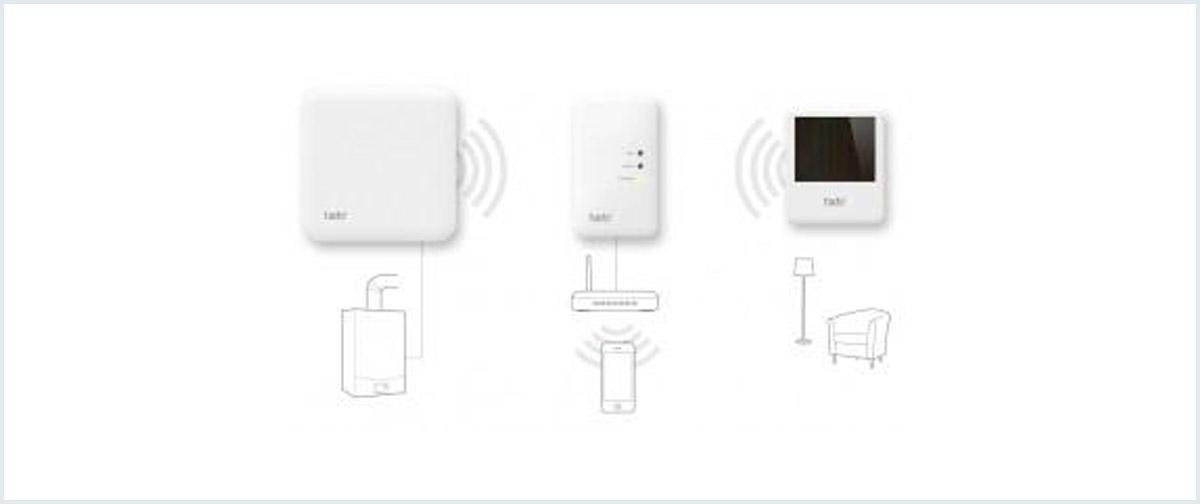 The Tado Smart Thermostat is capable of reducing home heating bills by an average of 26% thanks to intelligent controls such as geolocation and weather forecasts.
Compatible with the majority of boilers – although for peace of mind it's always best to check beforehand – Tado is designed to be retrofit to your home's existing heating system.  By replacing your old manual thermostat with a modern wi-fi enabled version, you'll be able to remotely monitor and adjust your heating via your smartphone. And unlike similar technology on the market, Tado also allows you to take control of a hot water tank too.
---
Buy Your Smart Thermostat Today!
---
What is the Tado smart thermostat?
The Tado Smart Thermostat is a solution to whole house heating. It automatically adjusts your heating depending on whether you're at home or not by learning your schedule to raise or lower the temperature automatically. In that respect, it's similar to its rival the Nest Learning Thermostat. Compatible with oil and gas central heating systems and heat pumps, Tado will work with both radiators and underfloor heating.
The age of the heating system doesn't matter, although, a modern A-rated energy saving condensing boiler teamed with a smart thermostat like Tado will deliver maximum efficiency and savings.
Tado Smart Thermostat Specifications
Thermostat dimensions (HxWxD)
104mm x 104mm x 19mm
Power supply
3x AAA batteries
Compatible heating systems
Combi, system and regular boilers
Hydronic underfloor systems
Air source and ground source heat pumps
Compatible smart speakers
Amazon Alexa and Google Home
Warranty period
2 years
How the Tado works
You'll need to start out by installing the Tado and, unless you're a heating engineer, the installation can prove difficult. The installation involves connecting the gateway to the router, removing your existing thermostat, rewiring the Tado box and pairing it with the Tado temperature sensor. Tado can install the smart thermostat at a standard fitting fee of £50. Once installed, you will need to login to the web-based interface to complete the set up.
When the Tado is up and running there are several features that make heating your home easier and more efficient than ever before:
Location-based control
Pair your device with the Tado Smart Thermostat and it will know when nobody is home and turn the heating off to save energy. Additionally, it will know to turn the heating on automatically when everyone is home.
Smart schedule
Use the 2 default Tado modes (Home, Sleep and Away) or add your own (e.g. bedtime, workout etc.). When 1 person is home the smart schedule will become active.
Away mode
The Away Mode is automatically activated when nobody is home. You have the choice of either an automative Away temperature, the Tado setting the most efficient temperature at the time, or the fixed Away temperature which you set yourself.
Hot water control
Depending on your heating system, Tado Smart Thermostats are also able to control the temperature of the hot water too.
Smartphone control
The Tado app gives you comprehensive visibility of the current room temperature, whether anyone is home and the current mode being used. You can also take control of the heating with the app, setting the temperature for all the zones.
Smart thermostat control
As well as app, web and voice control, it's also possible view the current temperature, turn the heating on or off, set the temperature on the smart thermostat itself.
Benefits of Tado
With a Tado Smart Thermostat you can be assured of a whole host of benefits:
Save on average 26% on heating bills and up to 31%
Make adjustments to the temperature via smartphone, tablet, voice controlled assistant or web browser
Probably the most hands off of all smart heating systems
Trains itself to heat your home in the most efficient way
Supports gas and oil central heating systems
Compatible with heat pumps
Works with radiators and underfloor heating
Changes temperature based on behaviour and daily routine
How much does a Tado Smart Thermostat cost?
Tado Smart Thermostats aren't the cheapest energy management system on the market, costing between £139 – £199, plus an additional £50 on top if you want Tado to install it. However, there is a rental option, which costs £6.99 a month with no minimum contract period.
| Tado Product | Potential Cost |
| --- | --- |
| Smart thermostat – Starter Kit V3+ | £139 – £119.99 |
| Smart Radiator Thermostat – Starter Kit V3+ | £119.99 |
| Smart thermostat | £119.99 |
| Smart radiator thermostat | £69.99 |
| Extension kit (hot water control) | £89.99 |
What's included in the Tado Smart Thermostat Start Kit V3+?
Tado Smart Thermostat
Internet bridge
USB cables
Connectors
Ethernet cable
Wall mounting screws (2)
Adhesive pads (2)
Cable labels
Screwdrivers
3x AAA batteries
---
---