Can I Still Buy a Non-Condensing Boiler?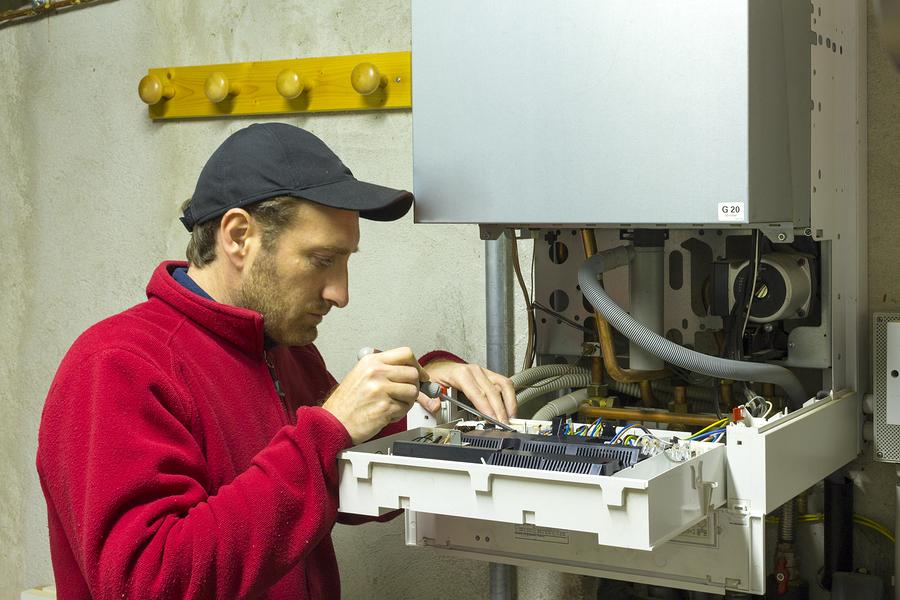 All new gas and oil boiler installations must be condensing by law. After all, they're more reliable, safer and much more efficient.
However, exceptions can be made.
If a condensing boiler isn't a practical option for your home (in the opinion of a fully-qualified heating engineer) then you may still be able to install a non-condensing boiler.
What is a non-condensing boiler?
Non-condensing boilers don't make efficient use of all the heat they make. Which is largely down to them only having a single heat exchanger.
The heat exchanger is where hot gases made by burning the fuel (natural gas, oil or LPG) warms up that water that will travel to your radiators. As they only have the one heat exchanger, much of the heat held by those gases goes straight out the flue pipe. That's heat you've paid for your boiler to generate only for it to go out into the atmosphere.
Not only are they not very efficient but they're not room-sealed either.
Boilers need ventilating and non-condensing boilers are kept ventilated by air within your home. This means they're not sealed off the room where they're fitted (unlike condensing boilers). This isn't the best or safest way to do things and is why boilers that aren't room-sealed cannot be fitted in a bedroom.
A lot has been done to improve boiler efficiency and safety over the years. Which goes for non-condensing boilers too. However, non-condensing boiler technology has become outdated and is why it can be a challenge to get one installed.
How are they different from condensing boilers?
Condensing boilers have two heat exchangers and are room-sealed. Making them more efficient, reliable and safer than non-condensing boilers.
Having two heat exchangers makes it easier for the boiler to capture more heat. Heat that would otherwise have gone straight out the flue pipe.
To put this into context, a non-condensing boiler emits flue gases as hot as 250°C while condensing boiler flue gases are only around 55°C. That's almost 200°C worth of heat that goes to waste with a non-condensing boiler.
---
---
Can I get a non-condensing boiler?
You can't decide that you want a non-condensing boiler. Instead, a heating engineer will need to perform a Condensing Boiler Installation Assessment Procedure. Details of this assessment can be found in the government's Guide to the Condensing Boiler Installation Assessment Procedure for Dwellings.
The aim of this assessment is to find out whether installing a condensing boiler in the building would be difficult or at all possible.
Some reasons why installing a condensing boiler may be challenging include:
The cooler flue gases making surfaces close to the flue pipe too wet
Flue gases causing a 'nuisance' to neighbours or pedestrians
The existing flue is unsuitable for a condensing boiler
Whether the liquid condensate which forms within a condensing boiler can be sent down a suitable drain
The heating engineer will score your property using a points system. If the total score is over 1,000 points then a non-condensing boiler can be installed. You'll be given a certificate to prove this and you'll need to keep it safe!
Condensing boiler regulations
The Condensing Boiler Regulations were introduced in April 2005 for gas boilers and April 2007 for oil boilers. They state that any new boiler installation or boiler replacement must be condensing.
Non-condensing boiler models
The only non-condensing boilers on the market are oil boilers and they're all made by Mistral. If your home is connected to the gas network then you should turn to a condensing gas boiler.
All three types of boiler (combi, system and regular) are covered by Mistral's non-condensing range. So, no matter your demand for heating and hot water, you should be able to find a suitable heating system.
As all of these non-condensing boilers run on oil, you'll need an OFTEC engineer for the installation. You can get free quotes from OFTEC qualified oil boiler installers in your area in no time at all by tapping through this simple online form.
Non-condensing combi boilers
Combination (combi) boilers are best fitted into homes with 1 bathroom. You'll get heating and hot water on demand and they have no need for any additional tanks or cylinders, so they take up little space. Having said that, you will still need an oil storage tank, which all oil boilers need.
| Mistral non-condensing boiler range | Outputs (kW) | Potential cost |
| --- | --- | --- |
| Combi Standard | 20, 26, 35, 41 | £1,800 – £2,160 |
| Mega Combi Standard | 50, 58 | £2,880 – £3,120 |
| Combi Plus | 26, 35, 41 | £2,160 – £2,520 |
| Mega Combi Plus | 50, 58, 70 | £2,880 – £3,540 |
Compare Mistral combi oil boilers.
Non-condensing regular boilers
Regular boilers have been around much longer than combi and system boilers. They're normally found in older homes built in the 1960s and 70s. If your home doesn't already have one fitted then go for a system boiler as they need a complicated pipe network. So if you're fitting a heating system with a regular boiler from scratch, the installation costs will be high.
| Mistral non-condensing boiler range | Outputs (kW) | Potential cost |
| --- | --- | --- |
| Kitchen Utility | 50, 58, 68 | £1,620 – £1, 920 |
| Kitchen Utility Classic | 20, 26, 35, 41 | £1,078 – £1,440 |
| Boiler House | 50, 58, 68 | £1,620 – £1, 920 |
| Boiler House Classic | 20, 26, 35, 41 | £1,078 – £1,440 |
| Outdoor Utility | 50, 58, 68 | £1,800 – £2,100 |
| Outdoor Utility Standard | 20, 26, 35, 41 | £1,260 – £1,620 |
Compare Mistral regular oil boilers.
Non-condensing system boilers
A system boiler heats the central heating system directly when you turn the thermostat up but they store hot water in a cylinder. This means they can meet higher demand for hot water in homes with 2 or more bathrooms.
| Mistral non-condensing boiler range | Outputs (kW) | Potential cost |
| --- | --- | --- |
| Sealed System | 20, 26, 35, 41 | £1,320 – £1,680 |
| Outdoor Sealed System | 20, 26, 35, 41 | £1,500 – £1,920 |
Compare Mistral system oil boilers.
---
---
Alternatives to non-condensing oil boilers
If it's possible for a condensing boiler to be installed in your home then they're the best alternatives to non-condensing boilers. They're effective, reliable and more efficient – which will help to keep your heating bills down.
Looking for a new boiler? Then get free quotes from heating engineers near you today.
Alternatively, you could forget about the boiler altogether and turn to a renewable heating system.
Renewable heating systems heat your home using sustainable fuel sources. Rather than burning fossil fuels such as gas and oil.
Sustainable sources of heat include the air, ground and sun. All of which are clean sources of heat that don't emit carbon and will never run dry – unlike fossil fuels. So turning to a renewable heating system will make your home more efficient and kinder on the environment.
Heat from the air or underground can be harnessed by an air source heat pump or ground source heat pump. Meanwhile, solar thermal panels absorb heat from the sun to warm the water stored in a hot water cylinder to give you free hot water during the day!
The upfront costs of these renewable heating systems will be higher than a boiler. But they can heat your home for around twice as many years as a boiler.
It's also worth knowing that the Clean Heat Grant will open from April 2022 which will give homeowners support with covering the upfront costs of fitting a renewable heating system.
Let us know that you're interested in renewables to hear from renewable installers near you. Or, learn more about renewable heating systems with our guides.