Types of Central Heating Systems Explained
With so many types of central heating systems around, it can be hard to know where to start.
Most homes have a wet central heating system fired by a gas boiler. But they're not your only option. There's oil, electric heating, and renewable heating systems too.
Let's take a look at the different types of heating systems and make sure yours is future-proof.
Do I have central heating?
Yes is the most likely answer.
Around 95% of homes in the UK have a central heating system. And 86% of homes have a gas central heating system.
The number of homes with a central heating system has risen steadily since 2000 when 90% of homes had central heating.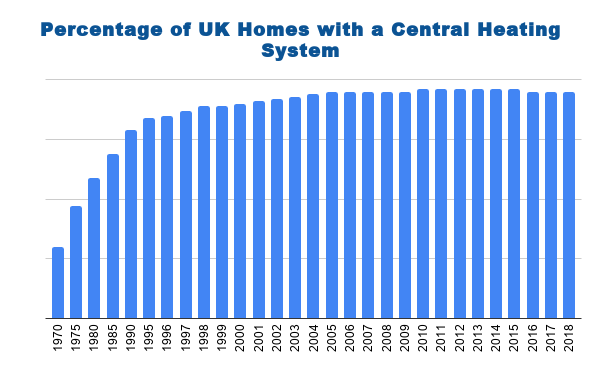 ---
---
Which central heating system do I have?
Most people reading this will have gas central heating. Around 27 million homes in the UK are connected to the gas network. So for those properties, a gas boiler makes the most sense.
Off-grid properties are also most likely to have a boiler but one that runs on oil or LPG rather than natural gas. You'll know if your home is heated by oil or LPG as you'll have a storage tank that needs refilling every so often.
Then there are electric boilers. They can't meet the same level of demand for heating and hot water as other fuels so are normally found in 1 bedroom flats.
That's the fuel taken care of but there are three different boiler types: combi, system and regular. And knowing which type of boiler you have will make replacing it far easier.
Renewable heating systems are on the rise too. They take heat from renewable energy sources such as the air, ground or sun. The most popular are:
Different types of central heating
Your heating system is most likely to be wet or electric. You may have a warm air heating system but they're not very common nowadays. Then there's district heating systems which provide heat to many properties in an area.
Wet
Most homes in the UK have a wet central heating system. With a wet system, your boiler will heat water which is then pumped round to the radiators or underfloor heating.
Electric
Electric heating systems can take many forms.
Firstly, electric storage heaters are radiators filled with bricks that heat up overnight. This heat is then released into the room during the day.
There are also electric radiators which work independently of each other and turn electricity into heat without the need for a boiler. Infrared heating panels work in a similar way but directly heat people and objects within the room rather than the air.
An electric boiler crosses between electric and wet as it turns electricity into heat for a wet central heating system.
Warm air
Warm air heating systems are pretty dated nowadays but can still be found in some older homes. They effectively work like air conditioning in reverse – heating rather than cooling.
District heating systems
Homes within a district heating system are sent heat from a central location to many homes and buildings in an area. This removes the need for you to have a boiler in your home.
Central heating fuels
Let's take a quick look through the many types of central heating systems before we go into more detail.
Gas central heating
A gas boiler heats water for a wet central heating system. Only available to properties connected to the gas network which is most of the UK.
Oil central heating
An alternative to gas for homes that aren't connected to the gas network. The oil is stored at the property in a tank before being burned by an oil boiler.
LPG central heating
Another option for homes off the gas network is LPG. Like oil, this fuel needs to be stored in a tank at the property.
Electric heating
An electric heating system can take many forms, including: electric boilers, electric radiators, infrared heating panels and storage heaters.
Solid fuel heating
A solid-fuel boiler heats solid materials such as wood or coal (we recommend avoiding coal). The most modern version of solid fuel heating is a biomass boiler. Biomass boilers are renewable heating systems that burn plant-based materials such as wood chips, pellets or logs.
Renewable heating
A renewable, or low-carbon heating system, takes heat from sustainable energy sources like the air, ground or sun. Air source and ground source heat pumps as well as solar thermal panels can help to reduce heating bills as well as your carbon footprint.
Can I change heating systems?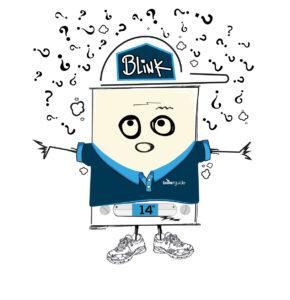 Any home with a gas boiler and wet central heating system is being heated in the most effective way possible. So if that's the case, you shouldn't be thinking about switching to an alternative type of heating system.
That's unless you're looking to lower your carbon footprint and want to turn to renewables. Even if this is your plan, pairing your boiler with a heat pump as part of a hybrid heating system, could be a good place to start. Especially if your current boiler isn't very old.
Turning to a new central heating system should be more of a priority for homes with electric storage heaters. A different heating system will give you far more control over when the heating is on and make your home far more comfortable.
---
---
Should I buy a house with no central heating?
Around 5% of UK homes have no central heating system.
These properties most likely have electric storage heaters or possible even space heaters. Neither of which can match a central heating system for efficiency or reliability. With an electric storage heater, you can't choose when the heating comes on. While space heaters are only able to heat a small part of the house well.
Buying a house with no central heating is a good chance to earn a profit. It's estimated that installing a central heating system could increase the value of a property by 4-5%.
Which kind of boiler do I have?
Each of the three types of boiler work in very different ways.
Combi boilers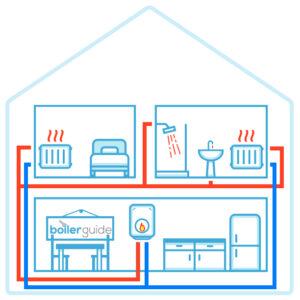 Combi boilers are fitted in most homes. These are compact heating systems with everything they need to heat a home wrapped up into the boiler itself. That means no cylinder or tanks in the loft.
When hot water is needed, a combi boiler heats water directly from the mains and sends it straight to the tap.
While this does make them space-savers it does limit the amount of hot water they can provide. So they're typically recommended for houses with 1-2 bathrooms.
Do I have a combi boiler?
If you don't have a hot water cylinder then you have a combi boiler. Every time you turn the hot water on you'll hear your boiler fire into action.
Regular boilers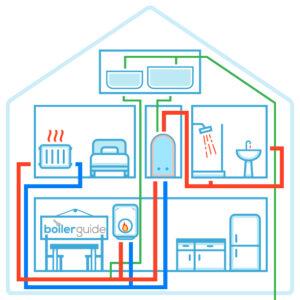 Regular boilers are the oldest type of boiler. They go by many other names including conventional, heat-only and open-vent too.
Regular boilers are pretty outdated nowadays but are still installed – typically in older properties built in the 50s and 60s. As well as the boiler itself, they're also made up of a hot water cylinder alongside feed and expansion tanks in the loft.
The feed tank stores cold water which is sent down to the boiler when the heating is turned on. As water is heated, it expands so the expansion tank offers additional space.
Then there's the hot water cylinder, which stores domestic hot water until it's needed.
As regular boilers are made up of so many different parts they need a lot of pipework. So you should only consider a new regular boiler as a direct replacement for an old one.
Do I have a regular boiler?
To tell if your home is heated by a regular boiler check for tanks in the loft and an external pump.
System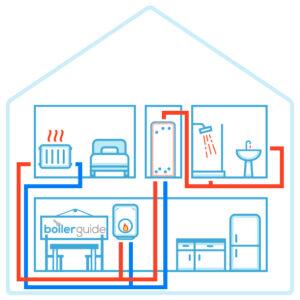 A system boiler is a modern take on the regular boiler. They take water directly from the mains – which removes the need for any tanks in the loft.
They heat the radiators directly, as and when needed, but also store domestic hot water in a cylinder. This allows them to meet high demand for hot water in properties with multiple bathrooms.
Do I have a system boiler?
You will have a hot water cylinder but no tanks in the loft.
Renewable heating systems
Away from boilers, there are renewable heating systems. These take heat from sustainable energy sources and use it to heat the home. Unlike fossil fuels, supplies of sustainable energy will never run out.
Heat pumps

Air source heat pumps are a popular renewable heating system. They take heat from the air outside – even in temperatures as low as -25C (depending on the model).
There are also water source heat pumps – an option for homes close to rivers or lakes – but they're less common. These water sources absorb heat from the sun which a water source heat pump can use to heat your home.
Solar thermal
A solar water heating system can give you 40% to 70% of your hot water for free. That's if you have a hot water cylinder.
Solar thermal panels absorb solar energy and use that to heat the water in a cylinder via an immersion heater. You will still need a boiler or heat pump but you'll definitely feel the benefit of solar thermal.
Biomass boilers
A biomass boiler is a solid fuel boiler that burns wood chips, pellets or logs. This makes them carbon neutral as the only carbon they emit was once absorbed by the tree. Alongside the boiler you'll need somewhere to store the fuel. So they can take up a fair amount of space.
An added benefit of installing a renewable heating system is the chance to receive payments through the Renewable Heat Incentive.
District heating
Let's say you have a gas boiler. This means your home will be connected to the gas network. When you turn your boiler on it will get a supply of natural gas from the gas network to burn.
A district heating system works in a similar way but rather than sending fuel for your own central heating system to turn into heat, it supplies heat. And it will do the same for all of the other houses and buildings in your area too. This removes the need for homes to have their own central heating system.
And the heat for a district heating system can come from almost anywhere:
Gas, oil, electric or biomass boilers
Geothermal heat
Energy from waste
Large heat pumps
Power stations
Combined heat and power plants – where heat is made as part of generating electricity
In the UK, there are currently close to 17,000 district heating systems giving heat to around 500,000 homes.

New central heating system costs
The price of a new heating system won't be the same for everyone. Even for two houses installing a gas boiler. There are so many variables like boiler type, where it's installed and the rates of your installers. We recommend comparing quotes to get the best price.
| Wet Central Heating Systems | Potential Cost (without installation) |
| --- | --- |
| Gas boiler | £500 – £2,750 |
| LPG boiler | £500 – £2,750 |
| Oil boiler | £1,000 – £3,500 |
| Electric boiler | £700 – £2,500 |
| Air source heat pump | £4,000 – £9,000 |
| Ground source heat pump | £8,000 – £12,000 |
| Biomass boiler | £4,000 – £21,000 |
If you're planning a full replacement of your central heating system then you'll also need radiators, pipework and heating controls. Perhaps a hot water cylinder too depending on the type of heating system. So find out more in How Much Does it Cost to Install Central Heating?.
Alternatively, you may want to think about an electric heating system. Electric radiators, storage heaters and infrared panels all work independently of each other so you'll want at least one in each room of your house.
| Electric Heating Systems | Potential Cost (without installation) |
| --- | --- |
| Electric radiators | £120 – £415+ (per radiator) |
| Electric storage heater | £150 – £200+ (per heater) |
| Infrared heating panels | £150 – £500+ (per panel) |
---
---
The most efficient heating systems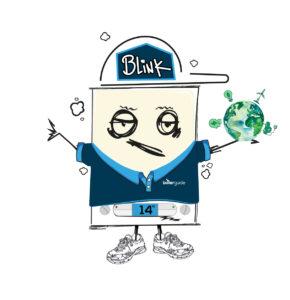 Modern condensing gas, oil and LPG boilers all have similar efficiencies of around 92%. The same goes for biomass boilers too. This is because there's always some waste (carbon) which carries some heat away from your heating system.
Electric heating systems are around 100% efficient. As they don't burn fuel, there is no waste so just about all of the electricity sent to an electric boiler or radiators gets turned into heat for your home and hot water.
Now, you might be thinking that nothing can surely beat the electric heating systems. But step up the heat pump. Now, heat pumps need electricity to operate, which can be expensive. However, they can provide 3-5 times more energy than they use. So your heat pump could be up to 500% efficient depending on the model and time of year.
Future-proof heating
There's a big push to reduce carbon emissions from all areas of our lives and home heating is no exception.
Of all the types of central heating systems, most of us count on a gas boiler to keep us warm. They're efficient, effective and reliable but they're not great for the environment. Every time we turn the heating on our gas boiler burns natural gas which emits carbon into the atmosphere – a leading cause of climate change.
This is a problem that needs to be solved. Especially if the UK is to achieve its carbon reduction targets.
Renewable heating systems, like heat pumps, hold many of the answers. They don't emit carbon, can reduce heating bills and the technology already exists. You can even talk to heating engineers about getting one installed today.
However, replacing the central heating system of every home with a heat pump would be expensive and largely impractical. Some outdoor space is essential and the home needs to be well insulated (it's estimated that around 25 million homes in the UK need better insulation).
So maybe heat pumps aren't the whole answer.
Instead, we could see a future where we're heating our homes with low-carbon alternatives to natural gas, like hydrogen or 'green gas'. And this would be very similar to how we heat our homes now.
These gases could still be supplied through the gas network but carbon emissions would be greatly reduced. When hydrogen is burned there is no carbon, only water and vapour. Leading boiler manufacturers, Worcester Bosch and Baxi, are calling for all new boilers installed from 2025 to be hydrogen-ready.
The other alternative is 'green gas'. This is a sustainable gas that can be made through a process called anaerobic digestion, where grass cuttings and food waste are broken down to make biogas. Burning biogas is completely carbon neutral as the only carbon emitted by the boiler was absorbed by the grass in the first place.
So gas boilers could still have a huge role to play in the future of home heating.
How to get a new central heating system
So you've decided you want a new central heating system. Now you need someone to replace your heating system. And that's where we can help.
You can get free quotes from heating engineers near you in a few clicks. All you need to do is complete our simple online form – letting us know you need a new heating system – and we'll take care of the rest.
Up to 3 heating engineers will be in touch to give you a free quote. You can then take your time to compare them and hire the best person for the job.