Why Electric Boilers are Great for Flats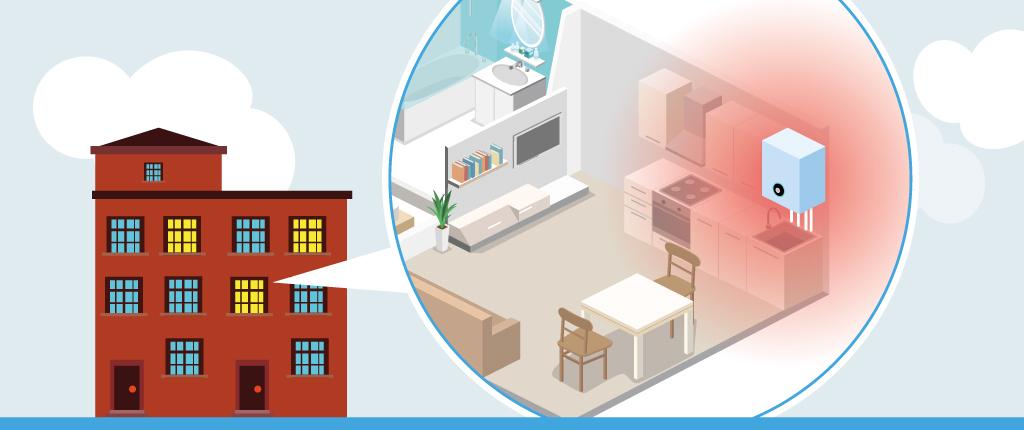 An electric boiler is one of the best heating systems for a flat.
They don't take up much space, can be installed almost anywhere and are highly efficient. They're also a more environmentally-friendly option than burning gas.
This guide will take you through everything you need to know about electric boilers from which model to choose to finding a qualified installer.
---
Need a new electric boiler?
---
How electric boilers work
An electric boiler provides central heating and hot water. Like any other type of boiler. But rather than burning gas or oil, they turn electricity into heat.
The electricity heats up a component that in turn warms up water for central heating or domestic use (taps and showers).
There are different types of electric boiler that are suitable for flats: direct, storage and dry core storage. Let's take a look at them in a little more detail.
| Electric boiler | How it works |
| --- | --- |
| Direct | Heats water on demand sending it straight to taps |
| Storage | Stores hot water ready for when you need it |
| Dry core storage | Heat bricks during the night which is then released into the water during the day for central heating and domestic use |
So, what are the benefits of each type of electric boiler?
Well, a direct electric boiler will heat water on demand and send it straight to the outlet when you need it. Meanwhile, an electric storage boiler heats up water during the night and store it so you can take advantage of lower Economy 7 tariffs – the same goes for dry core storage boilers too.
Why electric boilers are perfect for flats
Electric hot water boilers are a great option for flats. And they come with many benefits over installing either a gas, oil or LPG boiler – fuels that aren't even possible in some cases.
Lightweight and compact in size
One of the major benefits of an electric boiler for flats is their size. Being lightweight makes installing an electric boiler quicker and cheaper. While the smaller dimensions compared to other boiler types means that it won't take up too much space and can be hidden away.
Flexible installation
Gas and oil boilers need to be installed onto an external wall. This is so that the flue pipe can safely send emissions out into the atmosphere.
Electric boilers don't produce waste gases so the installation is much more flexible. And as space is often precious in a flat, you can get it fitted out of the way.
Highly efficient
Electric boilers don't produce any waste gases, unlike gas and oil. This helps them achieve efficiency ratings of 99-100%. Gas and oil boilers reach efficiencies around of around 92%.
This means that for every £1 spent heating your home with a condensing gas boiler, 8p worth of heat (with a boiler of 92% efficiency) will leave the boiler through the flue. So with an electric boiler you'll be getting more out of the money being spent.
No gas or oil supply needed
Running a boiler on oil or LPG means having to store the fuel. This isn't always possible in a flat as it can take up quite a bit of space.
Quiet in operation
Thanks to having very few moving parts, electric boilers make little to no noise so you might not even notice that it's running.
Fewer emissions
While generating electricity is considered carbon intensive, as it involves burning fossil fuels. Once it arrives at your property however, it's a highly efficient fuel.
No risk of a carbon monoxide leak
Carbon monoxide is a colourless and odourless gas that can cause serious harm if breathed in. There are plenty of safety measures in place to prevent and detect a carbon monoxide leak for gas and oil boilers but with an electric boiler this concern is completely removed.
No need for an annual service
Gas and oil boilers must be serviced annually to ensure the efficient and safe running of the unit. This isn't always necessary with an electric boiler which could save you £60-£120 every year.
We still recommend having an electric boiler serviced anually and if you have a separate hot water cylinder then this should be serviced yearly.
Cheaper to install
More often than not, it's cheaper to install an electric boiler over a gas boiler.
You can connect with electric boiler installers near you by completing our online form. Simply let us know about the work, and you'll get free quotes from up to 3 installers for you to compare. Once you've compared the quotes, you can be confident that you're getting the most competitive price.
---
Need a new electric boiler?
---
Considerations about electric boilers
While an electric hot water system is an ideal heating solution for flats, there are a couple of considerations to make, as with any important investment.
Can't meet high demands for hot water
Electric hot water boilers aren't as powerful as gas and oil boilers. This means they can't meet high demands for central heating and hot water. This tends to rule them out for larger households but when it comes to flats and smaller homes, they're an ideal option.
Electricity is expensive
Electricity doesn't need storage space (like oil) and is readily available. But it is expensive – especially when compared to natural gas.
The UK average per kilowatt (kW) is 14.4p for electricity and only 3.8p for gas.
Make sure your property's fuse is suitable
Flats need a three-phase supply of electricity, meaning that there will be 3 100amp fuses. It's important to know that the fuse for your flat is large enough to meet the needs of the electric boiler otherwise the fuse could blow.
Electric boiler size
Electric boilers are available in a range of sizes, measured in kilowatts (kW), which shows the power of the boiler.
A boiler with a larger output rating will be able to meet higher demands for heating and hot water. However, simply choosing to installing the electric boiler with the highest output isn't the best route as you will likely see your energy bills rise as a result. Plus, as we're focussing on a boiler for a flat, a smaller output rating is likely to be enough to meet demand.
The output rating of electric boilers can range from around 6 kW up to 14 kW, with various sizes in between. As a general rule of thumb, you should allow 1.5 kW for each radiator in your flat. So, if you have 8 radiators you should consider an electric boiler with an output rating of 12 kW.
Best electric boilers for flats
When it comes to finding an electric boiler model for your flat, there's no shortage of choice. We've listed some of the best electric boilers in the table below.
Electric boiler installation
An electric boiler installation will often mean having to replace a gas boiler, which means needing to hire a Gas Safe registered engineer. The very same heating engineer will be able to install the electric boiler but an electrician might be needed to complete the final wiring. It's often the case that the heating engineer will recommend an electrician who can complete the work – saving you from having to find one.
At Boiler Guide, we can save you from having to search for a Gas Safe registered engineer. Simply complete our online form and you'll get free quotes from up to 3 fully-qualified heating engineers based in your local area.