Viessmann Vitodens 100-W vs Worcester Bosch Greenstar 34CDi Classic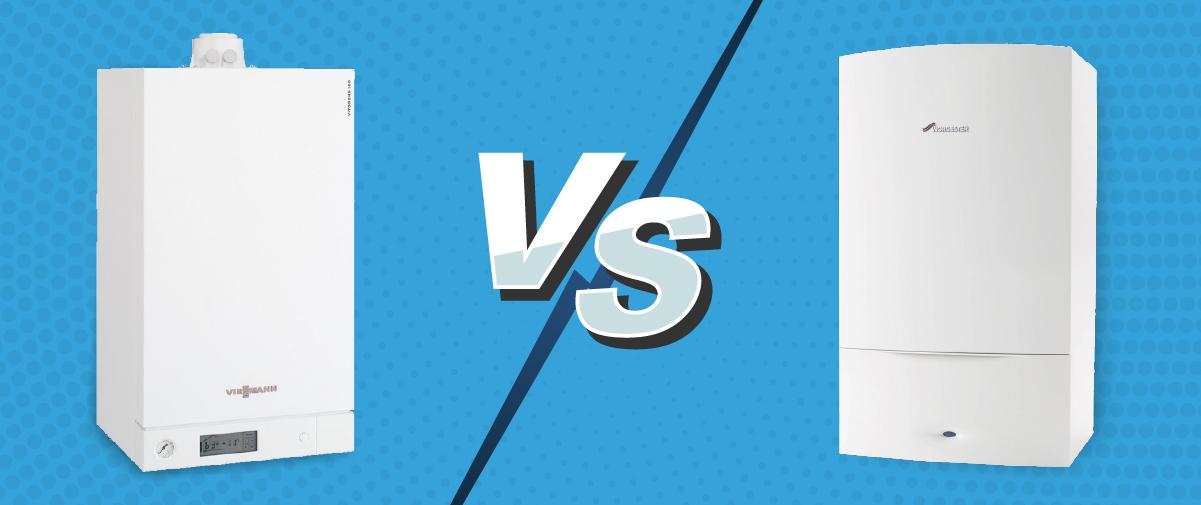 Worcester Bosch have been considered the leading boiler manufacturer in the UK for many years, picking up many awards along the way.
However, in that time, Viessmann have been developing technology to also be considered as one of the best UK boiler manufacturers around.
So, should you install a Viessmann or Worcester Bosch boiler? We've put two of their combi boilers head-to-head to find out: Viessmann Vitodens 100-W vs Worcester Bosch Greenstar 24CDi Classic.
Meet the brands: Viessmann and Worcester Bosch
Worcester were first founded in the UK in 1962 and have since become the UK's leading boiler manufacturer, even holding the Royal Warrant to supply boilers to The Queen's Sandringham Estate.
Viessmann have been manufacturing heating and cooling products for over 100 years, having been founded in 1917 before establishing Viessmann UK in 1989.
Viessmann boiler review
The Vitodens 100-W is Viessmann best selling condensing gas boiler and it's easy to see why as they offer efficiency, reliability and technology that helps to extend the lifetime of the unit. Features of the Viessmann Vitodens 100-W include:
Inox-Radial stainless steel heat exchanger
Wall-mounted
Touchscreen LCD display for increased control
Compact in size to save space
Quiet in operation
Worcester Bosch boiler review
Worcester Bosch's Greenstar CDi combi boiler range are highly efficient efficient reliable units for properties with 1-2 bathrooms. Some features of the Worcester Bosch Greenstar 34CDi Classic include:
Low energy pump to lower use of electricity
User-friendly controls and clear display
A Condensensure style siphon is built into the unit to eliminate risk of freezing
Install a Wave smart thermostat alongside the 34CDi and it will reach a higher ErP efficiency rating of A+
In many Worcester Bosch boiler reviews, you'll find that the heat exchanger comes in for some criticism as it can be the cause of several Worcester Bosch boiler problems.
Viessmann Vitodens 100 35kW vs Worcester Bosch Greenstar 34CDi Classic
These combi boilers are very similar in terms of the central heating and domestic hot water output they can deliver, making them both suited to a 3 bedroom house.
While there might not be much between the output ratings, there are several key specifications that are different and important to compare before deciding which unit is best suited to your home.
Model
Viessmann Vitodens 100-W
Worcester Bosch Greenstar 34CDi Classic
Boiler Type
Combi
Combi
Output Rating to Central Heating (kW)
5.8 – 35
7.7 – 30
Maximum Heat Output for Hot Water (kW)
35
35
Efficiency Rating
94%
94%
ErP Rating
Heating: A
Hot water: A
Heating: A
Hot water: A
Flow Rate
14 l/min
12 l/min
Heat Exchanger Material
Stainless Steel
Aluminium
Dimensions (HxWxD)
700 x 400 x 350 mm
760 x 440 x 360 mm
Weight (kg)
35
47.5
Standard Warranty
5 years (can be extended to 10 years) abd 10 years against leaks on the heat exchanger
5 years (10 years on the primary heat exchanger)
Potential Cost
£1,175
£1,169
---
---
Output rating
Output rating is one of the first things you should look out for when comparing boilers as this measurement reflects the level of demand for central heating and hot water the unit will be able to meet. Simply put, the higher the output rating, the more powerful the boiler.
It might be tempting to go for the most powerful boiler you can afford but this could result in unnecessarily higher energy bills. Likewise, installing a boiler that isn't powerful enough will leave you with a heating system that can't meet the demand of your property.
There are separate output rating for central heating and domestic hot water, with little difference between the output ratings of these combi boilers.
Both the Viessmann Vitodens 100-W and Greenstar 34CDi have domestic hot water outputs of 35 kW but the Viessmann unit is capable of meeting a higher demand for central heating.
Efficiency
Gas combi boilers burn natural gas to generate central heating and hot water, however, not all of this fuel is converted into heat, there's also some waste. The efficiency rating is a representation of how much of the fuel, natural gas in the case of these boilers, converts into heat.
Both the Vitodens 100-W and Greenstar 34CDi are highly efficiency, with efficiency ratings of 94%. This means that for every £1 spent on heating your home, only 6p is wasted, which is a considerable saving when you consider that older boilers can be a lowly 60-70% efficient.
So, if you're looking to replace an old boiler with either the Viessmann Vitodens 100-W or Worcester Bosch Greenstar 34CDi then you're likely to see a considerable saving on your energy bills – making them both well worth the investment.
Heat exchanger
The heat exchanger is an essential part of a boiler as it transfers heat from the fuel to the water which then circulates around the central heating system or to the taps and showers.
A crucial difference between the heat exchangers fitted into these units is that the Viessmann Vitodens 100-W heat exchanger is made from stainless steel while the one used in the Worcester Bosch Greenstar 34CDi is made from aluminium.
All Viessmann condensing boilers are now fitted with a stainless steel heat exchanger, rather than aluminium, which is 98% efficient, extremely safe and has a lengthy lifetime. Some benefits of the Viessmann stainless steel heat exchanger include:
Resistance against corrosion
Gas can pass through faster for a faster response to demand for heating
Self-cleaning
Lightweight material
Aluminium is also an effective conductor of heat but is much more prone to corrosion at higher flow rates, which can lead to leaking and aluminium oxides can build up in the system causing blockages so an annual service is essential.
---
---
Warranty
The warranty period is there to protect you against any faults that develop during a certain period. As standard, both the Vitodens 100-W and Greenstar 34CDi have a 5 year warranty but both can be extended to 10 years when the following conditions are met:
Vitodens 100-W: boiler is registered on the Viessmann Installer Portal.
Greenstar 34CDi: installation is carried out by a Worcester Bosch accredited installer
As well as warranty periods on the boilers themselves, the heat exchangers are covered by a 10 year guarantee too.
Take a look through our guides to what's covered in a Viessmann Boiler Warranty and Worcester Bosch Boiler Warranty for more information.
Potential cost
If you're in the market for a gas combi boiler with an output rating in the mid-30s, then you'll need a budget of a little over £1,000 for the unit plus an additional £500 – £1,000 for the installation.
There's very little to separate these units in terms of the potential cost:
Viessmann Vitodens 100-W: £1,175
Worcester Bosch Greenstar 34CDi: £1,169
It's worth remembering that these are possible costs and could vary depending on where you purchase the unit. As well as the cost of the unit, you'll also need to consider the installation.
Installation
Installation costs vary from installer based on a number of things such as the type of boiler being installed (fortunately, combi boilers are often the simplest as there's no need for any tanks or cylinders), whether the unit is being installed in the same location and simply the rates of the installer.
The size and weight of the unit being installed can also have an impact on the price, with smaller lighter units being simpler to install. In this head-to-head, the Viessmann Vitodens 100-W comes out as both smaller and lighter which could help if you're looking to keep the installation costs down.
Once installed, the Vitodens 100-W also won't take up as much space and as a wall-mounted unit can be installed into a standard kitchen cupboard.
By taking a few moments to complete our simple online form, you can get free quotes for a boiler replacement from up to 3 Gas Safe registered engineers based in your area.
Which boiler should you install?
We chose to compare two highly efficient boilers made available by leading manufacturers so this was bound to be a close contest.
However, there has to be a winner and thanks to the stainless steel heat exchanger, smaller dimensions and lower lift-weight, the Viessmann Vitodens 100-W comes out on top. This is a highly efficient combi boiler that you can rely on and is covered by a comprehensive warranty on the unit as well as the heat exchanger.
More combi boiler options
As well as the Viessmann Vitodens 100-W and Worcester Bosch Greenstar 34CDi
You can compare the features of up to 4 different boilers using our Boiler Comparison tool which will help to make finding the right unit for your home much simpler.
---
---