Common Daikin Boiler Problems & Repair Advice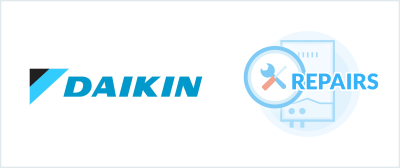 This guide will take you through some of the most common Daikin problems and how to fix them to get your boiler working again.
If you're in need of a heating engineer to fix your boiler, send us an enquiry today to get up to 3 free boiler repair quotes.
Common Daikin boiler problems?
Flame loss
This code means that the system has detected flame loss. This should only be a temporary problems and the boiler should re-ignite.
Freeze protection
This is the boiler's automatic freeze protection mode; it won't if the flow temperature sensor reads a value that is less than 1°C to prevent damage to water freezing and blocking your pipes.
No heat or hot water
Common causes can include broken diaphragms and airlocks, thermostat issues, low water levels or broken motorised valves. If it's an issue with the pressure or thermostat you may be able to adjust this yourself.
If your boiler needs a new part you'll need to contact a Gas Safe registered engineer to diagnose the problem and carry out the repair.
Radiators not heating up
Radiators need bleeding from time to time to ensure they aren't blocked with sludge or air pockets which build up naturally as your heating system operates. If your radiators aren't heating up or are only heating up at the bottom this could well be the case. If you feel up to the task then our guide to bleeding radiators can take you through the process.
Low boiler pressure
Low boiler pressure is a common problem which can lead to your central heating system not functioning properly but luckily it's relatively simple to correct by simply taking a look at it's built in pressure gauge. If it's below 1 you may have an issue. Find out more with our guide to low boiler pressure.
---
---
Which Daikin boiler problems need a heating engineer?
We've put together a list of the most common boiler symptoms, to give you an idea of what they might mean and whether you'll be able to fix it yourself or need an engineer.
| Problem | Possible cause | Do you need an engineer? |
| --- | --- | --- |
| No heat or hot water | Broken diaphragms and airlocks, failure of motorised valves, issues with the thermostat or low water levels | Yes |
| Leaking and dripping | Most common cause is a broken internal component but it will depend where the water is leaking from | Yes |
| Banging, whistling or gurgling noises | A common cause is air in the system, alternatively it could be that the water pressure is too low or it's kettling | Yes |
| Pilot light goes out | Could be a broken thermocouple which is stopping the gas supply | Yes |
| Losing pressure | Could be a water leak in the system, the pressure relief valve needs replacing or due to recently bleeding radiators | No, unless there's a leak |
| Frozen condensate pipe | Your boiler will often display a fault code or warning notification | Yes |
| Thermostat issues | Thermostat may be turned off or not set to the correct settings (time etc.) | Consider replacing |
| Kettling | Limescale or sludge building up on your boiler's heat exchanger | Yes |
| Radiators not getting hot | Sludge or air build up in the system or an unequal distribution of heat | You will need to bleed the radiators which doesn't require an engineer unless you don't feel like carrying out the task yourself. |
| Boiler keeps switching itself off | Could be low water pressure, a problem with the thermostat or a lack of water flow due to a closed valve, air or the pump not circulating the water in the system properly | Yes |
Daikin boiler warranty
Daikin boilers come with 2 years warranty as standard but this is extendable up to 7 years, giving you peace of mind well after your boiler is installed. We've put together a complete guide to Daikin warranties so that you know exactly what's covered and what's not.
In addition to the warranty, you'll need to know about Daikin boiler services, which are essential to keeping the warranty vaild.
Boiler insurance and ongoing cover
A boiler warranty will protect your boiler for a certain period of time but once it's expired you may want to consider boiler insurance. For a monthly a payment you can protect your boiler so any faults or repairs needed are covered. They often include an annual maintenance and servicing agreement which will help to prevent issues developing and keep your boiler working at maximum efficiency.
Is it time to replace your Daikin boiler?
If you've had your boiler for some period of time then it's worth considering a new one as you could be saving up to £300* a year in a detached home. Take a look at the table below to see how much you could be saving depending on your current boiler rating and property.
| House Type | G (less than 70%) | F (70-74%) | E (74-78%) | D (78-82%) |
| --- | --- | --- | --- | --- |
| Semi-detached | £195 | £140 | £125 | £110 |
| Detached | £300 | £210 | £165 | £135 |
| Detached bungalow | £155 | £110 | £100 | £90 |
| Mid-terrace | £170 | £120 | £105 | £95 |
| Mid-floor flat | £80 | £55 | £50 | £45 |
How to find the best engineer to replace a Daikin boiler?
If the cost of repairing your boiler is comparable to the cost of replacing it it's often a better choice to do so. Newer boilers are more energy efficient which can result in reduced energy bills. When you come to the decision of who is going to replace your boiler, you should compare quotes from at least 2 different installers to ensure you're getting the best deal.
It's often a good idea to compare a local independent company with a national as they each have their own advantages and disadvantages. For example, a local company may be able to offer you a more competitive price and personal service but may not have the same level of aftercare service or brand guarantee. The most important thing is to be sure the engineer is Gas Safe registered so be sure to request their Gas Safe register number.
Send us an enquiry today to receive free quotes for a new boiler and find trusted engineers near you with our free service.
---
---
*According to the latest figures from the Energy Saving Trust
*£75 for your boiler repair when you take out SSE Heating or Boiler Cover at the same time (excludes SSE Boiler Breakdown and SSE Heating Breakdown); Just looking to get your boiler repaired without cover? Our Boiler Repair service is £195